Director

Cast

Rated

Unrated

Runtime

103 min.

Release Date

07/21/2023
For much of the 2010s and earlier, German filmmaker Christian Petzold found dramatic ways of mining his country's history, often through allegory and potent metaphor. Films from his neo-noir Jerichow (2009), which allegorizes Germany's reunification, to the thriller Transit (2019), which remarks on the rise of contemporary fascism in a modern scenario that recalls conditions in World War II, Petzold's films have been political and achingly emotional. But with his last effort, Undine (2021), about a man who falls in love with a water nymph, and his latest, Afire, the director completes two parts of a trilogy based on essential elements. The story follows Leon (Thomas Schubert), a self-important author, and his spry and enthusiastic photographer friend Felix (Langston Uibel), who arrive at a summer house in the woods to work on their respective projects. Their getaway is threatened by a looming climate disaster: nearby forests are blazing with fires. Even so, the characters seem more susceptible to their desires and anxieties at the summer house, ignoring the imminent danger around them. In true Petzold fashion, Afire has a modest setup but gives way to complex characterizations and rewarding introspection. 
Petzold was inspired to write Afire after he came down with COVID-19 at the beginning of lockdown and had a four-week fever. As a "get well" gift, friend and producer Margaret Ménégoz, from the French production company Les Films du Losange, gave him a boxed set of films by Éric Rohmer. Along with his interest in Anton Chekhov's portrait of a struggling artist in his short story "The House with the Mezzanine," Rohmer's films inspired Petzold to write a film in the tradition of stories about summer experiences that bring joy but lead to harsh lessons, spelling an end to innocence (what the French call "éducation sentimentale"). Petzold situates his film in a stagelike setting, the isolated vacation house owned by Felix's mother. Surrounded by woods and within walking distance of the Baltic Sea, the house's seclusion should allow Felix to complete work on his artist's portfolio, a photographic project about "water," the topic assigned to him. Leon intends to wrap up work on a manuscript called Club Sandwich before his editor arrives on the weekend to give notes. But the two men find their getaway disrupted by the presence of a mysterious occupant, Nadja (Paula Beer).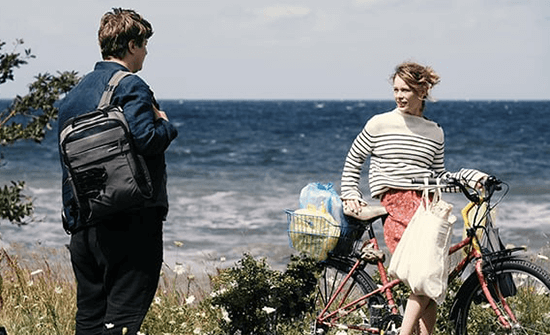 At first, Leon and Felix only hear Nadja's presence at night—the pleasurable moans of her nighttime sexual adventures. By day, she disappears by bike to a nearby town, where she works at an ice cream cart. All of this is quite distracting for Leon, whose gray and black outfits and constant smoking suggest he has adopted the performative role of the Serious Writer. He's unable to concentrate on his book and falls asleep during the day, much to his frustration. Felix, meanwhile, embraces his summer when he meets Devid (Enno Trebs), a local "rescue swimmer" who casually bedded Nadja before engaging in a more meaningful romance with Felix. You would think Leon would be happy for his friend; instead, he wraps himself in a shield of his artistic pretensions, lashing out in uncomfortable scenes that threaten to leave Leon irredeemable. Still, Petzold allows his characters to have layers that gradually reveal themselves. The final act of Afire takes a stark tonal shift away from the vacation house, complicating the dynamic of longing between Leon and Nadja, while also confronting the characters with the fire that has been burning 30 km away. It's a stark shift, but the transition allows Leon to learn about himself in a manner that may have seemed impossible before.  
Petzold has said in interviews that Leon's relatable tendency to place his literary pursuits and "work" above all else, including having fun with his friends, draws from his time as a young academic and new filmmaker. If Leon is at all consciously autofictional, Petzold culls from a period in the mid-1990s when he was just beginning, had some success, but sought to tap into a post-Tarantino vibe with a superficial crime yarn for German television called Cuba Libre (1996). Released to mixed reviews, its failure was a hard lesson for the filmmaker not to indulge his artistic pretensions. To be sure, what little we hear about Club Sandwich doesn't sound promising. When Leon eventually allows Nadja to read the book, her response is blunt but no doubt truthful: "You know it's crap." Her words wound Leon, whose behavior often amounts to that of a pompous ass too self-involved to allow himself to participate in the summer's fun. He never swims in the sea; he begrudgingly attends dinners, where he often behaves badly; yet, he longingly watches everyone else. Petzold uses the dreamily electronic refrain of Wallners' single "In My Mind," a somewhat on-the-nose choice, but no less successful in capturing Leon's mental state. 
With the sea scenes shot in Ahrenshoop near the Baltic Sea and the vacation house scenes shot some 175 miles away in Brandenburg, Petzold and his longtime collaborator, cinematographer Hans Fromm, create a contrast between Leon's dreary, self-defeating inwardness and the openness of his housemates. The filmmakers employ a color saturation effect in day-for-night scenes, creating an eerie, dreamlike quality when the dark blue night's sky is broken by the orange glow of the fire raging not too far away. If these scenes feel somehow unnatural in visual terms, Petzold's loose narrative threads and hands-off approach to directing Afire allow his actors to improvise, giving way to rich characterizations, particularly in the middle section when Leon's personal hang-ups and confrontations with the group aggravate the drama.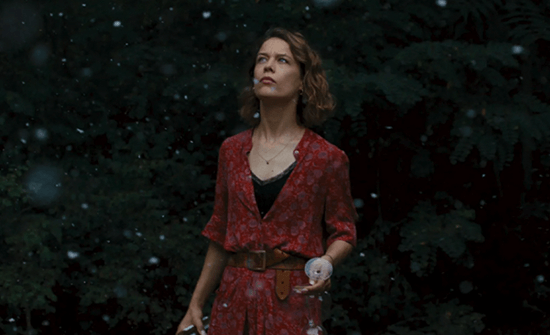 Petzold is a master at weaving historical and intertextual elements into his screenplays, evidenced in his deployment of Heinrich von Kleist's novella The Earthquake in Chile (1807) and the poem "The Asra" by Heinrich Heine. Both emerge in a dinner scene when Leon's editor Helmut (Matthias Brandt) engages with Nadja—the only person to really do so—prompting her to reveal that she's currently working on a Ph.D. in literature. Unlike Leon, she doesn't feel the need to share her work unprompted because it doesn't define her, as Leon's does. But he feels affronted by her scholarly background, given that he allowed her to read his manuscript and her response was less than academic. However wounded by Nadja's restraint, Leon cannot help but remain enraptured. Furthermore, Petzold's allusions to the von Kleist and Heine texts suggest Afire's intermingling of love and disaster, equating Leon's affections and eventual hurt to a natural disaster. When an actual disaster arrives, there is no lesson from it—except that Nature is unforgiving, along with an acknowledgment that selfish people tend to ignore Nature's warning signs.
After its debut at the Berlinale earlier this year, where it won the Silver Bear Grand Jury Prize, Afire was acquired by Sideshow and Janus Films in the US under the new title. The German title, Roter Himmel, means The Red Sky, but Afire has a truer meaning for the characters. It speaks to how Nadja, Felix, and Devid embrace their passions with a sophisticated freedom. Leon's passion is more inward facing—potent, but vulnerable. Schubert is superb in his character's rather immature worldview, whereas Beer, as ever in Petzold's recent work, exudes a presence that the director's male characters regard as a sublime force. Filled with intricate characters and an unassuming story that seems rooted in simple relationships, Afire becomes a resounding picture about renewal and maturation, realized with total confidence by a filmmaker whose intellectual groundwork feels supported by emotionally searing situations. It may seem like a minor work from a major auteur on the surface, but the film lingers in the mind long afterward, as only the best films can.