A Very Harold & Kumar 3D Christmas
2.5 Stars
Director

Cast

Rated

R

Runtime

90 min.

Release Date

11/04/2011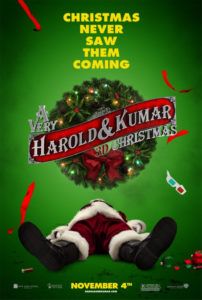 What happened in A Very Harold & Kumar 3D Christmas, the latest pot-smoking misadventure for the titular pals played by John Cho and Kal Penn? Then again, what happened in Harold & Kumar Go to White Castle (2004) or Harold & Kumar Escape from Guantanamo Bay (2008)? I know I've seen the first two films, the first one more than once; I've even written reviews for both. And yet, I cannot remember much of what happens beyond the basic premise. Everything after the setup becomes a series of random race-, sex-, and scatological-based jokes fuelled by drugs and goofy cameo appearances by Neil Patrick Harris. Perhaps we're not supposed to remember what happened. Perhaps our moviegoing experience equates to a night of excessive substance abuse best left forgotten the morning after.
It may just be that the Harold & Kumar films are forgettable, which I think is true in some respect. They're memorable in that they make us laugh for their duration at whatever bonkers nonsense fills the short runtime, and we remember laughing a lot throughout, but it's a disposable experience. This third go-round even more so, being that as you leave the theater you're tossing (i.e. recycling) those annoying 3D glasses into a bin, where they'll be collected for a half-assed sanitizing and repackaging. And repackaged is just what you get here. Again, Korean-American Harold (Cho) and Indian-American Kumar (Penn) have a goal, and they set out to achieve said goal, but their bad luck and marijuana usage cause some hilarious troubles. No one ever said these movies were original (their Abbot & Costello/Cheech & Chong roots are evident), but darn it if they aren't funny.
Franchise writers Jon Hurwtiz and Hayden Schlossberg open the film a couple of years after Harold and Kumar last spoke. Harold has since given up drugs and married his girlfriend (Paula Garcés), and he enjoys the rich life with a cushy Wall Street job; Kumar was dumped by his girlfriend (Danneel Harris) and, having flunked the med school drug test, remains a pothead loser. Harold's intimidating, Korean-hating father-in-law (Danny Trejo) wants the ideal family Christmas, and Harold is desperate to oblige, which means he must find a Christmas tree to replace the one unintentionally burned by Kumar during a surprise visit. Reluctantly, the two join together once more and set out to find "the perfect tree" on Christmas Eve. Along the way, they inadvertently expose a baby to pot and cocaine, take an unidentified psychedelic for a claymation trip, and make friends with the year's new toy Wafflebot (downright hilarious) to defeat a Russian mobster (Elias Koteas). Meanwhile, Harold and Kumar have re-engaged their bromance in a raunchy-yet-heartwarming escapade, leaving their newfound friends (Tom Lennon and Amir Blumenfeld, both obnoxious) on the wayside.
Employing the 3D device as self-aware silliness, director Todd Strauss-Schulson (watch his video short "Sorority Pillow Fight" with Michelle Rodriguez on Collegehumor.com) has fun tossing eggs, exposing plenty of topless women, and shoving one gigantic claymated penis in our faces. And yet, here is one of the few 3D uses that actually find a purpose within its film. So often, 3D is a throwaway addition, but Hurwtiz and Schlossberg write in ironic references to 3D being outdated and stupid, even while snowflakes fall grabbily before us. Moreover, the series' usual topical humor becomes less of a concern here, as the writers forgo expanding on Harold's Wall Street occupation and the protesters outside of his building. Too, the film uses less racial humor, which was a defining characteristic of the earlier titles, and conforms to the Christmas theme with plenty of holiday references. Santa Claus takes a gunshot to the head and a nod to A Christmas Story has a considerable yuck factor, but the Christmas spirit is nonetheless alive and well in satiric form.
Better than the overly political first sequel but more labored than the carefree original, the third Harold & Kumar film won't go down as a Christmas classic or the entry needed to revitalize this series anew. "NPH" mentions seeing our heroes in part four, but let's hope that was just over-ambitiousness talking. The actors are becoming too old for this material, Cho having moved on to bigger and better projects like Star Trek, and Penn having left his stint on House to work for the Obama Administration. (Both developments are referenced in the film.) They've pushed the material as far as it needs to go. This was a funny movie with plenty to enjoy, but no doubt I'll have forgotten it completely come the next holiday season when I'm asking myself which Christmas movie to watch.