Director

Cast

Bradley Cooper

,

Lady Gaga

,

Andrew Dice Clay

,

Dave Chappelle

,

Sam Elliott

,

Anthony Ramos

,

Alec Baldwin

,

Rafi Gavron

Rated

R

Runtime

135 min.

Release Date

10/05/2018
About midway through A Star Is Born, Bradley Cooper's alt-country rocker Jackson Maine warns the emergent pop-star Ally, "If you don't dig deep into your fucking soul, you won't have legs." It's a moment loaded with metatexual implication, since Lady Gaga plays Ally in a stripped-down, natural performance. Over the course of this studied, impressively constructed film, Ally disguises her initially unsophisticated and simple appearance with flashy hair dye, gaudy makeup, and revealing outfits, while singing innocuous chart-topping hits. Gradually, as Ally's story unfolds, she begins to resemble Lady Gaga. A curious and contemptuous glimpse at stardom from two celebrities in the prime of their popularity and talent, A Star Is Born expertly and self-reflexively cuts into the destructive nature of fame, even as it propels its own talents into the stratosphere. The art-imitates-life factor is undeniable, if indulgent on the part of its players. Nevertheless, this is an incredibly accomplished work of the filmmaking craft by Cooper—who serves as writer, producer, director, songwriter, and singer—and a telling commentary by Lady Gaga on her own career.
Cooper's film is the third remake of the 1937 original. Produced by Hollywood maverick David O. Selznick and directed by William A. Wellman, the first iteration starred Fredric March as a seasoned actor undone by the growing talent of the new actress he discovered, Janet Gaynor. Beginning with the first remake in 1954 by George Cuckor, however, A Star Is Born films took measured steps away from movie stars, toward musicians. Cuckor's epic-sized version featured James Mason as a dwindling, alcoholic performer who makes a movie star out of Judy Garland. Even in this version, Garland's character, an actress and singer, echoed her well-publicized offscreen persona, which established the recurrent theme of A Star Is Born by making reference to its actors' personal and professional lives. Such was the case with Barbara Streisand, whose presence is felt all over the 1976 version, right down to the clothes from her own closet. Kris Kristofferson appeared opposite Streisand in the remake that completely transitioned the characters from the screen to the concert stage.
In a sense, though Cooper's film begins on the musician's stage, it morphs into something closer to the 1954 version. Today, pop-stars aren't merely musicians; they're performers in advertisements and music videos who must master the aural and visual. They must adopt a marketable image to become a recognizable face on a billboard or product. No contemporary musician knows that more than Lady Gaga, who, following in the footsteps of Madonna, is a personality seemingly defined by her love-hate relationship with celebrity. She disguises her appearance in an ever-changing, often outrageous façade that at once mocks and succumbs to her audience's demand for a distinct superstar image. But then, she sings songs like "Applause" with the sardonic lyric, "I live for the applause, live for the way that you cheer and scream for me." Cooper draws from this element of her career and injects it into his film. As a result, Ally ends up resembling someone like Lady Gaga's real-life celebrity, being a talent whose authenticity feels labored-over and practiced—just another part of her image-making.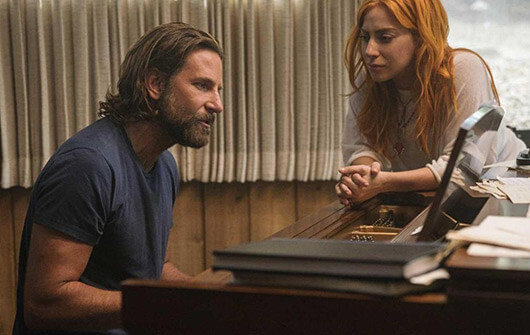 Whatever preconceived notions the viewer has about the highly publicized and buzzed-about A Star Is Born will melt away with the first scenes that show Jackson on an arena stage in L.A., delivering songs Cooper has written and performs with remarkable purity. Unlike most films about musicians, the songs performed in the first half by Cooper's Jackson are genuinely good, memorable even. Later, though, the music isn't so satisfying. An aging rock star whose eardrums have been blown to smithereens and whose alcohol use is beyond abusive, Jackson wanders into a drag bar after the film's opening concert, thirsty for a drink. There, he stumbles upon Ally, who sings a glorious rendition of "La Vie en Rose" with her otherwise humble appearance covered in campy Edith Piaf makeup. Instantly taken, he learns that Ally, a struggling server in a thankless restaurant gig, writes songs in addition to having Gaga's voice. He impulsively invites her to his next live performance, where he compels her onstage to perform a song she's written—"The Shallow," a doozy of a duet that's bound to become the audience favorite.
For much of the first hour or so, Ally's ascension from a wannabe singer who lives with her I-coulda-been-a-crooner father (Andrew Dice Clay) to Jackson's touring partner and lover, and eventually wife, remains deliriously entertaining. The onscreen chemistry between Cooper and Gaga results in a kinetic reaction. As the story progresses in the familiar path of earlier A Star Is Borns, Jackson's celebrity begins to wane. His alcoholism takes center stage as, peripherally, Ally signs a deal with a record label. Her business-minded manager Rez (Rafi Gavron) insists that she change her hair color and use backup singers and dancers—concessions that eat away at the integrity of the soul-pouring duets from earlier in the film.
Reeling from the loss of his last great musical partner to the pop-music business, alcohol is Jackson's only way to cope, and he drops into uneasy, embarrassing lows. He has a support system, including Sam Elliot, playing Jackson's 40-years-older brother and manager, or Dave Chappelle, a longtime friend who, rather randomly, convinces Jackson and Ally to get married. But the Maine brothers both live in the wake of their father, another musical talent warped by his dependencies. Seemingly doomed to repeat his father's mistakes, Jackson must watch as the woman he loves turns into the very thing he warned her about becoming. All the while, we secretly wish she would give up her sham of a pop career and return to Jackson to perform another soulful duet.
The sheer craft of Cooper's long-in-development project is astounding. Trained by the prestigious Actors Studio, Cooper commits to this role more than any other in his career. He lowered his voice an octave for a gravelly sound that, with Cooper's intentional modulations, sounds reminiscent of his costar, Elliot. He also adopts the look and mannerisms of Eddie Vedder, complete with uncertain postures and perpetually greasy long hair. Through the mumbles and leathery skin, Cooper is giving an incredible performance. Gaga, meanwhile, offers a seemingly vulnerable turn in the first half, but her presence becomes increasingly unnatural and phony in the film's slower second half. Perhaps this is an intentional component to the meta quality of A Star Is Born, resonating her character's increasingly vapid celebrity. After all, Ally is told again and again that her audience wants to hear what she has to say. But the message of her on-screen music—particularly awful and unpleasant pop songs that stand in sharp contrast to the affecting performances earlier on—is nonexistent. In the end, Ally sings a final tribute song to Jackson that's supposed to look genuine and heartfelt, but instead, it appears artificial and performed. Is this Cooper and Gaga's final dig against celebrity personalities?
Though Cooper could be accused of satiating himself with a vanity project, A Star Is Born is too layered, too readable, and too often brilliant to be dismissed so easily. It's a major release by Warner Bros. and certainly bound for awards recognition, but it often plays like a small indie project. Matthew Libatique, the cinematographer of most Darren Aronofsky works, employs his oft-used approach of placing the camera in the actors' faces, capturing every subtle emotion. For Cooper and Gaga, the film's visual approach showcases their lived-in roles, lending the picture an unwavering legitimacy, even as it explores the downright ugly insincerity of the music industry's biggest talents. The film may not surpass the 1954 version, but there's no question that Cooper has accomplished something special with A Star Is Born. It's not easy to capture performances this raw, nor to write and perform songs as good as "The Shallow," as mournful as "Maybe It's Time," or as badass as "Black Eyes." Cooper does it all to an impressive degree, and he wraps those touches in a moving film that has much to say, leaving the viewer with much to disentangle about its complicated textuality.