Director

Cast

Tahar Rahim

,

Niels Arestrup

,

Adel Bencherif

,

Reda Kateb

,

Hichem Yacoubi

,

Jean-Philippe Ricci

,

Gilles Cohen

Rated

R

Runtime

155 min.

Release Date

05/16/2009
When Malik El Djebena arrives at a French prison to begin his six-year sentence, a corrections officer asks him a few questions about his background. Malik's uncertain replies give us our only glimpse into his past at this point. Born to an absent Arab father and a French mother, Malik cannot remember which language he spoke first, nor can he read or write either very well. Of his parents, he merely states, "I wasn't with them." An outsider, he comes from no grand crime family and has earned no name for himself on the street; his crimes amount to adolescent badgering of police officers. His entrance into the cold walls of the notoriously brutal French prison system will not be easy. Only after he's reluctantly enlisted to perform a hit does he become a minion of the Corsican mob boss all but running the prison from inside. From there, our young antihero climbs the ladder to the heights of the penal underworld. His rise, sometimes horrifying and brutal, is filled with breathless suspense and crushing moments of tension, which in turn lead to Malik's mental fatigue and hallucinations. Nevertheless, he gradually carves out his reputation, and his ascent is downright mythological.
Jacques Audiard's A Prophet is an incisive crime saga told within the confines of concrete walls and deprived humanity. It belongs on a shortlist of great films like The Godfather (1977), or perhaps television's The Wire (2002-2008), which avoid the classical Hollywood trajectory that charts the rise and fall of a criminal legend—the fall being the most important aspect of that equation. Watching the mobsters in titles from The Public Enemy (1931) to American Gangster (2007) savor the dangers and spoils of their freeing, albeit lawless métier provides one of the essential fantasies of the cinema. Hollywood instilled conditions to such fantasies in the 1930s with the Production Code Administration (PCA), which was followed by international filmmakers who copied the resultant style. Crime fantasies were provisional, dependent on the illicit characters finally succumbing to the letter of the law, affecting a crime doesn't pay message. Today's filmmakers decide where to end their story about criminality, at the pinnacle or the inevitable downfall. Their choice either embraces the narrative tradition of gangsters who must receive their comeuppance, or it altogether eschews the time-honored decree of the PCA, long since replaced by other censors. The latter choice seems more realistic in the face of an omnipresent theme in which onscreen criminals are punished to achieve moral catharsis.
In Francis Ford Coppola's mafia saga, and again in Audiard's film, the criminals succeed to and remain on top. For Malik El Djebena in A Prophet, played by then-unknown actor Tahar Rahim in a vulnerable and brilliantly nuanced role, his rise is painstaking and not savored until the last scenes. In another way, Malik's upward journey among the ranks of made men echoes that of Henry Hill in Martin Scorsese's Goodfellas (1989), in that Hill's Irish blood made him an outsider among his Italian wise guys. So too is Malik, with his Arab lineage. He's an outsider to the Corsicans who dominate the prison community. Within the first days of Malik's sentence, he becomes the pawn of Corsican boss César Luciani (Niels Arestrup). Looking for any angle from which they can dispose of Reyeb (Hichem Yacoubi), an Arab prisoner about to testify in a trial, the Corsicans notice Reyeb proposition Malik for oral sex in exchange for hash. Malik rebukes the offer until Luciani convinces—nay, threatens—him to comply as part of a jailhouse hit. After completing the task, whose elaborate preparations involve hiding a razor blade in his cheek, Malik earns protection from the Corsicans, but not respect. He's allowed to prepare their coffee and run their errands, but to them, he'll always be just another Arab.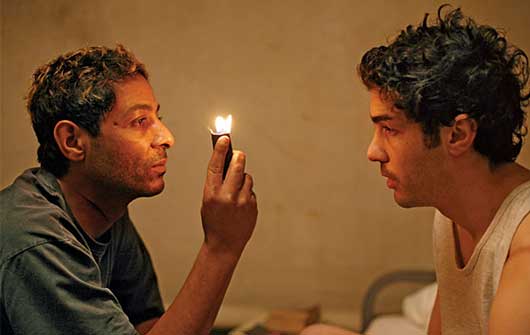 Over time, Malik teaches himself Corsu and, peripherally, earns Luciani's trust. The boss then convinces Malik to apply for 12-hour "leaves days" that allow him a limited block of freedom as a reward for his good behavior. But Malik's intervals outside of the prison belong to Luciani, which becomes abundantly clear when the boss nearly gouges Malik's eye with a spoon upon learning about the drug sideline Malik has with a friend and former inmate, Ryad (Adel Bencherif). "You live off me," proclaims Luciani. Malik's subservience is never so apparent than the subsequent scenes where his vision, tunneled and dim from the damage caused to his eye, spy his boss' disdain. And so, during his trips outside, Malik arranges deals and coordinates meetings with the Lingherris, the Italian mafia, and even arranges a street execution of a mob mole. At the same time, he's even more secretive and motivated to make arrangements for himself, confident that he cannot last in Luciani's favor. Enter Lattrache (Slimane Dazi), a Muslim gangster in Marseille who, like Malik, has deals with the various mobs.
Similar to Audiard's Dheepan from 2015, the director incorporates an element of the fantastical into the otherwise gritty realism of A Prophet. Whether they are hallucinations, nightmares, or the actual visions of a bona fide clairvoyant, Malik is visited by his murder victim, Reyeb. The apparition appears with razor blade slices on his neck, his clothes smoldering with a blue flame. Rather than a vengeful or malignant ghost, Reyeb offers Malik an uncanny awareness into the routines of his fellow inmates, as well as foresight into upcoming events. Reyeb's appearance might be a sign of Malik cracking under the pressure, or he might be a genuine prophet. When Malick later dreams of deer running, the premonition comes true during a deathly encounter with Lattrache, saving his life and earning him the nickname "prophet." From this moment forward, Malik earns his reputation among the much larger Muslim community in the French prison, and he soon leads them, while the Corsicans dwindle. That reputation follows him until his release, when his emergence as a newly emboldened crime lord closes the film with an image as evocative as Michael Corleone shutting the door on Kay.
Audiard's inclusion of poetic dream images against the unflinching reality of a prison criminal enterprise is unique to the French director, whose works explore the inward lives of his characters in compelling, layered ways. The approach recalls the French crime master Jean-Pierre Melville, whose mysterious leading men in Bob le flambeur (1956) and Le Samouraï (1967) maintain their imitable cool, never letting on to their interior schemes. Very rarely does Malik's portico crumble. Watch the scene where Malik, the hardening prison gangster and Arab representative of the Corsican mob, as he takes the first flight of his life to Marseille. He walks through the airport, confident and dressed to the nines. On the plane, however, he expresses a boyish exhilaration over the complimentary rolls and view from the window. Rahim's incredible performance captures Malik's fragility and, in turn, the accompanying façade he must maintain to survive. A similar dimension is revealed in his scenes with Ryad, who is dying of testicular cancer, and Ryad's wife and child, whom Malik promised to care for after Ryad passes. The final shot of A Prophet captures those seemingly conflicting dimensions in a perfect moment.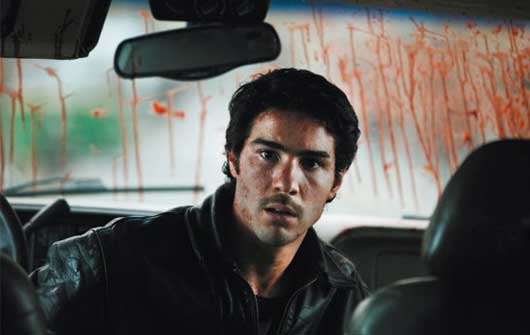 A Prophet features involving cinematography that earned Stéphane Fontaine his second César Award (the French Oscar) after teaming with Audiard in 2006 for The Beat That My Heart Skipped. Having since shot Elle for Paul Verhoeven and Jackie for Pablo Larraín, it's safe to call Fontaine one of the most accomplished European cinematographers working today. Intimate and expressive, his shots tell a clear story while his compositions never resort to typical cinematic iconography. Alexandre Desplat's score is likewise understated and elegant, and only the English-language selections on the soundtrack, including Nas and Turner Cody, import American cultural associations and apply them here. In every other way, A Prophet is a European art film in the accessible way in which Audiard specializes—particularly in its intertextuality and its blend of art, entertainment, and commentary. In this way, it recalls both of the Mesrine films from 2008, Killer Instinct and Public Enemy No. 1, and Olivier Assayas' superb miniseries Carlos (2010) as well. Both the film and its director earned accolades on the international festival and awards circuits, including the Grand Prix at the 2009 Cannes Film Festival, a BAFTA, and nine César Awards.
The French have an outstanding tradition of prison stories, going back to Alexandre Dumas, though one can only speculate as to why. In the cinema alone, Jean Renoir made the finest of them, Grand Illusion (1937), a POW story about Frenchmen during the First World War who, in the face of dehumanization, observe an absurd soldierly etiquette among their German enemies of equal class. Robert Bresson explored the devoted mindset of a prison escapee in A Man Escaped (1956), based on the life of André Devigny, a French Resistance fighter. Le Trou (The Hole, 1960) found Jacques Becker investigating the bond between men in such a close-knit environment, going deeper into the mindset of a prisoner than perhaps any other director in the genre—he also revealed what happens when that trust is betrayed. Moreover, countless films and stories have been centered on daring escapes from French prisons, specifically their use of penal colonies like Devil's Island. Maybe it has something to do with the tradition of French existentialists pondering their boredom and alienation, or the romantic metaphor of an everyday escape fantasy seeping into a real situation through fiction.
Finally, although A Prophet meets the requirements of the crime and prison genres, and it has the introspective quality of independent art films, perhaps more significantly, Audiard also delivers a stark sociopolitical commentary. Note the presence of "Mack the Knife" on the soundtrack over the end credits. The jazzy tune now commonly associated with Bobby Darin was originally written in 1928 for The Threepenny Opera, with lyrics by Bertolt Brecht and music by Kurt Weill, and it reflected the Weimar Republic's corruption. Mack, an underworld kingpin overseeing a band of street robbers, engaged in all manner of horrible crimes, and he earns the audience's sympathy despite his wrongdoings—a luxury afforded by a broken political system. Audiard doesn't allow his viewer to escape into a Hollywood fantasy that suggests our political institutions will resolve people like Malik, nor does he glorify Malik for his ingenuity. Without moralizing his drama into a message, A Prophet exists as an acknowledgment of social conditions that create smarter, better criminals, as opposed to rehabilitating them. It's a theme that never robs the film of its absorbing effect, and yet remains there for viewers who wish to look beyond the expertly crafted, performed, and dramatized prison narrative.