Director

Cast

Rated

PG-13

Runtime

108 min.

Release Date

12/23/2016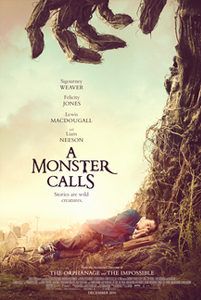 With the increased presence of YA intellectual properties, a new subgenre has emerged in which outsider children find solace from their family problems in a fantasy world. Sometimes that world provides a necessary distraction from the hard truths of life (El Laberinto del Fauno), whereas others serve as a symbolic platform to work through an inner conflict (Where the Wild Things Are). In A Monster Calls, a towering imaginary friend arrives in the everyday world of the young protagonist to address issues pertaining to death and growing up. Although the film's approach could be considered straightforward in its use of metaphors and its explanations of them, its symbolism exposes complicated emotional ideas that perhaps require a less ambiguous treatment to facilitate a clear message. Nevertheless, the film remains touching and beautiful in spite of its structural simplicity.
Patrick Ness adapts his own children's book alongside director and co-adapter J.A. Bayona. If you saw Bayona's terrifying ghost story The Orphanage (2007) or his harrowing disaster film The Impossible (2011), it's evident this filmmaker is primed to become a household name; perhaps after he directs the Jurassic World sequel for 2018. Many have proclaimed A Monster Calls to be a soulful and imaginative masterwork, while others have deemed it overly familiar. To be sure, there are plenty of comparisons to be made. The plot follows Conor O'Malley (newcomer Lewis MacDougall), a British, artistic preteen boy who is visited by the title's monster, an enormous beast made of trees and smoldering insides. Not long after screening King Kong with his mother (Felicity Jones), Conor receives a visit from the Monster, who evokes scenes from that very film—the Monster's hand crashes through the window to grab Conor and inspect him.
Voiced by Liam Neeson, the Monster emerges from a single yew tree in a lonely cemetery Conor can see from his bedroom. He's something like an Ent or The Iron Giant; he also shares some storybook DNA with Roald Dahl's The BFG. Over the next several evenings, the Monster arrives at 12:07 and begins telling three tales, each meant to help the boy understand how to cope with his family: Conor's mother is dying of cancer, so his father (Toby Kebbell) has returned from America, where he's living with a new wife and child. Meanwhile, Conor stays with his ruthlessly strict grandmother (Sigourney Weaver, behind a distracting English accent). He also receives regular beatings from a bully at school (James Melville). The Monster's three tales involve royalty, heinous acts, and moral ambiguity. They are not Grimm tales with edifying, clear-cut lessons, nor are they about heroes and villains. With each tale, the Monster's point is that people are complicated, and life isn't as simple as a fairy tale.
Each of the Monster's three tales is presented in computer animation cutaways evoking watercolors, the chosen medium of Conor's mother, and also Conor. The CGI and stylization of the characters in these sequences bring to mind the Deathly Hallows animations from the second-to-last Harry Potter film, complete with marionette-esque character designs and flat backgrounds. Neeson's narration booms over the visuals, at the end of which Conor remains confused about the tale's intended moral. But the Monster warns that, after his third tale, Conor will have to tell a fourth, and it must be true or else the boy will suffer his worst nightmare. Given the regular bullying, his mother, and the pressure from the Monster, Conor acts out in various ways. But the adults around him are determined to shelter Conor from the truth, even his mother.
When Conor misbehaves, gets in a fight, or destroys things in frustration, adults reply to any notion of punishment with "What could possibly be the point?"—in other words, they know Conor's mother is going to die, so they're giving the kid a break. At the same time, Conor can't seem to get a straight answer from anyone. "What's happened?" asks Conor, visiting his visibly pale and dwindling mother in the hospital. "Nothing," she says. "It's fine." But the Monster hasn't appeared in Conor's waking dreams to convince the boy to accept death; rather, he helps the boy understand his complicated feelings about his mother's situation, allowing for anger, sadness, and a desire for his pain to end. Accepting such a truth comes easy in their family, as Conor's mother apparently dealt with a similar situation with her own father, played by Neeson, appearing in a single family photo. The implications of this photo, and the possible presence of the Monster in Conor's mother's life, are perhaps too silly to contemplate.
A Monster Calls has a tidy message about the impact of death on the living, and it's affecting thanks to the sensitive performance by MacDougall. Bayona works extremely well with child actors, as evidenced in his earlier films, and he conjures an impressive, elemental turn from the young-looking 14-year-old actor. Bayona and his cinematographer Óscar Faura take a cue from the Steven Spielberg Book of Stories About Children and shoot at low angles, always placing us at a child's height. This makes A Monster Calls a possibly formative viewing for young children unversed in the subgenre, although viewers experienced in other, very similar material (Where the Wild Things Are and Bridge to Terabithia are the most obvious standouts) may anticipate the turn of the filmic storybook all too easily. Even so, the film stands as a capably made fantasy bound to draw out a few tears and present a few wowing visuals.