Director

Cast

Rated

R

Runtime

129 min.

Release Date

03/24/2023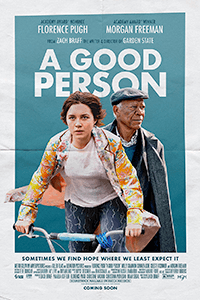 A Good Person is writer-producer-director Zach Braff's love letter to the talent of Florence Pugh and Morgan Freeman. In the film, Pugh's Allison gets Molly (Nichelle Hines), and Molly's husband, Jesse (Toby Onwumere), killed while driving them in her car—an accident that lands Allison in the hospital and propels a grief spiral and OxyContin dependency. Freeman's Daniel, an ex-cop and recovering alcoholic, was to be her father-in-law. He at once blames Allison for what happened but understands her trauma and addiction. What follows is a combination of powerful performances and soft acoustic guitar music in occasionally weepy material. In other words, it's a Zach Braff movie. Yet, however much one wants to recoil from anything by the maker of Garden State, a widely praised indie darling on which the culture turned not long after its 2004 release, it's impossible to deny the emotional heft behind A Good Person. After more insightful takes on addiction in the last few years, from Hulu's Dopesick (2021) limited series to Laura Poitras' documentary All the Beauty and the Bloodshed (2022), Braff's film feels comparatively slight. But the terrific performances elevate it. 
Braff wrote the central part for Pugh, who he dated for three years before a recent 2022 breakup. Aware of her range of talent, Braff makes the most of Pugh's physicality in her acting. Her immersive performances earned her recognition in 2019—her breakout year—for wrestling in Fighting with My Family, playing emotionally raw grief in Midsommar, and blithely conforming to society in Little Women. Here, she plays piano, sings, and dances while portraying an addict, which she convincingly captures in sweaty, jittery mannerisms and wounded expressions. Braff also seems to adore Morgan Freeman, who he directed in the pensioners-rob-a-bank yarn Going in Style (2017). Though a living legend, Freeman has been coasting in forgettable commercial roles for the better part of the twenty-first century. Braff conjures a performance out of the 85-year-old actor that compares to his best work. It's Freeman's strongest acting since Million Dollar Baby (2004). 
Of course, Braff cannot resist using Freeman's iconic voice in the opening narration, and why should he? Daniel observes how model train hobbyists exact control over a world of their own making. Indeed, he has built an elaborate, small-scale version of his suburban New Jersey town in his basement, where he hand-paints figurines representing pivotal moments of his life, depicting how he wished they had turned out. The theme of control runs through A Good Person, but neither Allison nor Daniel attains it—that would be an illusion. When the story picks up a year after the accident, Allison denies her fraught mental state and addiction, though she's no longer in physical pain. Insisting that, as she claims, "It wasn't my fault," Allison nonetheless blames herself for the accident. So she left her fiancé Nathan (Chinaza Uche), Daniel's estranged son, because of her crushing guilt—a feeling implanted by Daniel. When she finally checks into a substance support group, it happens to be the same group Daniel attends, prompting a reconciliatory relationship between them.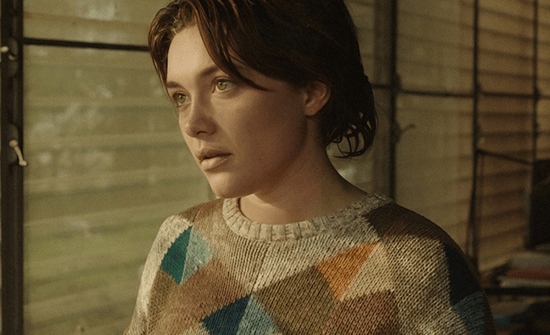 A Good Person is best in the aching conversations between Allison and Daniel, where the two share their regrets and stories about managing (or not) their respective addictions in marvelously acted scenes. The work of the supporting cast is also excellent. Molly Shannon is charming as Allison's mother, an enabler who depends on her large pours of white wine every evening—another form of addiction that's never adequately addressed. Celeste O'Connor plays Ryan, Daniel's 16-year-old granddaughter, who's now parentless after the accident. Filled with teenage hormones that register almost as manic as Allison's addict behavior, Ryan also blames Allison, but she befriends Allison anyway to understand her parents better. Braff aspires to realism in these interpersonal relationships. The film's middle section, which follows Allison reaching personal lows to score some Oxy, all the while denying that she's an addict, feels drawn from actual experiences. Take a striking scene that finds Allison at a bar with two drug dealers (Alex Wolff and Brian Rojas) who force her to say, "I'm a fucking junkie," before they'll get her high. It's painful to watch. 
The screenplay is full of narrative conveniences—some might say dramaturgical contrivances—that the viewer must overlook to appreciate the actors' work. By the end, when Braff wraps the conclusion in a "neat and tidy" package, it's as orderly as Daniel's train set. The everything-works-out ending negates the film's acknowledgment that addiction is constant work and never finished. It demands strength and willpower, and there are good and bad days. So even while the scenes where Allison and Daniel succumb feel natural and motivated by emotional stressors, Braff heightens them to sometimes unbelievable extremes—such as the entire climactic sequence in New York City. However, it would be too easy to dismiss A Good Person for Braff's overly manufactured script since his scenes of genuine feeling outweigh the film's less authentic moments. 
Those opposed to Braff's brand of heavy-handed indie filmmaking probably won't be won over by A Good Person, unless they allow their appreciation of Pugh and Freeman overcome their cynicism. At 129 minutes, the film starts to feel overlong in the last act, and the transitional passages involving Braff's generally corny music selections could have been fewer. Still, the production looks sharp, courtesy of cinematographer Mauro Fiore, who usually shoots blockbusters for Antoine Fuqua and various Marvel properties. And for most of the film, I watched with a lump in my throat and tears welling up in my eyes—largely despite my awareness of Braff's manipulations—because Pugh and Freeman make every dramatic beat more compelling than it might be with other actors. Undoubtedly, some viewers will chastise the film for Braff's simplistic remarks about addiction and occasionally trite theatrics. Still, it would be difficult to watch A Good Person and dismiss its showcase of acting talent.