Director

Cast

Catherine Deneuve

,

Jean-Paul Roussillon

,

Mathieu Amalric

,

Anne Consigny

,

Melvil Poupaud

,

Emmanuelle Devos

,

Chiara Mastroianni

Rated

Unrated

Runtime

152 min.

Release Date

11/14/2008
Arnaud Desplechin's rich, intellectually lofty exploration of family in A Christmas Tale does not contain what some would call The Christmas Spirit. There are no twinkling lights or carols sung, no children running down the stairs to open presents the morning of. This is not a joyous film, but it is joyous in the way it represents the layers of a family, slyly exposing how, when families get together around Christmastime, problems are veiled, albeit faintly so. The gathering of otherwise estranged groupings of relatives causes quiet consideration of how they relate to one another, offering an emotionally confusing scenario that cannot be reconciled even in the deepest reflection. As a result, the holiday curiously brings a feeling of togetherness along with a profound sense of isolation.
You either identify with that interpretation of the holidays or you don't, and your capacity for enjoying this film depends largely on your ability to relate to Desplechin's understanding of how families behave. Indeed, some viewers will simply dismiss the characters as melodramatic snobs, distant and unbelievably rude to one another. The characters will seem obscure and confusing, and their behavior frustrating and ambiguous. Others will unreservedly sink into the material, losing themselves in the meditation of three-dimensional characters purveyed onscreen. The mystery behind their motivations will intrigue, as will their elusive behavior. Lovers of this film will recognize the faintly ironic politeness of the characters, as well as their apparent discomfort around one another; the strange sense of melancholy all around will feel familiar.
Desplechin's film opens in the provincial French town of Roubaix, at the home of the Vuillard family. Their history is recounted in the opening scene through a puppet theater. We're introduced to Junon, the family's matriarch; she's played by the great Catherine Deneuve, who after all these years remains beautiful and alluring. Junon's first-born son died of a rare form of leukemia at a young age, and his death still lingers with the family. The significantly older patriarch, Abel (Jean-Paul Roussillon), runs a dye factory. Junon discovers that she has leukemia and will die without a bone marrow transplant, and her children are the best candidates to be donors. She remains strangely stoic about her own death, detached from the reality of it.
Because of this sad occasion, all the children are returning home for Christmas. It's the first time the entire family will be together in six years. The eldest child and playwright, Elizabeth (Anne Consigny), has an ever-present depression that she's trying to work through with a therapist. Her withdrawn teenage son, Paul (Emile Berling), has issues of mental instability. The youngest son Ivan (Melvil Poupaud) has a charming wife, Sylvia (Chiara Mastroianni, daughter of Deneuve and iconic Italian actor Marcello Mastroianni), and two young boys. They're traveling with Ivan's cousin, Simon (Laurent Capelluto), who has long carried a flame for Sylvia. Of all of them, only Paul is a match for Junon's needed transplant. It comes to the dismay of many that the middle child and black sheep of the family, Henri (the strangely charismatic Mathieu Amalric, from The Diving Bell and the Butterfly), also proves to be compatible.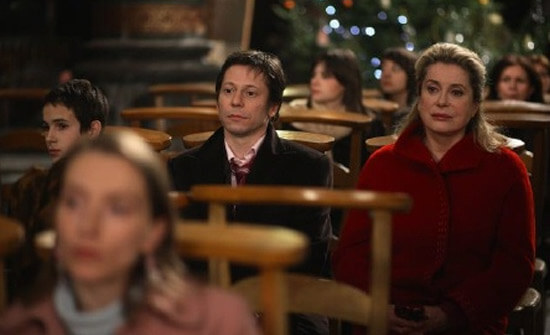 Elizabeth has long since disregarded Henri, having him banished from the clan some years ago. He has a way of ruining things, of joking too much, and mixing his humor with a painful and candid truth that upsets everyone. Henri resents his sister, and his mother, who was admittedly a distant and unloving mother. She feels she's owed Henri's marrow, despite the procedure's risks involved for both, because she gave him life—it's time for her to take some back. Junon, a mild anti-Semite, is particularly cruel to Henri's Jewish girlfriend, Faunia (Emmanuelle Devos), leaving her at the mall during their shopping excursion. Meanwhile, Sylvia discovers Simon's long-standing adoration for her; it's dealt with in—how shall I put this—a very French manner between them.
But recounting in total the ins and outs of the many characters and the intricacies of their relationships is impossible. So is trying to explain the narrative beyond a series of feelings, a sense of interaction between the viewer and their ability to relate to what's onscreen. Imagine summing up your own family, trying to explain a lifetime of subtleties and reservations, times of happiness, and concealed opinions waiting to emerge. How long would that take? Desplechin takes two-and-a-half hours to tell this story, a running time that passes effortlessly without the viewer wasting a single thought on the film's length. We don't learn everything that we'd like to in terms of the characters' motivations, but we're left with our thoughts on the material, our best guesses, and our impressions of what we were shown.
Desplechin's highbrow references to literary material might distract some, as his characters quote Emerson and Nietzsche, while others watch the 1935 film version of Shakespeare's A Midsummer Night's Dream. Some of the references are made matter-of-factly, whereas, in the case of Nietzsche, the long quote read by Abel enlightens the purpose of the entire picture (so pay attention to it). In a way, such citations are incredibly pretentious, but not in the Antichrist form of the word. They're pretentious in an enlightening way that emphasizes and enhances the film's purpose, proving how intelligent and complex it is in its unification of form and function. Desplechin knows he's being complicated, but he's so good at it. How can we hold it against him?
This is also evident in the presentation, which uses everything from split screens to chapter titles to characters who give monologues directly to the audience. But instead of being the showy devices, these flourishes have the potential to be, curiously they're not distracting at all. It doesn't seem out of place when Junon addresses the camera, because by then Desplechin has made her feel so familiar to us. The technical tricks flow into the rest of the picture, which admittedly has an odd tone to begin with, set to everything from Christmas carols to weighty classical music, plus some feral jazz for good measure. It's an engulfing experience that's incredibly involving.
The events in A Christmas Tale have every possibility of becoming overly sentimental and corny in the wrong hands. How many other movies have you seen where characters contemplate their segregation within their family? A lot. It's the central theme of most holiday movies. Add to that a plot revolving around a bone marrow transplant, and there's a Lifetime Original movie waiting to be made. But there's something special and unique about Desplechin's film; after it fades into the end credits, it's hard to escape the world it's created. Somehow, it has completely absorbed us into its characters and their family. It's not the type of film that you'll watch every year between screenings of It's a Wonderful Life and National Lampoon's Christmas Vacation, but it's a film to be appreciated artistically for its skill in representing the natural push-and-pull of family around Christmastime.