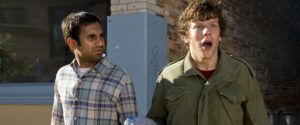 30 Minutes or Less
1 Star
Director

Cast

Rated

R

Runtime

83 min.

Release Date

08/12/2011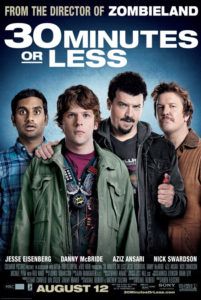 For moviegoers anticipating another sharp pairing of the director and star of Zombieland, keep waiting. Ruben Fleisher's 30 Minutes or Less makes poor use of the recently Oscar-nominated actor Jesse Eisenberg, and even worse use of its basic premise by first-time screenwriters Michael Diliberti and Matthew Sullivan. Loosely based on a 2003 incident where a pizza delivery driver died during a bank robbery when the explosive collar he was wearing detonated, the comedy reaches for broad laughs of the bromance and stoner kind, but not in a good way like The Change-Up just displayed. Actually, despite its frat house, pothead appeal, there's no drug use to be found therein, only bad behavior punctuated with a particularly negative view of women.
Downtrodden pizza delivery guy Nick (Eisenberg) becomes a patsy for two white trash morons, Dwayne (Danny McBride) and Travis (Nick Swardson), when they kidnap him on a drop and secure a bomb to his chest. The kidnapper's scheme is convoluted and needlessly complex: Dwayne and Travis dream of opening a tanning salon that doubles as a whorehouse, but they need money. To get starter funds, an estimated $1 million inheritance from his lotto-winning Marine father (Fred Ward), Dwayne puts his trust in his regular stripper Juicy (Bianca Kajlich), who "knows a guy" (Michael Pena) that will take out Dwayne's dad for $100,000. To get the capital for Juicy's hitman, Dwayne and Travis grab Nick, strap C4 and a 10-hour red digital counter to him, and tell him to rob a bank. Rather than explain all this, by just saying Dwayne and Travis were bored criminals who wanted to rob a bank but didn't want to take the risk, the movie could have shaved a half-hour from the short-but-long 83-minute runtime and saved us some headache.
Panicking, Nick goes to his only friend, Chet (Aziz Ansari, hilarious), and pleas for help. But Nick and Chet have recently fallen out after an eruptive argument that ended with Nick confessing he slept with Chet's sister, Kate (Dilshad Vadsaria), a character who's nothing more than a thing that males fight over. If you think this all sounds like a low-class version of an Elmore Leonard novel, you'd be right. Chet agrees to help his friend, and together, through countless unrelated arguments and ceaseless, familiar male-bonding humor, they execute the bank robbery with plastic guns and ski masks. This leads to a high-speed chase. And how is Nick able to escape the police? Because the writers were oh-so-clever enough to establish Nick's slick delivery boy driving skills earlier in the movie. Following their every move are Dwayne and Travis, who somehow twist each conversation into an oral sex reference.
If audiences weren't already put over the edge by the Southern-fried, sex-obsessed, misdirected overconfidence of every Danny McBride character since The Foot-Fist Way, especially after this year's dreadful Your Highness, this would be the movie to do so. His presence, funny at first, has become so annoying and overplayed that it's any wonder why Hollywood hasn't written him off. Alas, he's appeared in a handful of profitable titles in recent years (such as The Pineapple Express), earning him some credit. But his so-dumb-its-funny act, along with Swardson's usual awkward loser routine, have become irredeemably tiresome. No doubt they'll both end up somewhere akin to Rob Schneider and David Spade—not a pleasant place to be. Ansari is just getting started in big-screen comedies, so he gets a pass. As for Eisenberg, this is a lousy follow-up to The Social Network.
Saving the movie from an entirely laugh-less viewing are some amusing inside jokes. When attempting to remove the explosive, Nick asks how they disarmed bombs in The Hurt Locker, a brainy film both he and Chet admit they've never seen; but they both saw Kathryn Bigelow's mindless bank-heist actioner Point Break, and that's what they use as their robbery's how-to guide. And when asked if Nick had seen someone's update on Facebook, the actor who played Mark Zuckerberg replies, "You know I don't look at that shit." But these one or two brainy jabs aren't enough to earn 30 Minutes or Less a recommendation to anyone outside of Danny McBride's immediate fanbase, a crowd moving away from early David Gordon Green and moving closer to Jackass. Unlike Fleisher's witty and creative debut that explored low-brow humor with a wink, this comedy nestles into small-mindedness but forgets the winking part.