Director

Cast

Rated

R

Runtime

109 min.

Release Date

03/06/2012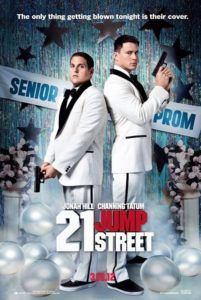 Nothing about 21 Jump Street sounds very promising. Hollywood's obsession with rebooting yesteryear's franchises carries on, here reinvigorating the eponymous 1987-1991 Fox TV series (in which Johnny Depp became a household name). Cloudy with a Chance of Meatballs directors Phil Lord and Chris Miller make their live-action debut with a complete 180-degree turnaround, putting forth an R-rated action comedy. In addition to Jonah Hill, who debuts his first post-weight-loss appearance on the big screen, the cast features Channing Tatum, whose own track record and inability to project emotion left this critic less than optimistic. It's part buddy cop actioner, part high-school romance, part stoner comedy, and just by the look of it, the clichés are overflowing. And yet, here's a movie that's aware of all its clichés, but somehow, with no limit of energy and humor, uses our awareness of these formulas as its strength.
What works best about 21 Jump Street is the odd couple pairing of Hill and Tatum, who play Schmidt and Jenko, first seen in the 2005-set prologue in which Schmidt is your classic nerd (braces, no confidence, etc.) and Jenko is a prototypical jock (brawn, no brains, gets all the girls). Cut to a few years later when, after meeting again at the police academy, they become friends. Leaving aside their former social statuses, Schmidt helps Jenko with his studies, and Jenko helps Schmidt with the physical stuff. They both graduate, screw up on their first day, and land themselves in a reject undercover project that tests their friendship by placing them back in high school, albeit undercover, to sniff out a synthetic drug ring. It's all predictable up to this point until both realize that in contemporary high schools, Jenko's brand of too-cool-for-school isn't cool at all, and Schmidt's former nerdisms have become characteristics of the cool crowd. "Environmental awareness, being tolerant," Schmidt says, baffled. "If only I'd been born ten years later!"
And so, burly Tatum spends his screentime playing science with a trio of chemistry wizzes, and Hill's sensitive, easygoing sense of humor grabs the attention of yearbook-editing drug dealer Eric (Dave Franco, young brother of James) and his down-to-earth heartthrob Molly (Brie Larson). Inevitably, Jenko learns what it was like for Schmidt to be a loser, and Schmidt gets to relive high school as a cool kid, effectively losing himself in his cover. Playing against type yet fulfilling his dumb musclehead role, I dare say that Tatum shows potential. Hill is funnier and more likable than he's ever been, finding a happy medium between the raunchy desperation of Superbad and the low-key sarcasm that earned him an Oscar nomination on Moneyball. Chris Parnell plays a drama teacher with tales of New York ("upstate… Albany"), Ellie Kemper is a chemistry teacher who can't take her eyes off the uniquely buff new student in class, and Rob Riggle is an unstable gym teacher. Best of all, Ice Cube plays their always-yelling chief who shouts, "Embrace your stereotypes!" and in turn emphasizes the movie's best quality.
Of course, the last half-hour involves cracking their case in the usual Hollywood fashion with car chases and shootouts. Their bromance comes oh-so-close to a break-up until they quickly make amends and save the day, creating a curious, but undeniable emotional pull. Yet even these moments have self-aware humor that renders them at once exciting and funny. Michael Bacall, who co-wrote Scott Pilgrim vs. the World, enters us into an ironic arena where the characters make fun of the movie they're in. Still, when the climax dwindles into full-blown action mode, the proceedings become rather dull as the barrage of bullets flies. Fortunately, a pair of cameos toward the end and an unnecessary penis gag (pun intended) prevent the viewer from slipping into boredom.
Inconsistencies in the plot and the movie's willingness to, in the end, become the very thing it mocks, threaten to undermine the onslaught of hilarious jokes and plotting here. True enough, not everything about 21 Jump Street proves as satisfying as Hill and Tatum's comic chemistry. Then again, it doesn't have to be. In this unlikely coupling of talent, we find two actors who play off each other so well, making their partnership seem natural and believable. Even more refreshing than the duo on the marquee is the self-referential humor that propels everything onscreen. It saves us the trouble of pointing out how Tatum looks like a 40-year-old compared to his high-school classmates. And it finds it more entertaining to have a fast-paced freeway chase scene in which a curious amount of vehicles do not explode.