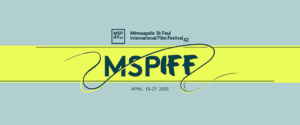 Minnesotans have hometown pride to spare, especially when it comes to movies. The state doesn't often see film productions come to town, so whenever there's a Grumpy Old Men (1993), Fargo (1997), or Drop Dead Gorgeous (1999) shooting in Minnesota, local audiences support the production. And if there's a mere mention of our state in any movie, Minnesotan moviegoers will murmur with acknowledgment as if to say, "Gee, that's where I'm from." So it's not surprising that the MSP Film Society's programmers have selected a generous helping of local fare to play at the 42nd annual Minneapolis St. Paul International Film Festival (MSPIFF), which runs from April 13 to 27, 2023. 
Take the opening night film, Dreamin' Wild, which debuted at the Venice Film Festival last fall. The biographical drama is about little-known musicians Donnie and Joe Emerson, and it features Casey Affleck, Walton Goggins, and Zooey Deschanel. Although the film doesn't take place in Minnesota, it was written and directed by Bill Pohlad, the filmmaker behind Love & Mercy (2013), not to mention the son of billionaire Carl Pohlad, former owner of the Minnesota Twins. Bill and his wife Michelle supplied the MSP Film Society with the grant needed to refurbish the former St. Anthony Main Theater, now called The Main. Under the current lease, the "neighborhood movie theater" space ensures Minnesotans have a proper arthouse venue for at least the next quarter century. Most of the festival's lineup will be exhibited at The Main, along with a few screenings at the Capri Theater and Landmark Center.
So, naturally, being a significant financial backer with a new feature, Pohlad's latest opens MSPIFF. Other local features in the "Minnesota Made" section include Dawn Mikkelson's latest documentary, Minnesota Mean, about the intense Minnesota Roller Derby crew. Minnesota-based filmmaker Justinsuperstar's doc Mom & Dad's Nipple Factory is an account of the director discovering his conservative parents' unlikely rubber nipple business. Losing Grip is a doc about Minnesota gymnast Shane Wiskus. And Minnesota director Charlie Griak's End of the Rope follows the mysterious disappearance of a family on a North Dakota farm in 1931. You can view the full roster of "Minnesota Made" films here. 
Fortunately, MSPIFF offers plenty of features made outside of Minnesota. This year, over 190 international and independent features will play at the festival, most nested in over 15 different programming categories and hailing from around 70 countries the world over—China, Iran, Romania, South Korea, India, Spain, Belgium, and Italy, to name a few. Although absent during COVID-19, the festival returned last year in a hybrid format, hosting in-person and virtual screenings. However, this year, they've ditched the digital option to encourage attendance at the new theater. Given the sheer volume of options, festival-goers will have the rare pleasure of sitting down to movies they know nothing about and discovering them alongside their local film community. 
In the coming two weeks, I plan to watch anywhere from one to three screenings a day at MSPIFF. So far, I've only seen Kelly Reichardt's Showing Up, and it's currently my favorite film of the year (the MSPIFF screening is on Friday, April 14). I'm also excited to see BlackBerry, R.M.N., The Eight Mountains, Polite Society, Stonewalling, Next Sohee, and Stone Turtle, among many others. But I'll probably only make a small dent in everything available.
Most of my coverage will be contained within dispatches comprised of five or so short reviews, but look for a few full-length reviews as well. In some cases, I will expand my dispatch write-ups into more substantive writings in the coming weeks and months, as certain films will graduate from the festival circuit into theatrical or streaming options.   
In the meantime, check out the full lineup on the MSP Film Society's website.