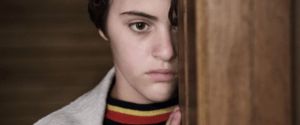 MSPIFF 2023 Dispatch – Part 3
These films were screened at the 42nd Minneapolis St. Paul International Film Festival (MSPIFF), which runs from April 13-27, 2023. Check here for the full lineup. Select films reviewed below will receive separate full-length writeups, some for their wider release, some exclusive to Patreon. In the meantime, here are some initial impressions. Read Part 1 and Part 2.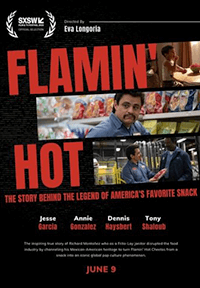 Flamin' Hot
Eva Longoria makes her directorial debut with a crowd-pleasing tale of billion-dollar ingenuity, Flamin' Hot, a feel-good comedy about the origin of the Frito Lay snack flavor. More than its 2023 contemporaries in the brand biopic subgenre—Tetris, Air, Blackberry—Longoria's film approaches its commercial subject with heart to spare. Although her formal execution often lacks the stylistic polish a more experienced filmmaker might have applied, the energy and passion of the filmmaking, along with the thematic and sociopolitical undercurrents of the true story, elevate the movie beyond its presentation. 
Jesse Garcia plays Richard Montañez, the film's Mexican-American narrator who charts his rise from a bullied schoolboy to a drug-dealing car thief to a member of the maintenance crew at a Frito Lay factory in California. Coming from a blue-collar background and starting without a diploma, Montañez recounts a version of the American Dream that few have been fortunate enough to experience. He gives credit where it's due, too—namely, to his ever-supportive wife Judy (Annie Gonzalez), their children, and several coworkers. These include the lightly racist manager (Matt Walsh) who hires Montañez; the machinist (Dennis Haysbert) who indulges Montañez's curiosity about all aspects of the factory's inner workings; and PepsiCo CEO Roger Enrico (Tony Shalhoub), who takes the janitor's call and listens to his wild ideas about spicy Cheetos, Doritos, and Fritos. 
Montañez's narration gives way to lively, but all too familiar, sequences of daydreaming and exaggeration. In a trick borrowed from Ant-Man (2015) and Ant-Man and the Wasp (2018) attributed to Michael Peña's character, Montañez's voiceover provides the dialogue to his bombastic accounts of executive meetings. The otherwise bland white men in suits then act out Montañez's version of events, matching his dialogue in Spanish slang to deliver a hilarious visual incongruity. But it's not exactly an original technique, leaving the viewer both amused and somewhat distracted by its derivativeness. 
Garcia and Gonzalez have plenty of charm and a palpable rapport, and they drive the movie. But Longoria also injects an unspoken agenda into the proceedings, offering a counterargument to those who would discriminate against Mexican-American workers, anyone without a high-school education, or line-level employees as someone incapable of creative or innovative contributions to a business. As Montañez proves, anyone is capable of following Enrico's suggestion to "think like a CEO." However, not everyone has the ambition to act on these thoughts with the enthusiasm and determination to make them happen. However conventional it can be, it's an inspiring movie. 3/4 Stars.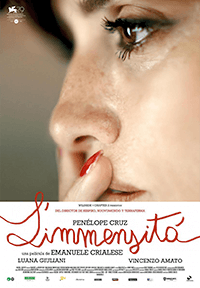 L'immensità
Reality is a fluid concept in L'immensità, Emanuele Crialese's deeply personal tale of a young person experiencing a gender-identity crisis. Characters burst into dance numbers and perform songs in dazzling black-and-white numbers, replicating actual television performances by Raffaella Carrà with verve. Rapturous, dreamy sequences overwhelm the film, giving way to gloriously romantic and alternately tragic scenes that feel enriched by a director leaning on his memories and expressive drama to bring moments to cinematic life. Part Fellini, part Almodóvar, Crialese's approach results in a richly made and sensuous piece of filmmaking that grapples with a complex subject from a clearly personal place. 
Crialese, the long-dormant Italian director whose last film was Terraferma in 2011, puts his experiences into an autofictional story. Set in 1970s Rome, the film is a fictionalized account of his own transition—what the director has called, "The migration of a soul." Given such familiar themes and dramatic underpinnings, it's no wonder he cast Almodóvar's muse, Penélope Cruz, to play the mother Clara, in a role echoing many she has played in the Spanish director's oeuvre. Clara is the unconventional and nurturing mother of the Borghetti family, whose husband, Felice (Vincenzo Amato), openly carries on affairs and beats her, even in front of their three children. When she protests, he sends her to a "villa" for her mental health. 
Cruz's rather elemental presence aside, the film adopts the perspective of the director's onscreen counterpart, Adriana (Luana Giuliani), a 12-year-old who was assigned a female gender at birth but experiences gender dysphoria. Going by Adri, or preferably Andrew, he doesn't correct strangers when they assume he's a boy; he even pursues an adolescent romance with a girl, Sara (Penelope Nieto Conti), who's part of a group of nomadic workers that Adri is forbidden from visiting. Adri's young brother, the overeater Gino (Patrizio Francioni), wants him to stop passing as a boy, and Gino rebels by defecating on the carpet. By contrast, the younger sister Diana (Maria Chiara Goretti) never eats—she prefers to play with her food. Throughout the film, the family dynamic is a constant source of humor, play, and conflict, fuelled primarily by the strong bond between Adri and his mother, and the disapproving Felice's rigid dogmatism. "I'm the only sane person in this house!" he declares, sounding insane.
Crialese's direction feels intimate and delicate, as though he's crafting memories made of cinematic glass. But there's also a warmth to the proceedings that have the same comforting quality of a good meal. To capture this visually, director of photography Gergely Pohárnok uses luminous light in both real and imagined sequences, conjuring a fantastical, heightened world that will be familiar to those versed in the aforementioned European masters.
Crialese shows his clear affection for Cruz, who is a force of energy and passion driving the film, but Giuliani both shines and compliments her onscreen star, instilling their unconditional love. Even though the conclusion feels somewhat open-ended, there's a lasting sense of something profound taking place that remains with you long after it's over. 3.5/4 Stars
R.M.N.
Romanian director Cristian Mungiu was inspired to make R.M.N. after seeing a video of a real-life town hall meeting. His version of the meeting unfolds over a bravado 17-minute unbroken shot, the film's centerpiece of unblinking realism, with two dozen speaking roles, a crowd of extras, and overlapping dialogue in multiple languages. The scene involves the village mayor overseeing a public debate, where the locals present their cases for allowing Sri Lankan bakers to stay or forcing them out of town, while the bread factory owner and manager defend their choice to hire workers from the South Asian country. Fittingly, given the title, it's a scene that clarifies everything under the surface. 
R.M.N. refers to the Romanian term for nuclear magnetic resonance (rezonanta magnetica nucleara), the scientific technique whereby atomic nuclei absorb high-frequency radio waves when subjected to a magnetic field—a process by which MRI machines apply a combination of radio waves and magnetic fields to capture multi-layered images of the body. 
The film swells before the town hall sequence, set about two-thirds into the film. Along the way, Mungiu adds precise brushstrokes to a portrait of a community with a complex national history, marked by cultures of various backgrounds, whose relationships have evolved over time. 
The dynamics of ethnicity in Romania underscore the theme, apparent in the various languages represented (Romanian, Hungarian, German, English, and French). Although these languages were reportedly distinguished in some festival screenings by different subtitle colors, the US version distributed by IFC Films uses white subtitles, requiring either an ear for languages or the acceptance that some of these details will be lost. 
As with most of Mungiu's work, his R.M.N. script can seem opaque, especially in the beginning, when he's establishing characters and detailing the overarching conflicts in the unnamed town. But his method of ratcheting suspense with a spare formalism is patient, a familiar trait of his previous work. 
Of course, Mungiu isn't speaking exclusively about ethnic conflict in Romania; he's making broader observations about human short-sightedness and bigotry that could be compared to any ethnic confrontation throughout the world. Chances are, watching the film will bring to mind countless specific cases of intolerance and groupthink that reveal humanity's capacity to exclude and become violent toward difference on the basis of race, ethnicity, gender identification, or any number of arbitrary reasons. 4/4 Stars. (Read the full review here.)