MSPIFF 2023 Dispatch – Part 1
These films were screened at the 42nd Minneapolis St. Paul International Film Festival (MSPIFF), which runs from April 13-27. Check here for the full lineup and check back for additional dispatches. Select films reviewed below will receive separate full-length writeups, some for their wider release, some exclusive to Patreon. In the meantime, here are some initial impressions.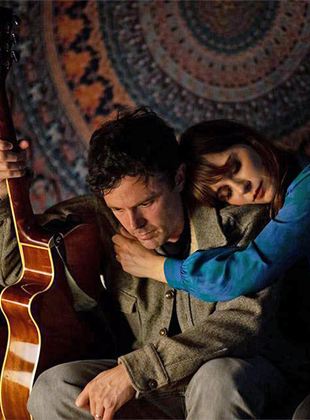 Dreamin' Wild
Bill Pohlad called himself a "frustrated musician" in the Q&A that followed his latest film's opening night screening at MSPIFF. So doubtlessly, the writer-producer-director could relate to the feeling of being unseen creatively that propels Dreamin' Wild, his third feature, which debuted at the Venice Film Festival last year and bears many similarities to his sophomore effort, the Brian Wilson biopic Love & Mercy (2013).
Based on a New York Times article by Steven Kurutz, Pohlad's film details the reemergence of musicians Donnie and Joe Emerson, played by Noah Jupe and Jack Dylan Grazer as teenagers, Casey Affleck and Walton Goggins as adults. Like Pohlad's account of Wilson, Donnie is a musical genius, and no one understands the depths of his talent. When the internet rediscovers their 1979 album that debuted with a whimper, Donnie finds himself grappling with the last 30 years of personal disappointment and unacknowledged talent, and looking back at his past from the present with regret. 
Affleck's performance as the inward, stewing Donnie captures the wounded artist who must disentangle his past to move forward, but it's familiar territory for the actor. Goggins and Beau Bridges, who play Donnie's brother and father, offer more tender and sympathetic performances, whereas Zooey Deschanel as Donnie's partner Nancy is overlooked by Pohlad's script. Jupe and Grazer fare better in their roles, appearing in idyllic flashback sequences to contrast cinematographer Arnaud Potier's camerawork in the present-day scenes. The visuals alternate between handheld realism and faux-poetic searching, but the picture never quite reaches its soulful ambitions. 
Structurally and thematically, Pohlad's last two films have much in common, except Brian Wilson's genius proves far more convincing than Donnie's rock ballads and bluesy hits, which don't exactly reinvent musical genres. The film feels like it's reaching for profundity in the stage performances, both with Affleck's lip-synching and the real-life Donnie in a late scene. But Dreamin' Wild never becomes so transcendent as Love & Mercy, and it will probably appeal most to Emerson enthusiasts and musicheads. 2.5/4 Stars.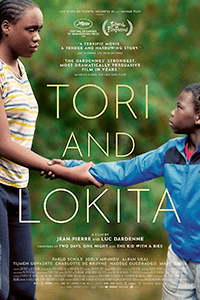 Tori and Lokita
The Dardennes return to familiar themes for their latest drama, Tori and Lokita, which blends their penchant for stark social realism within the framework of a Hansel and Gretel-style structure. Going back to La Promesse (1996) and Rosetta (1999), the Belgian brothers have been concerned with human trafficking, immigration, drug dealing, and the exploitation of child labor. Their new film feels like a familiar variation on these themes, although rendered with more immediacy given its concentration on two young immigrants from Cameroon. 
Illegally smuggled into an urban Belgian setting, the 11-year-old Tori (Pablo Schils) and the 16-year-old Lokita (Joely Mbundu) pose as brother and sister to ensure Lokita can acquire official papers. More resourceful, Tori has already acquired his papers. But Lokita buckles under the pressure from the traffickers who expect payment for their services, her mother at home who needs Lokita to send money, the immigration services that poke holes in her story, and the Italian chef who sends them on the street to sell weed and occasionally exploits Lokita for sex. 
Schils is excellent as the younger but also sharper character of the two. Tori is a survivor whose scrappy maneuvering has toughened his skin. Mbundu's Lokita bears the film's wounds and abuses, leaving the performance more harrowing, desperate, and broken. For otherwise inexperienced performers, there's not a moment between them that isn't absolutely natural and convincing. 
If you're familiar with the Dardennes, Tori and Lokita proves as bleak as you might expect, offering an unflinching look at children who are used at every turn yet endure. Benoît Dervaux's docu-style camerawork renders the proceedings in realistic visual terms, while the absence of a score ensures the filmmakers never resort to sentimentality. If the film's second half begins to resemble a fairytale, complete with our would-be siblings trapped in a nightmarish structure in the woods, followed by a daring escape, the filmmakers' sudden return to reality will leave you eviscerated. And for what, the Dardennes seem to ask, but something so menial as papers? 3.5/4 Stars.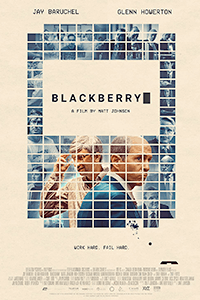 BlackBerry
The latest in 2023's series of brand biopics, BlackBerry has the advantage of being about a product that no longer exists. Therefore, you're less likely to feel like you've just endured a two-hour testament to capitalism or a commercial for the featured product, which is how I felt after Tetris and Air. Rather, director Matt Johnson and his co-writer Matthew Miller craft an entertaining story about greed, hubris, and cutthroat business practices.
Unfolding from 1996 to the mid-2000s, the story follows Research In Motion (RIM) founders—resident boy wonder and prematurely graying Mike Lazaridis (Jay Baruchel) and goofball Douglas Fregin (Johnson)—who work out of a crummy office populated by distracted computer engineers. When they reluctantly hire a volatile executive, Jim Balsillie (Glenn Howerton), who uses his shrewd business acumen to ensure the RIM guys aren't exploited, they're finally able to produce their dream device. But through a series of shady decisions on Balsillie's part and Lazaridis' compromises, their product goes from a cutting-edge commodity to an inadequate competitor of Apple's iPhone.

What works so well about BlackBerry are the clear personalities on display. Baruchel is terrific at conveying Mike's inner conflict between wanting to be nice and wanting to make his business thrive, and he remains sympathetic despite his later delusions of grandeur. Jim is amusingly ruthless at first, like a character out of Glengarry Glen Ross, until his shouting, swearing, and bullying become reckless. Howerton is superb in the role. Doug is a constant source of humor as a pop-culture reference machine, but he's also the heart of the story—an overgrown child who recognizes that work should be fun, and when it isn't, the product suffers. 
Shot by Johnson's regular cinematographer Jared Raab, BlackBerry adopts a style of home videos and documentary realism, evoking the fast-paced aesthetic of Armando Iannucci's In the Loop (2009). The soundtrack is punchy and nostalgic, but not the distracting array of wall-to-wall greatest hits heard in Tetris and Air. It's also consistently funny and, as you will find later, very quotable. While all of these brand biopics have an underdog quality to them, only Johnson's film has a handmade quality to the proceedings that remind us these people started from nothing, made millions, and then faded into obscurity. 3.5/4 Stars.