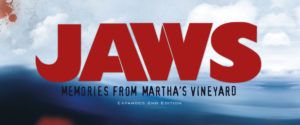 Jaws: Memories From Martha's Vineyard
Small town sensibilities meet big time Hollywood ambitions in the book Jaws: Memories From Martha's Vineyard, a unique perspective on the somewhat infamous behind-the-scenes story of Steven Spielberg's landmark picture. During the 159-day production of Jaws in the summer and fall of 1974, citizens of the sleepy island summer colony Martha's Vineyard not only captured countless photos of the production but also participated in the filmmaking. The book tells the Islanders' story alongside the film's in a fascinating, involving scrapbook style. Recently rereleased in an expanded 2nd edition with an additional 16 pages of new content, the book was no doubt timed to coincide with Universal Studios' 100th Anniversary and the recent debut of Jaws on Blu-ray. The book offers cinephiles a completely new outlook on a production story about which almost everything has been said. Almost.
Indeed, Carl Gottlieb's ultimate production chronicle The Jaws Log remains the definitive source documenting the woe behind Spielberg's first blockbuster, but this book has incomparable personality. Written by Matt Taylor and assembled by Taylor and Jim Beller, it follows a chronological progression, so those unfamiliar with Jaws' sordid making-of tale have a certain sequence to follow, while those of us versed in the film's development see the production in a new light. The story begins with the arrival of location scouts in Martha's Vineyard in December of 1973, continues through Spielberg's endless production troubles, many revolving around Bruce the shark, and ends with coverage by the Vineyard Gazette of the film's eventual premiere at the Island Theater. Coming from someone who's read every book, watched every DVD featurette, and savored every documentary about Jaws and its disastrous-but-fateful production, there's not a single page that goes by in Jaws: Memories From Martha's Vineyard that doesn't offer some never-before-seen treasure or interesting factoid.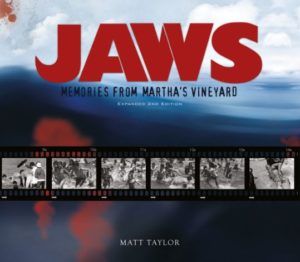 We see the film progress under a young 26-year-old Spielberg from the perception of the Martha's Vineyard people, and in turn we see how a whole community reacted to Hollywood invading their island. There's nothing quite as juicy as, say, the comparable situation presented in David Mamet's State and Main, a film about a Hollywood crew that corrupts and transforms an entire New England town. Rather, many locals supported Spielberg's production, helping the outsiders with community politics just as the production provided Islanders with jobs. Local tradesmen and actors (amateurs hailing everywhere from local schools to the resident theater troupe The Vineyard Players) found themselves suddenly employable by Universal Studios. Casting director Shari Rhodes and Spielberg himself insisted on hiring local talent for authenticity's sake, and it pays off in the finished film (the rural idiosyncrasies are undeniable). Those who weren't involved in the production in some way often hung around the set just to watch or take photos, many of which are seen for the first time in this book.
Paging through this 312-page tome for the first time, one can't help but feel it's less a coffee table book than a project of meticulous scrapbooking in which every nook and cranny has been filled to the brim. Alongside a generous helping of storyboard art, Joe Alves' concept designs, interviews with special effects artists on their troubles building Bruce, and pictures of Spielberg directing scenes, there are tidbits that help us identify with the Islanders. Old Polaroid images, quotes from locals with their observations about the filming process, and frequent news clippings shower the pages. One headline warns, "That Great White Shark You See Is Mechanical", forcing us to wonder how many people thought it wasn't mechanical. Frequent asides focus on bit players like Al Wilde as That's-Some-Bad-Hat-Harry, or Craig Kingsbury, the salty old fisherman who inspired Robert Shaw's portrayal of Quint. Eventually, with the production's prolonged stay, a group Islanders became restless to get their sleepy resort village back; one news report tells of a local prankster leaving a dead shark on the steps leading to a local Universal Studios office. These morsels go on and on, something quirky and new found with every turned page.
It becomes apparent within the first sections of the book how completely the Jaws crew dominated this community for its protracted shoot, but also how much Spielberg injected the Martha's Vineyard personality into his film. Reflecting on Spielberg's first masterpiece of many after all this time, it's evident that Taylor and Beller, both Islanders, have channeled their community's involvement in a film that, without this location and its residents, would not have been so lovingly told. Jaws: Memories From Martha's Vineyard belongs on a short list of great books about the making of Jaws, and in terms of the Martha's Vineyard perspective, it's only competition is Edith Blake's book from 1975, On Location… on Martha's Vineyard: The Making of the Movie "Jaws". Both as a display piece and a contagious read, it's a must-own, giving fans new material to explore, new layers to the behind-the-scenes lore, and, perhaps most importantly, a new reason to revisit an essential piece of cinema.
---
A big thank you to Titan Books for sending a review copy of the book. You can order it from Titan's website.