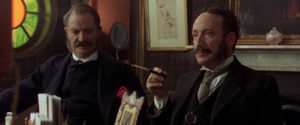 The Definitives
Critical essays, histories, and appreciations of great films
Director

Cast

Jim Broadbent

,

Allan Corduner

,

Lesley Manville

,

Ron Cook

,

Eleanor David

,

Wendy Nottingham

,

Timothy Spall

,

Vincent Franklin

,

Martin Savage

,

Dexter Fletcher

,

Shirley Henderson

,

Kevin McKidd

,

Andy Serkis

Rated

R

Runtime

160 min.

Release Date

12/15/1999
Mike Leigh's Topsy-Turvy is the first film in the British director's career to investigate historical subject matter. Typically drawn to portraits of contemporary working-class people surviving in a modest, sometimes cruelly ordinary existence, Leigh's 1999 picture explores the genres of biopic and costume drama. Set in 1884, Topsy-Turvy follows W. S. Gilbert, the librettist in a famed partnership with composer Arthur Sullivan, as they embark on their latest operetta, The Mikado, a sentimental tale set in a Japanese village. Despite the setting and subject matter unique to Leigh's output at this point, the film does not represent an artist reinventing himself so much as an artist reflecting upon what drives his work. Though the conventions of Topsy-Turvy's chosen genres threaten to overtake his usual preoccupation with character, Leigh never overlooks the importance of the individual, the motivating force of his films. Unmistakably, it is a Mike Leigh film given its concentration on people—the artists and entertainers that helped bring The Mikado to life. However, it has a formal texture that, perhaps because of the role of stagecraft in the film, reflects Leigh's tendency toward dramatically amplified realism. Both Gilbert and Sullivan's The Mikado and Leigh's film about its making share the irony of fake worlds created with a drive toward the real, though each contains notes of artificiality in their presentation. Topsy-Turvy, then, is many things: a portrait of Gilbert and Sullivan through the example of a single production, a study of the artistic need to reflect reality through fantasy, and a microcosmic example of Leigh's techniques as a filmmaker.  
Topsy-Turvy remains exceptional at this point in Leigh's career for his uses of genre and form, although it is less uncommon today for Leigh to work within a specific period. He has made several historical dramas in the subsequent years, such as Vera Drake (2004), about a 1950s-era abortionist; Mr. Turner (2014), a portrait of Romantic painter J.M.W. Turner; and Peterloo (2019), an account of the Peterloo Massacre of 1819. Nevertheless, Leigh avoids a straightforward treatment of the biopic and costume drama, and his work within these confines emphasizes the ways in which he has rethought their limitations. Even so, Leigh's approach could not be described as genre subversion. Though he avoids the typical plot mechanics of such a film, he marries his style of filmmaking with the established genre to produce something altogether unique within its boundaries, albeit free of the unnatural obligations usually circumscribed by genre conventions. Moreover, Leigh's usual method of character study, shot in grainy, unexceptional formal terms, is seemingly usurped by the lavish visuals and aural pleasures on display in Topsy-Turvy. Though many of Leigh's earlier films are dynamically filmed, employing sharp editing and edgy camerawork, this is arguably the first Mike Leigh film that could be described as beautiful, even classical in its appearance.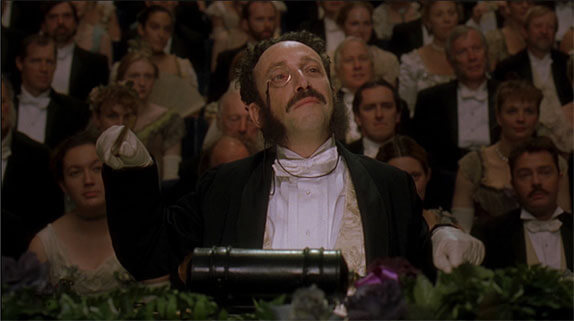 Leigh's only experimentations with the period piece before Topsy-Turvy were limited to a stage production (It's a Great Big Shame!, 1993) and a television short (A Sense of History, 1992). Regardless, Gilbert and Sullivan were subjects dear to him, as Leigh grew up in the wake of the Victorian era. His childhood home and schools in Manchester, a Victorian city, descended from Victorian traditions—among them an appreciation of Gilbert and Sullivan's comic operas. Throughout the 1940s and 1950s, Leigh explored the local nineteenth-century buildings and read the era's books, as Victorian culture was a not-so-distant memory in the cultural landmarks in his surroundings. Manchester's tradition of Victorian music extends back to pianist and conductor Charles Hallé, who founded The Hallé symphony orchestra in 1858, and continued with the works of Gilbert and Sullivan. Leigh's parents took him to productions by the D'Oyly Carte Opera Company as a child. His family listened to records of Gilbert and Sullivan operas and, as a boy of nine, he received Leslie Baily's The Gilbert and Sullivan Book from 1952, which introduced him to how the pair made their operas. Leigh finally thought about making a Gilbert and Sullivan film in the 1980s, when he noticed a sentiment of snobbish cynicism toward their work in English culture; he resolved to address this by making a film about the dynamic between fantasy and reality. Of setting out to make Topsy-Turvy, he told interviewer Amy Raphael, "Doing a Victorian film came very naturally through what is effectively a lifetime's informal study of and immersion in the period." But it was not the challenge of a costume drama or period piece that attracted Leigh to the subject of Gilbert and Sullivan, nor was he particularly interested in a straightforward biopic about his subjects.
Several years passed between Leigh's initial idea and the finished film, and during that time, he conceived of a production that would look vastly different from his earlier work given the surface-level period setting. Despite this, Leigh focused his energies on creating something altogether new yet wholly the same in his body of work: a biopic and costume drama that would also allow him to focus on character, the essence of his films. And curiously enough, he made the film in the same manner of his earlier works, through extensive preparation with his actors to develop their characters and improvise their way through scenes, which were either created for a dramatic purpose or based on actual historical research conducted by Leigh, the production's researchers, and the actors. By consuming books, musicals, and correspondence from the era, the cast learned enough of the late Victorian English spoken by their characters to improvise period-appropriate dialogue. Leigh also finds fascinating details to immerse his audience in the world of the film, from the newfangled (if cumbersome) telephones to the historical references to Charles George Gordon's defeat at Khartoum. Leigh told an interviewer that he wanted to create "the next best thing to getting into a time machine to go back and see what it was like." But he was not a slave to historical accuracy; the director allows scenes to progress for their dramatic merits. In other cases, the actors played characters who may have existed but no historical documents remain that reveal their personalities, and therefore the actors would have to invent them in their workshops with Leigh.
To tell his story, Leigh resists the birth-life-death structure of many biopics and instead distills his subject through representative situations, a method used on films from John Ford's Young Mr. Lincoln (1939) to Danny Boyle's Steve Jobs (2015). Topsy-Turvy charts an artistic crisis had by Gilbert (Jim Broadbent) and his partner Sullivan (Allan Corduner), who were brought together by impresario-producer Richard D'Oyly Carte (Ron Cook). Their legend on the Victorian-era stage extends from fourteen operas between 1871 and 1896, from the comical H.M.S. Pinafore to The Pirates of Penzance. Their success helped fund the building of the Savoy Theater, where their latest, Princess Ida, opens to reviews that describe the pair's work in the "realm of topsy-turvydom." Tired of making "trivial soufflés," Sullivan's description of their ten comic operas he has created with Gilbert as of 1884, he refuses to make his partner's latest musical about a magic potion, convinced their work has become repetitious. But Gilbert is content in the "topsy-turvydom" in which their operas are fixed—fantasies about Greek gods on vacation, sorcerer's spells, baby farming, and Darwinian ape-men. Sullivan would prefer to recreate something in the randomness of everyday life, "in the realms of human emotion and probability," similar to the world that Leigh's work inhabits up to 1999. After negotiating with D'Oyly Carte about their future together and with the Savoy, Sullivan refuses to continue working with his partner without a suitably serious work of opera, which he is convinced Gilbert cannot write.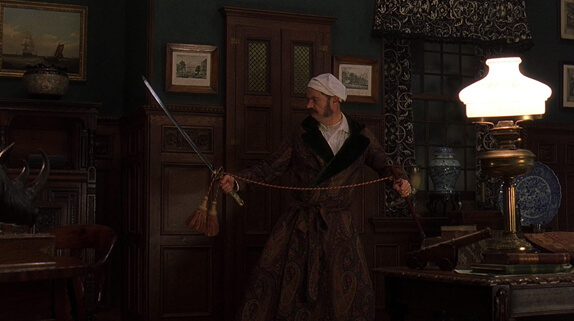 Their partnership appears to have ended or at least reached an impasse. Without a new project in sight, D'Oyly Carte keeps things at the Savoy moving with a revival of Gilbert and Sullivan's The Sorcerer. At the same time, Sullivan recovers from the physical and mental stress of mounting Princess Ida by visiting Parisian brothels, while Gilbert embarks on finding a subject worthy of the grand opera to which Sullivan aspires. Upon the suggestion of his wife, Lucy (Lesley Manville), nicknamed Kitty, he attends a traveling exhibition of Japanese culture at Knightsbridge. He is intrigued. Then, something fanciful happens. Gilbert, who has purchased a samurai sword to be mounted on the wall of his study alongside dozens of other such acquisitions, is compelled to play with the weapon after it suddenly falls from its spot. It is an implausible leap in the film—and factually inaccurate, since historical accounts show that Gilbert had already conceived of The Mikado before the Japanese exhibition. The moment is a dramatic epiphany that Leigh uses as shorthand to propel the plot, which is signaled by a cut of the sword, and a cut in the film, to the next moment: inside the Savoy theater where rehearsals of The Mikado have already begun. At this, Topsy-Turvy evolves from a biopic about the lives of Gilbert and Sullivan into a portrait of everyone involved in the production. The transition allows for Leigh to defy the limitations of a biopic and instead explore the essence of their collaborative art. 
Indeed, the film is not solely about Gilbert and Sullivan. The thrust of the story is the making of The Mikado. Gilbert and Sullivan are the creative drive behind the production, which is central to the screen story. But around them is a group of theater professionals: actors, costumers, businessmen, and stagehands. If Leigh's usual mode of filmmaking is the character study, then the central character of Topsy-Turvy is the production itself, and the way in which artists of various skill and craft come together in support of a much larger show. Leigh's perspective is not the narrow view that there were two authorial voices responsible for The Mikado; rather, he keeps every aspect of the production in view. Leigh felt the film would be, he told Raphael, "an excellent device for exploring matters to do with those of us who are in the business of creating entertainment." Within this framework, Leigh allows for seemingly unimportant asides about peripheral characters; but every detail he infuses into his film adds another dimension to the overall portrait, and the cumulative effect goes beyond individuals to amass something more luxuriant and scopic than a typical backstage drama. And while other, more satiric filmmakers have done something similar—Robert Altman's mosaics Nashville (1975) and A Prairie Home Companion (2006) come to mind—Leigh's approach grants his characters a persistent dignity within their artistic community. 
Perhaps because Leigh works with each actor to improvise and develop their character in organic, living terms, every character seems to have a central role in Topsy-Turvy, lending the film overall an episodic quality that shifts from character to character in self-contained scenes. Because of this, Leigh has argued that Topsy-Turvy employs the same artistic preoccupations as his intimate, contemporary dramas about the middle-class. However, many critics have noted the film's departures from Leigh's career up to this point. Its use of setting, period, and narrative all defy his contemporary, sometimes topical character studies from the previous two decades. Traditional conventions of story and genre have almost no bearing in Leigh's earlier films, while his everyday British characters remain central. Topsy-Turvy is also among the first of Leigh's films to fit into the confines of an established genre, at least on the surface, as it occupies both the time-honored behind-the-scenes drama and period piece, here revitalized by Leigh's entrenched themes and intricate development of character. At the film's 1999 New York Film Festival premiere, he told members of the press that he was well aware making it would be seen as unlikely, "naughty" even, in the scope of his career.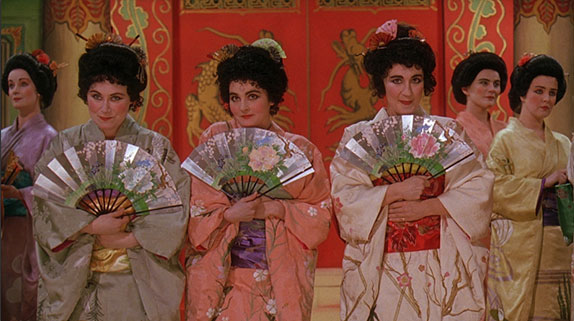 Leigh's true intentions with Topsy-Turvy are exposed when the outwardly classical setting, realized with astoundingly detailed production design and mise-en-scène, is occasionally disrupted in subtle formal choices. Take the side-by-side shot where Gilbert and Sullivan meet onscreen for the first time, as it unfolds in an unnatural way. People do not, typically, sit beside one another to have a conversation; they sit across from one another. But the shot allows the conversation to carry on in natural time, avoiding the cutting that would break up the drama and emotional investment of the scene. Extended shots are a frequently used visual device in Leigh's work; he blocks characters within the frame in such a way that does not seem natural in order to allow the scene to progress naturally. It is this balance between the unnatural and the natural, between the fantasy of art and reality, between low-art and high-art, that lies at the center of Topsy-Turvy and, further, Leigh's artistic preoccupations. Although his films earlier explore stripped-down portraits of everyday people just trying to get by in their uneventful lives—at least, in typical cinematic terms—his characterizations often bleed into caricature, lending a heightened or unreal quality to his output that emphasizes its realism through exaggeration. This seems to be the perfect metaphor for how Gilbert and Sullivan operate on The Mikado, and by extension, epitomizes how Leigh functions as an artist and director. It is this curious relationship that makes Topsy-Turvy perhaps the most symbolically Mike Leigh of all Mike Leigh films.   
If Topsy-Turvy was something new in Leigh's career in 1999, then his mode of reinvention is less about starting from scratch and more about exploring the theme of reinvention within the film's various texts. With this in mind, Sullivan could be mistaken as a stand-in for Leigh, whose ambition is to stop repeating himself with "trivial soufflés" and make something more grandiose and consequential. Reading into these parallels, many critics have suggested that doing more of the same suddenly ran counter to Leigh's artistic ambitions, resulting in this film. But as scholar Sean O'Sullivan observes, Topsy-Turvy is about "people consciously fooling themselves into thinking they are reinventing themselves as artists in order to go on doing much more of the same, without feeling they are just doing much more of the same." In this sense, the film is better seen as a symbol of Leigh's penchant for combining low subjects with grand themes, evidenced in his early dramas about everyday people who reflect larger social conditions, while also presenting a self-referential commentary by association. This is symbolized by the stateliness and sheer splendor of Gilbert and Sullivan's Japanese operetta, though they have burnished the material with caricatures to make it accessible to broad, middle-class audiences of the nineteenth century. 
Leigh exposes his own move toward a more accessible genre tradition in Topsy-Turvy, but he underscores how the biopic and costume drama are merely convenient dressings for his usual themes and methods. Pinpointing the elements of make-believe in Leigh's seemingly realistic contemporary dramas, for instance, is a thornier prospect than identifying the artistic liberties taken in Gilbert and Sullivan's The Mikado. By telling the story of their stage production, Leigh allows Gilbert and Sullivan to personify his own unique relationship between realism and artistic fantasy. Gilbert, whose writing employs no end of storybook invention, attempts realism in his treatment of the Japanese in The Mikado's production, yet he cannot help but layer the material with expressive flourishes and exaggerated stereotypes. Sullivan, too, seeks initially a realistic subject worthy of his talents, yet he happily applies his playful music to The Mikado's far from realistic situations. The operetta is, after all, an escapist musical form of stage performance that only sometimes captures the routines of everyday life, while the musical, with characters who break out of real situations to fancifully articulate their feelings through song, is an innate fantasy.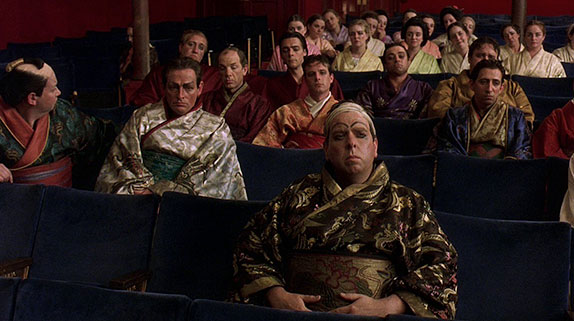 Within his treatment of the genre, Leigh also demystifies the period piece, which is typically treated with historical reverence and seriousness in cinema. In doing so, he exposes the faulty conflict between the traditional definitions of high-art (representations of history, biography, cultural heritage, realism) and low-art (representations of fantasy, escape, humor). There is more crossover than tradition would have us believe, Leigh seems to argue, and Gilbert and Sullivan's story is representative of that. Note the scene when stage performer Durward Lely (Kevin McKidd), who plays Nanki-Poo in The Mikado, refuses to wear a kimono without a corset, which he claims will give him the necessary "vocal vigor," but one suspects he prefers the curve it lends his torso. Wilhelm (Jonathan Aris), the costumer, insists the outfit was "properly researched and authentic to the last thread," despite the musical being nothing more than a "low burlesque," in Wilhelm's words. This moment articulates that realism is not exclusive to high-art, as Sullivan believes. The scene also reveals how history has a way of gilding art that has survived the test of time, even if it was initially believed to be a trifle or lowbrow. Similarly, Gilbert's uses of fantasy and expressiveness are no less artistic today, since it is these touches that have made Gilbert and Sullivan's work memorable, and because of this historical staying power, they have been venerated and given artistic worth.
The tension between realism and fantasy carries through Topsy-Turvy as a persistent theme and symbol of its two main characters, but it also extends to other areas of the film and its production. For example, the Japanese village situated in London, while exposing the English to a distant world from the Far East, is nonetheless a facade; thus, Gilbert's assessment and recreation of that realistic world is a fantasy based on an illusion. The exchanges between reality and fantasy also bleed into how the film was made—itself a challenge on a budget that went from $20 million to $10 million as the international roster of backers proved unreliable, leaving the brunt of the funding on investors from France and Germany. Cinematographer Dick Pope lit interiors using authentic lightbulbs made in a Victorian style, whereas the production shot scenes that take place in a Parisian brothel or the homes of both Gilbert and Sullivan all in the same location—a single Victorian-era house, located in Kings Langley in Hertfordshire, which was set for demolition before the production found it. Making a film like Topsy-Turvy is not about recreating historical facts; it's about bringing history to life organically, albeit through the artificial means of filmmaking, to make the world on the screen entirely believable for the viewer. Leigh realizes this and, furthermore, incorporates that very idea into his film with the notion that reality and fantasy each have roles to play in the creation of art.
However realistic Topsy-Turvy may appear, Leigh's artistic signatures become most apparent in the small, emotionally raw scenes between characters that intimately connect artistic creation with having children, particularly in the final four scenes. In service of this metaphor, Leigh shifts his focus away from Gilbert and Sullivan and towards their female companions. After The Mikado opens, Gilbert feels emptiness, a kind of postpartum depression experienced by artists following the completion of a major project. Rather than dwell on Gilbert, Leigh considers Gilbert's wife, Kitty, who bears the weight of her unrealized ambition to be a mother in a tender, wonderfully acted scene. Her way of doing this is to suggest that her husband use a surrealist sequence in his next musical—a scene of symbolic clocks and closed doors in which hundreds of women push empty strollers around the hero, who then strangles his wife with an umbilical cord. Has there ever been such a wounded yearning for a child by a wife, who also acknowledges her husband's anxiety about parenthood? In a companion scene, the film's third-to-last, Leigh shifts to Sullivan's mistress, Fanny Ronalds (Eleanor David), who matter-of-factly mentions that "an old demon has come back to haunt us at a most unwelcome time." This news of Fanny's pregnancy is immediately put to rest when she assures that she will make her "own arrangements" for the abortion—something she has evidently done before. Sullivan, meanwhile, is proud of himself, revived by his artistic success, and ready for his next project.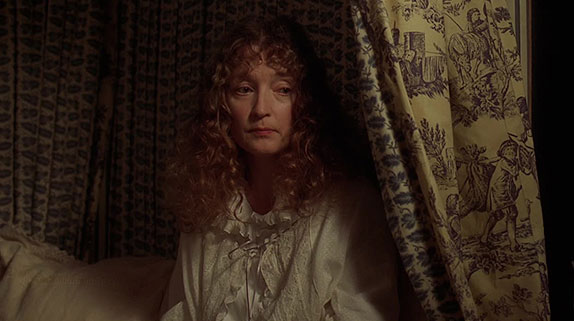 Though Gilbert and Sullivan remain at the center of Leigh's portrait of Victorian-era theater, the director also grants the actors in the production considerable dimension, since Topsy-Turvy is a portrait of artistic creation itself, as opposed to a purely biographical text. Leigh continues with the child metaphor in the last two scenes that feature a curious detour to Leonora Braham (Shirley Henderson), a performer and relatively minor character in the overall scheme of the film. In the penultimate scene, Leonora prepares for a performance in front of a dressing room mirror. She is a character who has a child, and she admits that parenting is both a blessing and a curse—a sentiment that echoes how Sullivan and Gilbert feel about their art, respectively. It's a tender moment that reveals how every artist retains some ownership over their performance, thus becoming, in some sense of the word, the author or parent, even though they did not write or compose the piece. This moment contains an unmistakable link to Leigh's close work with actors to develop and improvise their characters, making every actor on the set another artist contributing to the final product. In the concluding scene, Leonora appears onstage and speaks the last lines in the film as her character, Yum-Yum: "Nature is lovely and rejoices in her loveliness. I am a child of Nature and take after my mother." These moments return the viewer to the idea of artistic creation as a form of parenthood. Gilbert and Sullivan resist children because their need to (pro)create is achieved through the process of making operettas. Their children are their musicals, while in a more intimate sense, they have also given birth to a talented cast, whom they have instructed and shaped to their vision, and who in turn create their own performances. 
Stylistically and methodologically, Topsy-Turvy might be an encapsulation of Leigh's career, or at least representative of Leigh's approach to filmmaking. Though it appears to reinvent the director through historical contexts and genre conventions, releasing him from the confines of his contemporary dramas about social outliers, Leigh refuses to glorify his characters as biographical or historical subjects, as many traditional costume dramas do, and instead reveals their humanness. How appropriate that Topsy-Turvy is a film about artists who delude themselves into thinking their latest project is a reinvention, when really they have just done what they have always done, even if the end result feels different. Along with Gilbert and Sullivan's exchanges of interests in the real and improbable, it's easy to see why Leigh remained fascinated by his subjects, and how, in an unlikely association, Leigh's work is an extension of theirs. At one point, Gilbert remarks that frivolities should be treated with the utmost seriousness, and this quality is true of Leigh's work and his serious treatment of marginal characters. It is this connection that makes Topsy-Turvy feel so essential within Leigh's career; it is both uncharacteristic and a compendium of his work. 
---
Bibliography:

Cardinale-Powell, Brian and Marc DiPaolo, editors. Devised and Directed by Mike Leigh. Bloomsbury Academic, 2013.
O'Sullivan, Sean. Mike Leigh. University of Illinois Press, 2011.
Raphael, Amy, editor. Mike Leigh on Mike Leigh. Farrar, Straus and Giroux, 2008.
Rapfogel, Jared. "Topsy-Turvy." Film Quarterly, vol. 54, no. 1, 2000, pp. 39–41.
Watson, Gary. The Cinema of Mike Leigh: A Sense of the Real. Wallflower Press, 2004.
Whitehead, Tony. Mike Leigh. Manchester University Press, 2007.