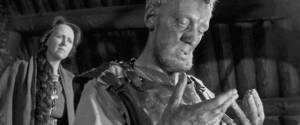 The Definitives
Critical essays, histories, and appreciations of great films
Director

Cast

Max von Sydow

,

Birgitta Valberg

,

Gunnel Lindblom

,

Birgitta Pettersson

,

Axel Düberg

,

Tor Isedal

,

Allan Edwall

,

Ove Porath

,

Oscar Ljung

Rated

Unrated

Runtime

90 min.

Release Date

02/08/1960
Some auteurs have periods in their work that consist of several films in a row with persistent themes or visual techniques. Just as Picasso had a Blue Period, Swedish filmmaker Ingmar Bergman's filmography could be understood through its various phases—from his increasingly distinct early films beholden to the Svensk Filmindustri house style, to his more independently created and experimental films in the 1960s and 1970s, followed by his late television output. As filmmakers move from one period to the next, sometimes the most fascinating examples of their work occur in the transitions between phases. The Virgin Spring (Jungfrukällan) is such a film. It's unlike anything else in Bergman's body of work, which the director and many critics and scholars of his work have held against it. But to whatever degree the film looks like a straightforward medieval tale with religious underpinnings, it raises questions of faith in a manner true to Bergman. Its setting in a time of transition from paganism to Christianity in Sweden's history mirrors the filmmaker's interest in this story at this time of change in his career. The Virgin Spring's anomalous state finds Bergman using an uncharacteristic improvisational directing style and brutally austere filmmaking to question how religions inadequately explain human behavior, in particular humanity's violence and cruelty.
The Virgin Spring represents a number of exceptions in the Swedish master's oeuvre. Bergman usually wrote his scripts, but for this film, he relied on Ulla Isaksson's screenwriting, who last wrote his 1958 feature Brink of Life. The film would also mark a break from his usual cameraman to this point, Gunnar Fischer. Bergman and Fischer had quarreled during the making of The Magician (1958), and since Fischer was away shooting episodes of The Magical World of Disney, Bergman replaced him with Sven Nykvist. Although Nykvist served as an assistant cameraman on the director's 1953 film Sawdust and Tinsel and some other minor work for Bergman before, the cinematographer had yet to shoot an entire Bergman production. After The Virgin Spring, the two would continue to collaborate well into the 1980s, with Nykvist earning Oscars for his efforts on Cries and Whispers (1972) and Fanny and Alexander (1982). Their first film together would also be an aesthetic departure for the director, who had grown accustomed to shooting on studio lots and exploring ponderous subjects. Bergman actively wanted to break from his stylistic pattern, which he described as "the former, the vague, and the obscure." With The Virgin Spring, he could deliver a film with a propellant narrative in the vein of so many Akira Kurosawa pictures he had enjoyed. Rashomon (1950), with its predominantly forest-bound setting, along with themes of rape and violence, becomes the obvious comparison between the two filmmakers' works.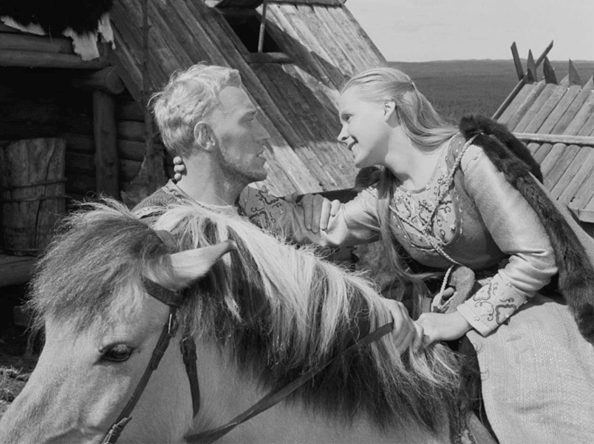 Given these motivators, it's understandable that The Virgin Spring often gets overlooked in Bergman's career, which lasted from 1946 to 2003 and resulted in 49 features. The closest resemblance is The Seventh Seal (1957), if only because both films take place in the Middle Ages and star Max von Sydow. Released in 1960, The Virgin Spring predates the changeover from the director's successful international releases in the previous years, such as Smiles of a Summer Night (1955) and Wild Strawberries (1957), into a more arthouse phase. His production may use familiar faces from Bergman's stock company of actors (von Sydow, Birgitta Valberg, Gunnel Lindblom, etc.), but The Virgin Spring, followed by The Devil's Eye later that year, earmarked the director's autonomy from Svensk Filmindustri, by which he felt artistically bound. Afterward, Bergman would break from the studio mold and embrace a formally radical agenda, which practically defined an era of European art cinema with isolated chamber dramas such as Through a Glass Darkly (1961), Persona (1966), and Cries and Whispers. 
Bergman's personal life at the time reflects The Virgin Spring's transitional placement in his career. He had just ended a love affair with his star Bibi Anderson and met Käbi Laretei, a distinguished concert pianist known throughout Europe and America. Laretei would become his fourth wife. Their marriage, which lasted for a decade and included Laretei making a few appearances in his films, found Bergman entering a new, pointedly bourgeois chapter of his life, given his wife's wealth and cosmopolitan lifestyle. In his critical biography of Bergman, Peter Cowie observes that Bergman tried a new style rooted in austerity and improvisation during this period, compared to his more expressive and intentional earlier films such as The Seventh Seal and The Magician. Bergman later told author John Simon that improvisation "just isn't my way of film-making; my way is selective." So The Virgin Spring signified a departure in his approach to cinema, and Bergman began deploying a primitive and severe narrative structure that appealed to him at the time.
The screen story opens inside a Medieval home, where a servant girl, Ingeri (Gunnel Lindblom), pregnant with a child conceived out of wedlock, prays for Odin to come to her aid. Bergman cuts from Ingeri's pagan prayer to a Christian prayer recited by the owners of the farm, Töre (Max von Sydow) and his wife Märeta (Birgitta Valberg), who kneel before a statue of Christ on the crucifix. Töre beckons the Heavenly Father to "guard us this day and always from the devil's snares. Lord, let not temptation, shame"—then he pauses for a yawn—"nor danger befall thy servants this day." Perhaps his dramatically ironic sleepiness during a prayer brings about what an attendant later warns about: "A day can start out beautiful and end in misery." At breakfast, the couple recites a prayer before eating alongside their farm servants and then speaks about the absence of their daughter, Karin (Birgitta Pettersson), from the table. Märeta explains that Karin feels ill this morning, though, everyone at the table knows she's just tired from dancing with boys the night before. Ingeri's jealousy and frustration over Karin's much-indulged behavior prompt her to hide a toad in the bread she must prepare for Karin's day trip—a traditional journey that a virgin must take to deliver candles for the Virgin Mary to the nearby church.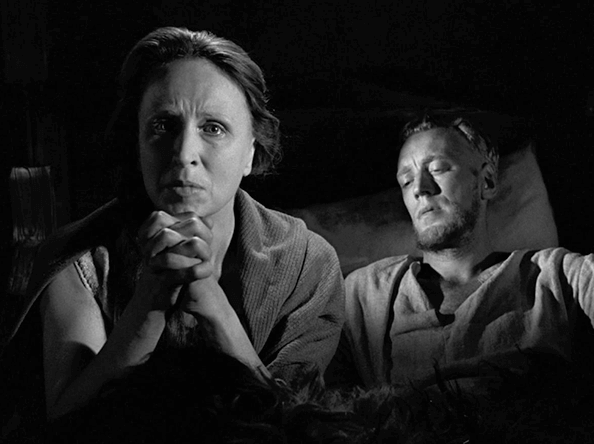 Isaksson's script draws from "Töres döttrar i Wänge" ("Töre's Daughter in Vänge"), a medieval ballad that originated in Romance languages in the 13th century and was told throughout Scandinavia. Bergman first read the ballad as a student in Stockholm in the early 1940s. He was drawn to the twelfth-century setting, at a time in Sweden's history when the country had converted to Christianity but pagan rituals still lingered in the culture. To be sure, Christianity is so new at this time that some of Töre and Märeta's servants have never seen a church. And though they have crucifixes on their walls and pray to the Christian God, the recency of their conversion to Christianity is apparent by the pagan symbols on Töre's chair. Perhaps because Bergman's life and style were in transition, he was drawn to this era of change between Christian and pagan beliefs. As a result, The Virgin Spring weighs what scholar William Mischler describes as "two rival religious ethical systems: the pagan imperative of revenge and the Christian ethic of forgiveness." But given the events in the film, Bergman uses the story to expose the irrational hypocrisies of Christian dogmatism, which leave no room for ambiguity, yet therein only emphasize the dogma's ambiguities.  
Back at the farm, Märeta wakes Karin and helps her prepare for her ride. Begrudgingly agreeing to go, Karin demands to wear an elaborate garment—a yellow shirt sewn by 15 maidens. Karin appeals to her mother's piety to appease her own vanity, arguing that if she looks good for the trip, she will be honoring God. Although Karin sees her mother as a nag, she greets her father with a pleasant demeanor. Honoring her father, the head of the Christian family, is tantamount to honoring God, so she bestows him with smiles and affection. She soon leaves on her journey, accompanied by Ingeri, and heads toward the forest. Along the way, the two talk about Karin's dreams of marriage and carrying a child, but Ingeri haunts her with the notion that some man could force himself on her. The remark alludes to Ingeri's pregnancy and foreshadows what's to come: Abandoned by Ingeri, who refuses to ride through the forest, Karin is spotted by two herdsmen and a boy, who look down on her from a perch like predatory birds. The thin herdsman (Axel Düberg) draws her attention with a mouth harp and convinces her to accompany him, along with his tongueless brother (Tor Isedal) and their young sibling (Ove Porath), to a glade for a meal. There, during a scene filled with Karin's innocence and the audience's dread, the appearance of the toad Ingeri hid in Karin's bread prompts the men to do as they had planned, rape and murder Karin. Out of sheer contempt, they smash the candles meant for the church.
Bergman shot the forest scenes with a limited crew at the Styggforsen nature reserve in Dalarna County, giving the production the advantage of natural beauty and the occasional vast backdrop. Although the director would later dismiss the film, he remained in high spirits, and the shoot went relatively smoothly. A few minor technical mishaps delayed the production, including some overly dark footage caused by an inattentive focus puller and an issue with the sound recording. But for the most part, Bergman allowed himself to experiment and improvise, delivering matter-of-factly shot moments of violence without sensationalism. Karin's rape, for instance, is shot with unfussy framing and unflinching intensity, confronting the viewer with the reality of the moment—causing some countries to demand edits before the film could be exhibited. In Hollywood, massive costume epics such as Spartacus, released the same year as The Virgin Spring, dwelled on panoramic scenery, elaborate costumes, and details that could claim historical accuracy. In contrast, Bergman's improvisational mindset meant the production shot fast, and his interest in historical details remained loose—composer Erik Nordgren later lamented that his score used modern flutes instead of period-appropriate recorders. As Cowie noted, Bergman relied on small details, from stretched skins to the utensils on Töre's belt, to establish the period. But the production could not be praised for its authenticity; rather, this is a film whose retelling of the medieval ballad relies on spare dramatics and aesthetics.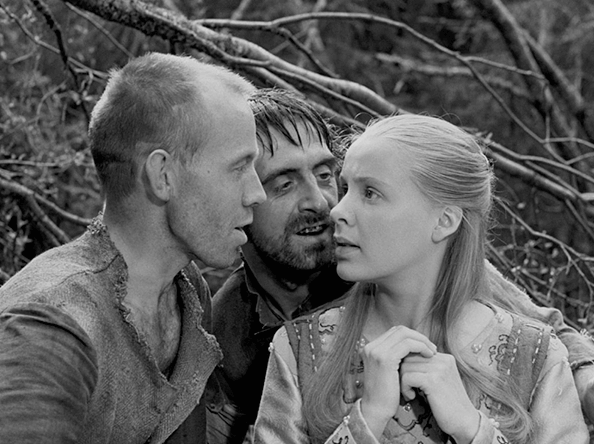 The film turns on another dramatic irony. Night has come, and Karin should be home by now. Töre searches the horizon with concern. That's when the three brothers seek a night's shelter at Töre's home, and he offers them a meal and work the next day. Invited to a dinner scene that looks modeled after The Last Supper, the boy, who witnessed Karin's rape and now feels sick with guilt when he's once again graciously hosted, vomits on the table and turns over his food. Despite the nervous company, it's not until later—when Märeta comes to check on her guests after hearing the boy scream, and the older brothers attempt to sell her some of Karin's torn and bloodied clothes—that she realizes what happened to her daughter. Märeta slyly locks the three guests inside the manor hall and brings the news to Töre. He reacts by preparing himself for revenge. The film then adopts a tone of fatefulness, as Töre proceeds outside toward a young birch tree. He uproots the tree, a symbol of his daughter, and, in a pagan ritual to clean the body and center the mind, he cuts away branches to cleanse before confronting his guests. Töre resolves to perform the brutal revenge with a butcher knife, believing such animals don't deserve his sword, and the wordless sequence is among Bergman's finest and most severe.  
Töre leaves the mute brother in a crucified position, the thin brother stabbed and burning in the manor fire, and the boy dead after tossing him into a wall. The punishment may seem straight out of the Old Testament, but his actions suggest a vengeance that goes beyond an eye-for-an-eye ethic into something pagan. After the brutal and bloody scene reaches silence, Töre regards his hands and asks for God's forgiveness, torn between his basest pagan instincts and his Christian beliefs. Finally, Töre, followed by his family and servants, races into the woods to find Karin's body. Märeta clings to him, admitting that she loved Karin more than God, that she was jealous of how Karin had Töre's attention, so God must be punishing her. But for Töre, there's no clear reason for what happened. When he finds Karin's body, Töre looks up with bewildered confusion and announces, "God, you saw it… You allowed it to happen… I don't understand you… Yet I ask for forgiveness, for I know of no other way to live." The moment echoes many others in Bergman's cinema where his characters proclaim their inability to understand God's wishes or reconcile his actions. Even so, as a spring miraculously emerges at the site of Karin's body, Töre resolves to build a church on the site of the spring. Ingeri, who prayed to Odin at the beginning and believes she conjured these events, washes her face in the spring and cleanses herself of paganism.
According to legend, the spring that emerged beneath the raped girl runs through the churchyard of Kärna Parish in Östergötland and contains mystical healing properties. But Bergman later argued that in representing the other-worldly appearance of the spring, he softened the stark, simple story that weighs paganism and Christianity against human impulses. Bergman's stripped-down style and storytelling leave room for reading into the characters' unspoken motivations. For instance, Cowie observes that many feel Töre and Karin's relationship has been coded with a sexual undercurrent. In this reading, father and daughter hold each other like lovers, with Karin whispering into her father's ear in plain view of her disapproving mother. When Karin is raped and murdered, then, Töre's reaction is that of a dispossessed lover who laments the sexual conquest taken from him by symbolically tearing a phallic birch tree from the ground in a fit of rage. Given the popularity of Freudian readings at this moment in film history—exemplified in 1960 cinema alone by Alfred Hitchcock's Psycho and Michael Powell's Peeping Tom—it's no wonder that interpretations like this one flourished. Whether Bergman intended such a reading is another matter. Suffice it to say, watching The Virgin Spring today, Töre and Karin's affection seems more attuned to the Christian patriarchy, wherein every member of the family adheres to the hierarchical order, worshiping the father and seeking his approval as one might yearn to please God—an extension of the notion of Christ the groom, and his bride, the Christian.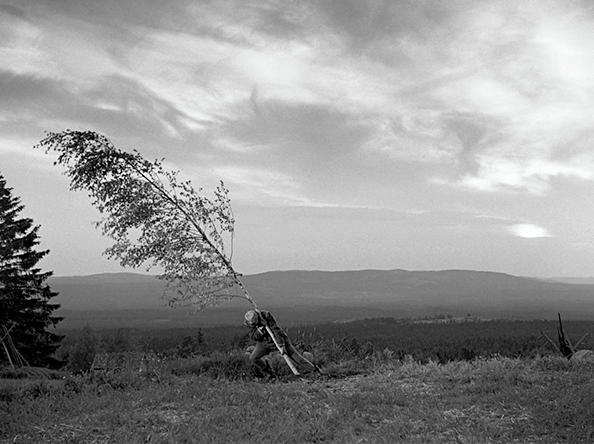 Given that Bergman made The Virgin Spring in a period of personal and professional transition, it's not surprising that he did not look upon the film with fondness. In his autobiography, The Magic Lantern, Bergman never mentions the film. He only briefly talks about the film in Bergman on Bergman, a series of interviews originally published in 1970. He admits that when he initially completed the film, "I thought I'd made one of my best films. I was delighted." But he quickly corrects that assertion: "Now I want to make it quite plain that The Virgin Spring must be regarded as an aberration," he remarks. "It's touristic, a lousy imitation of Kurosawa. At the time my admiration for the Japanese cinema was at its height. I was almost a samurai myself!" Many European critics at the time felt the film signaled that Bergman was losing his relevance. French critics in the Cahiers du Cinéma believed Bergman had lost his auteurist voice, whereas his domestic Swedish critics proclaimed Bergman to be out of touch. Perhaps in retrospect, the film's comparatively simple presentation next to Bergman's more authorial whims is what caused the filmmaker and his critics to disregard the film. At the same time, The Virgin Spring was most popular in the United States, where the film performed well at specialty theaters and went on to win the Academy Award for Best Foreign Language Film at the 1961 ceremony.  
While The Virgin Spring was devalued by Bergman, his biographers, and many critics, the film is unfairly seen as an affirmation of Christian belief. For example, Mischler argues that, compared to Bergman's other work—especially his trilogy of Through a Glass Darkly, Winter Light (1963), and The Silence (1963)—The Virgin Spring does not have the same power as "an examination and rejection of the notion of God as a sufficient response to the ills of the world." Whereas The Seventh Seal found Bergman in spiritual crises and questioning his faith, his later films contained what the filmmaker called his "harsh rationalism" toward faith. But in The Virgin Spring, Bergman points out many of the hypocrisies and inconsistencies of the Christian faith by dramatizing another cruel test by God, whose affinity for putting children at risk to weigh their parents' level of commitment—usually the father's—is thoroughly mythologized (Abraham, Noah, et al.). In Töre's case, his questions about God's reasons come after his initial reaction of violent retribution. The film exemplifies the Christian habit of more often performing violence and repenting later than adhering to how Christ followed Jewish law from the start, by loving both God and one's neighbor. Although many scholars have framed the conflict in The Virgin Spring as one between the familial Christian versus the vile pagan, Bergman recognizes that no such polarity is possible in a time of transition, and moreover, both labels prove inadequate to explain the cruelty on display.
Rather, as scholar Norman Silverstein suggests, "the filmmaker remains skeptical about the ways of God and unconvinced of the efficacy of miracle." Töre's actions follow heroic examples found in Scandinavian lore and give the film's audience the pagan catharsis they desire, pointing out the secularity of cinema and the artifice of Christian ideals. Viewers of The Virgin Spring feel a greater sense of catharsis when Töre kills his daughter's rapists—unsettling though the scene may be—than when the spring emerges beneath Karin's body. If the boy's death goes too far, Töre's rage as a vengeful father proves sympathetic in its primal action. By creating scenes of violent revenge that thrill the audience, Bergman seems to acknowledge that Christian ideals of forgiveness remain an afterthought next to basic human instincts, and furthermore, Christians use forgiveness to grant absolution for all manner of crimes. But at heart, the viewer yearns for catharsis by way of the vengeance often characteristic of paganism. To whatever degree The Virgin Spring belongs to that exploitative subgenre of horror known as rape-revenge film, Bergman's work suggests that cinematic revenge stories have roots in a pagan code of ethics.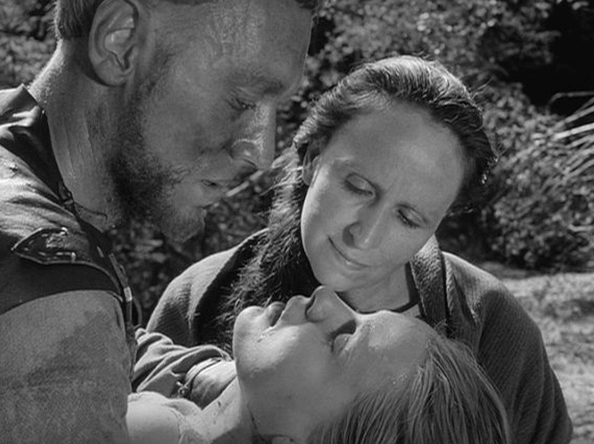 Perhaps horror director Wes Craven recognized this when he set out to remake The Virgin Spring in 1972, resulting in his notorious exploitation debut, The Last House on the Left. Craven ignored much of the theological discussion found in Bergman's film for his adaptation, arguably in active defiance of his strict Evangelical Baptist upbringing. Instead, Craven dwells on the base, animalistic violence that unfolds in the original ballad, amplifying it to difficult-to-watch extremes for both then and now (its poster famously read, "To avoid fainting, keep repeating, it's only a movie, it's only a movie…"). Craven's film, which follows the same narrative path as Bergman's, adopts a bloodthirsty justice (chainsaws, etc.) that leads not to a confused plea for forgiveness like the one Töre gives but rather to the briefest moment of solemn reflection. Although at first glance the two films don't seem to have much in common besides the same story beats, they both confront the horrifying violence in the world with similar bafflement. Even though Töre's latent Christianity gives him absolution, the character only goes along with God's plan for Karin and the inevitable church because he cannot explain what happened otherwise—neither Christian nor pagan beliefs can offer a rationale for such nonsensical violence. 
If The Virgin Spring's resolution that Töre will build a church feels inadequate, it's because Bergman recognizes that the search for answers is futile. The arrival of the spring and the eventual church do not justify the crimes that precede them nor do they make Karin's death hurt any less for her parents. Although Ingeri seems to convert by washing her face in the spring, Töre and Märeta remain more focused on their daughter's body than the so-called miracle. Töre's shaky determination to appease God, in the end, is the lesser of two alternatives; he doesn't understand the reasons for Karin's fate, but it's easier than confronting the staggering moral ambivalence on display. Like Bergman, he faces the grim reality of the moment, how no amount of faith can explain away the loss of innocence before him. Bergman's perspective, slyly implied throughout the film with how characters justify their decisions through their respective theological lenses, suggests there's no holy doctrine or godly reasoning that warrants such a tragedy. There remain only the desperate, complex psychological rationalizations that fail to grasp our basest instincts and the random acts of violence in the world. It's a theme that, despite its placement in a stylistically transitional film in Bergman's career, nonetheless echoes his lifelong questions about the conflicts between faith and human impulses.
(Note: This essay was suggested and commissioned on Patreon and published on January 10, 2023. Thank you for your continued patronage, Dave!)
---
Bibliography:
Bergman, Ingmar. Images: My Life In Film. Foreword by Woody Allen. Arcade Publishing, 1995.
Bergman, Ingmar; Tate, Joan. The Magic Lantern: An Autobiography. University Of Chicago Press, 2007.
Bjorkman, Stig et al., editors. Bergman on Bergman. Da Capo Press, 1993.
Cowie, Peter. Ingmar Bergman: A Critical Biography. Scribner, 1982.
Gado, Frank. The Passion of Ingmar Bergman. Duke University Press, 1986.
Mishler, William. "'The Virgin Spring' and 'The Seventh Seal': A Girardian Reading." Comparative Drama, vol. 30, no. 1, 1996, pp. 106–34. JSTOR, http://www.jstor.org/stable/41153793. Accessed 4 Dec. 2022.
Silverstein, Norman. "Ingmar Bergman and The Religious Film." Salmagundi, vol. 2, no. 3 (7), 1968, pp. 53–66. JSTOR, http://www.jstor.org/stable/45331961. Accessed 4 Dec. 2022.
Singer, Irving. Ingmar Bergman, Cinematic Philosopher: Reflections on His Creativity. The MIT Press, 2007.