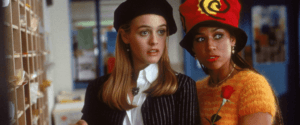 The Definitives
Critical essays, histories, and appreciations of great films
Director

Cast

Alicia Silverstone

,

Stacey Dash

,

Brittany Murphy

,

Paul Rudd

,

Breckin Meyer

,

Dan Hedaya

,

Elisa Donovan

,

Jeremy Sisto

,

Wallace Shawn

,

Twink Caplan

,

Julie Brown

Rated

PG-13

Runtime

97 min.

Release Date

07/18/1995
Satirical yet earnest, ironic yet heartfelt, optimistic yet never cloying, Amy Heckerling's Clueless is the rare teen romantic comedy that lasts because of its complexity. The writer-director imbues the material with positivity, colorful clothes, bright titles, and sunshine; yet, like all comedies that stand the test of time, it seems to be about much more than its surface. Clueless remains a landmark for many reasons: it introduces a younger audience to Jane Austen, whose Emma informed Heckerling's script; it established a new trend in Hollywood of translating classical literature to a contemporary high-school setting; its fashion helped define a generation; and its distinctive slang and attractive cast permeated the zeitgeist for years to come. And then there's Cher Horowitz, played with pitch-perfect obliviousness and comic timing by Alicia Silverstone. Cher is the living embodiment of a certain corner of 1990s culture—the product of wealth, idleness, and regular doses of Beverly Hills, 90210. But Heckerling uses the character to critique privilege even while allowing her to engage in self-reflection, making Cher a timeless character whose willingness to grow proves redeeming. With a confident irony that never robs its characters of their integrity, Heckerling takes Clueless into a realm that both comments on and inhabits the teen movie archetype, so that what's left goes beyond the genre's conventions and builds upon them.
---
This essay was commissioned on Patreon. Thank you for your support, Brenda!
The full 4,400-word essay is currently posted on Patreon. Join Deep Focus Review's Patron community, and you'll receive exclusive access to this essay and many other reviews and blogs published on Patreon first.
Patrons also get access to:
• Exclusive weekly blog posts
• Streaming recommendations every Friday
• Polls to pick the movies reviewed on Deep Focus Review and Patreon
• Pick your own "Reader's Choice" review (at the Screenwriter tier or higher)
• Polls that decide the next entry in The Definitives