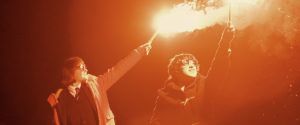 Celebrating 10 Years and a New Website
Welcome to the new Deep Focus Review. Back in late 2006, I started DFR to celebrate the art of film and hopefully develop in readers a greater appreciation for the artform. DFR continues a decade later, supported by a small library of film texts and my enduring passion for cinema. To celebrate this ten-year anniversary, the website has been relaunched with a slick look and several features to enhance your experience. I hope you enjoy the new Deep Focus Review!
WHAT'S NEW?
Mobile Optimization was not a factor of earlier versions of this website. But now DFR looks great and works effortlessly on your smartphone or tablet.
Related Titles now appear on every review page on the far right, some hand-selected by yours truly, others pulled by a rather nifty recommendation system. It's an exciting feature that helps create surprising connections that you might not immediately expect between certain films.
Every actor and director in the review's information pane near the top of the page is a clickable link. Each link takes you to a list of titles I have reviewed featuring the chosen talent. So if you're reading the review for the 2016 film Silence, you can click the name of director "Martin Scorsese" at the top of the review to see what else I have reviewed from his body of work. The same goes for actors.
The Calendar now features onsite trailers (where available) to upcoming films and discs. Now you can watch trailers (by way of YouTube) without having to traverse across the internet. Upcoming films also feature separate links to the official site, if you're interested. Meanwhile, upcoming discs offer separate links (if available) to my original review, an Amazon.com pre-order page, or the trailer.
For better or worse, a Comments Section has been added at the bottom of every review and article. This will be a highly-moderated area where readers can post feedback and engage in discussion. However, all comments are subject to review, and there are a few basic rules that, if violated, will result in your post being denied:
• Don't take differences of opinion personally.
• Be nice to other commenters.
• Avoid profanity.
• No textspeak (OMG, WTF, etc.).
• One exclamation point per sentence, unless referencing Everybody Wants Some!!
Explore DFR and you will find other new alterations and enhancements throughout the site. Of course, several features remain from earlier iterations, although they now boast improved functionality. These include the A-Z directory and sections for the Archive, The Definitives, and Re(focused)views.
A wealth of gratitude belongs to my friend M. Doucet from A Spring As Foul for his months of tireless effort designing, assembling, and fine-tuning the new platform. I would also like to thank my wife, Brenda Harvieux, for her love, patience, and understanding throughout this process. Brenda helped with the exhaustive amount of data entry during the migration, and she also serves as DFR's co-editor and copy editor.
Last, but certainly not least, I would like to thank contributors and visitors to DFR. The last several months have been somewhat uneven regarding the regularity of reviews and posts. And while the output will stabilize for the foreseeable future, I appreciate those who sent kind emails or visited on a regular basis during the transition.
A lot of hard work and time has gone into DFR over the last decade and, hopefully, we will continue for another ten years. If you enjoy the website and would like to support it (and keep it free from annoying ads), please consider making a donation through PayPal.
Thanks, and enjoy the new Deep Focus Review!
Brian Eggert
Deep Focus Review
brian@deepfocusreview.com