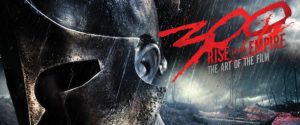 300: Rise of an Empire: The Art of the Film
In anticipation of the upcoming sequel to Zack Snyder's 300, Titan Books has released 300: Rise of an Empire: The Art of the Film, a large hardcover book filled with production photos, artwork, and character bios over 160 full-color pages. The book also features a foreword by 300: Rise of an Empire's director, Noam Murro (Smart People), and an afterword by Snyder, who serves as the new film's producer. Paging through, the reader gets a sense that the new film will have a broader scope and more sweeping tale to tell, and that Murro has embraced Snyder's visual style from the original while also branching out. For those cultish fans devoted to the original movie, the book is an easy recommendation.
When 300, Snyder's adaptation of Frank Miller's graphic novel, was released back in 2007, the film not only launched Snyder's career but incited a wave of pop-culture influence. Various Starz programs and countless spoofs have ensued from the film's iconic imagery and memorable individual scenes (shouting "This is Sparta!" has all kinds of cultural meaning now). Shortly after the release of Snyder's film, conversations at Warner Bros. and Legendary Pictures began about a potential sequel—an odd notion considering the heroes from the original all die. Miller himself proposed a new graphic novel about the Persian god-king called Xerxes and, lending his notes and some initial drawings to the studios, work began on 300: Rise of an Empire.
Miller's graphic novel has yet to be published and won't hit shelves until long after 300: Rise of an Empire reaches theaters on March 7, 2014. But screenwriters Snyder and Kurt Johnstad have used Miller's notes extensively, and their story isn't really a sequel; in fact, it's what the filmmakers call an "equal". The story takes place at the same time as the events in 300, borrowing from history to depict the actual sea battles between the Greek and Persian navies, accentuated with Miller-brand elaborations, of course. In Titan's release, writer Peter Aperlo discusses many plot details from the upcoming film, and the book contains various chapters on the film's characters and major scenes.
Although following a typical structure for an "art of…" book, the pages contain less than expected of what one might traditionally consider "art"—at least in terms of what this type of book usually offers. Most of the pages feature photographs of the actors or behind-the-scenes stills from the production. Actors Sullivan Stapleton (Themistokles), Eva Green (Artemisia), Rodrigo Santoro (Xerxes) and several others each have multi-page spreads. The film's Battle of Marathon and Battle of Artemisium have their own sections as well. But surprisingly, concept art or pre-production paintings aren't showcased much, and the majority of the images are photos or computer-generated models which show the filmmakers' progression from concept to completion.
Snyder's film used Miller's graphic novel as a blueprint for a green screen world constructed from a combination of digital FX and enhanced live-action footage. For 300: Rise of an Empire, the filmmakers had to create their own blueprint. Rather than seeing computer models and photos of the film's countless muscle-bound performers, I would have preferred to see the concept designs from the artists who envisioned the new film. As it is, Titan's 300: Rise of an Empire: The Art of the Film remains an interesting companion piece that informs how Murro and Snyder completed their new film, and a recommended buy only for those who enjoy the upcoming film.
---
Thanks to Titan Books for sending a review copy of the book. Order it from Titan's website.