Director

Cast

Rated

R

Runtime

92 min.

Release Date

06/22/2007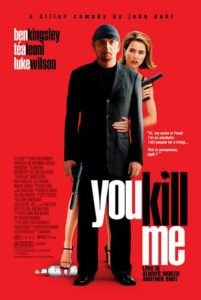 For me, Ben Kinsley will always be Don Logan, the threatening child-of-a-man in Sexy Beast, dropping f-bombs every other word an inch from Ray Winstone's face. Or the torturer and rapist Dr. Miranda from Polanski's Death and the Maiden, calmly concealing his lies while looking straight into his victim's uncertain eyes. Though he's played those awful men, general audiences tend to remember Kingsley in miracle-worker roles such as Gandhi in Richard Attenborough's biopic, or as Itzhak Stern in Spielberg's Schindler's List. Kingsley has great potential to surprise audiences by playing against his reputation.
In You Kill Me, he achieves something unique for his career—he is neither monster nor saint, and yet he's both. He plays Frank Falenczyk, a hitman for the Polish-American mafia based in Buffalo, NY, who just happens to be a pretty nice, but troubled guy.
We meet Frank on a winter day. He steps outside, standing grim-faced with a bottle of vodka. After taking a few glugs, he throws the bottle into the snow in front of him. Then he picks up a shovel and scoops away the snow until he reaches his bottle. After taking another drink, he throws it forward again, shovels more, takes another drink. This continues until his walkway is cleared.
Frank is an alcoholic, which I'm sure you've guessed. His sympathetic and likable Polish mafia cohorts, led by boss Roman Krzeminski (Phillip Baker Hall), are concerned about Frank's disease—even after Frank passes out when he's supposed to be sending Irish rival boss O'Leary (Dennis Farina) to sleep with the fishes. And whereas we can see the Leone family solving a problem like this with two in the brain, kindly head Roman sends Frank off to San Francisco to relax and recover, setting him up with a nice apartment, a part-time mortician's assistant job, and mandatory attendance in an AA group.
Frank meets the boundary-less Laurel (Téa Leoni) while on the job, having dolled-up her stepfather's corpse for a wake. Laurel gushes bitingly sarcastic humor and confesses to Frank, a stranger, that she could care less about her stepfather's death. Leoni has an immediate hold over Frank, and us, as her darkly humorous personality is immediately appealing—just as it was in another dark comedy of hers, David O. Russell's Flirting with Disaster. Frank musters up confidence enough to ask for a date, and Laurel accepts.
In AA, Frank smiles to himself, listening to awkward confessions by drunks—it's all very silly to him. Frank's recovery guide, Luke Wilson's character Tom, lightens him up a little toward the process. Grudgingly, Frank plays along. If he doesn't, chatty real estate agent Dave (Bill Pullman), working as pseudo-spy for Roman, will make a call to Buffalo and Frank will have hell to pay. Meanwhile, O'Leary's group is making moves to eliminate Roman and his quickly vanishing Polish mob—all problems that wouldn't exist had Frank not been a drunk. Frank's road to recovery is eased by Laurel's presence but demands reflection when he finds himself drunk and aiming his pistol at Laurel from afar. Does he have control? He doesn't know.
Maintaining its humor while avoiding Analyze This-type shtick, director John Dahl's script never resorts to outright comedy. Laughs are subtle, under the surface of a clever character study. Even the music, mostly traditional Polish tunes, compliments the film's low budget credibility—I could easily see a misdirected studio executive applying inappropriate Get Shorty-ish music to quirk up Dahl's film.
We're genuinely concerned for Frank's recovery, and his eventual love for Laurel. When Frank begins inching up to the podium for AA confessional like everyone else, these moments become deeply sardonic, as Frank's disclosure is absolute. Yet, they're filled with hilarity—the faces of Frank's entire AA group go pale as he explains how his drinking relates to his killing people for a living.
Kingsley's performance allows Frank to be distinctively sensitive despite his occupation. Running with Frank's bluntness about his profession, Dahl constructs clever scenes juggling the hitman's problems with his job and girlfriend, lacing them with macabre, free-range humor. Dahl hasn't had the best track record, save for Rounders, so this movie is a welcomed change in his otherwise mediocre filmography. Clearly, it was Dahl's subtle storytelling that attracted such an amazing cast. Kingsley, Leoni, Wilson, Farina, Hall, and Pullman make up one of the best, and least flashy ensembles in recent memory.
IFC (Independent Film Channel) distributed the movie into theaters. On a limited number of screens, this is a movie you'll likely have to seek out. This summer is filled with mindless blockbusters and endless sequels; You Kill Me refreshes with its against-type mannerisms, dark humor, and much-needed character development. It's worth searching for.