Director

Cast

Rated

R

Runtime

87 min.

Release Date

04/27/2007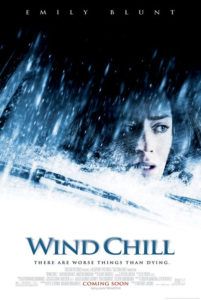 If you've never heard of Wind Chill, don't be surprised. Without television advertising or screenings for movie critics (which is a bad sign, showing that the studio, in this case, Revolution Studios, doesn't have faith in its production), this film seems determined to disappear. Not that you'd mind if it disappeared after about fifteen minutes in. If you're anything like me, you won't be able to stand the film's pronounced recycling of horror movie formula.
A college girl, played by Emily Blunt (from The Devil Wears Prada) needs a ride home for Christmas break. Finding an offer on the school's rideshare board, she arranges to ride with a fellow student, a guy whom she's never met. The guy, actor Aston Holmes (from A History of Violence) owns an old jalopy whose front passenger-side window doesn't close and is packed full of ominous supplies—such as duct tape, scissors… oh, and a soccer ball. The two college students are credited as "Girl" and "Guy," and remain nameless, though they probably should have been dubbed "Bitch" and "Psycho" instead.
Blunt's character maintains her stuck-up temperament via a dedicated preoccupation with her cell phone and nail polish. We don't learn much about her background, other than she's not anticipating Christmas split between her divorced parents. Holmes' character doesn't say much, mostly because his passenger spends most of the ride on her cell. When he shoots her a look, she hangs up; he reminds her that a rideshare means it's her responsibility to talk to him. This turns out to be a stupid move on his part when later Guy inadvertently discloses that he knows more about Girl than he should. She says she's going to have laser eye surgery; he asks why, as she looks so good with her glasses on—but Girl never wears her glasses outside of her dorm. Oops.
After taking the dreaded horror movie shortcut on a snowy back road, the two see a car approaching. The narrowly-plowed road doesn't provide ample room for Holmes' character to maneuver, so they spin out of control into a snow bank. Now stuck in the middle of nowhere, stranded inside a car that generates heat but can't move, the two characters talk.
The dark blue and blue-tinted white palette of this setting is beautiful and should have been used in another, better film. With constant snowfall, the bleak environment was shot in a way that reminded me of the hedge maze from The Shinning.
After one too many confessions, Girl realizes her driver is a stalker that arranged for her to be in the car with him in hopes of romantic developments. To make things worse, they realize the car that ran them off the road has disappeared, quite literally—they can't even see tracks the car should have left in the snow. The setup of a stranded female, accompanied by a possible nutso, in an isolated snowy setting, also reminded me of The Shinning. And when we find out that their exact location is a stretch of road haunted by ghosts, a spot where horrible things happened long ago, I'll give you one guess of what I was reminded … That's right, The Shinning!
Taking a cue from John Carpenter's Christine, even the pathetic Jeepers Creepers, Wind Chill also uses retro music, in this case, "Jingle Bell Rock," as a fright-inducing device. Whenever the song randomly clicks onto the radio, you know a gooey-looking spectre isn't far behind. This becomes an almost laughable, obvious tactic, completely void of suspense by the end of the picture.
There's simply nothing here, other than the attractive art decoration, to admire. The namelessness of the characters signifies their lacking hold on the audience, while the plot insults us with its manufactured parts from better movies. It becomes even more absurd when after hours of mistrust due to Guy's weirdo behavior, the two characters suddenly kiss and form that special bond all horror movie characters build in desperate situations.
Director Gregory Jacobs has (surprisingly) worked as Assistant Director on upwards of twelve Steven Soderbergh's movies. Unfortunately, by what Wind Chill shows us, Jacobs didn't learn anything from his exposure to the diverse talent of Soderbergh.
Note to producers of Wind Chill:
When your movie is about two college students driving home for Christmas and getting stranded on a ghost-infested snowbound road, release your picture in January or February, when the icy setting will be eerily present outside of the theater. Do NOT release it just before summer starts, and certainly not a week before Spider-Man 3.