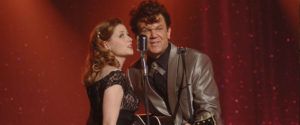 Walk Hard: The Dewey Cox Story
3 Stars
Director

Cast

John C. Reilly

,

Jenna Fischer

,

Tim Meadows

,

Chris Parnell

,

Kristen Wiig

,

Harold Ramis

,

John Michael Higgins

,

Ed Helms

,

Jane Lynch

,

Frankie Muniz

,

Jack White

Rated

R

Runtime

96 min.

Release Date

12/21/2007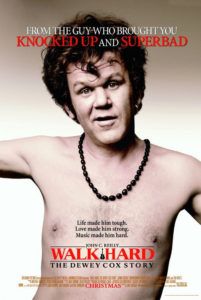 John C. Reilly. For years he was that guy who appeared in everything from Casualties of War to Magnolia; now he's doing Martin Scorsese movies and being nominated for prestigious awards. I first decided to track his career after seeing P.T. Anderson's 1996 debut Hard Eight; following that were a number of performances where he plays the simpleton, the sweet guy, or the dufus. All those characteristics apply to his role in Walk Hard: The Dewey Cox Story.
Written by Jake Kasdan (also the director) and Judd Apatow, the movie sends up musician biopics like The Doors, Ray, and most obviously Walk the Line, exploiting common narrative threads in such biopics, and yet juggling them enough to avoid redundancy or mocking humor. Kasdan's past work exists in the realm of serious comedy; watch The TV Set or Zero Effect, as both are superb examples of his talent. I wouldn't describe this feature as serious comedy—certainly, the sex and drug jokes do little to elevate the material. It pokes fun at a genre while working within its limitations. So if you've never seen the above-mentioned biographical films, you might not realize Walk Hard is a spoof of sorts (and you'd miss half the jokes).
We begin with Dewey Cox's childhood in a farmhouse flashback. His elder brother, a prodigy pianist, has the love and respect of Pa Cox (Raymond J. Barry), while Dewey is just a no-talent number two. After a machete-fight-gone-wrong leaves Dewey's brother cut accidentally in half, horizontally, Pa Cox blames Dewey, frequently repeating "The wrong brother died." When his father's guilt trip continues into his teenage years, at the age of 14 and now laughably played by Reilly, Dewey decides to make a go at playing bubblegum rock. And wouldn't ya know it, he's purdy darn good. He gets married to his 12-year-old sweetheart (Kristen Wiig), has some kids, and searches for his dream.
Parallels between Dewey and every early rock legend imaginable exist within the film, so the more familiar you are with the likes of Elvis Presley, The Beatles, Roy Orbison, Johnny Cash, Buddy Holly, and Jim Morison, the more you'll enjoy it. Dewey's humble beginning ignites after Jewish record executives spot him in an African American night club, where his first on-stage performance blends his southern-influenced twang with soul music tempos.
He signs with his new band, complete with drummer Sam (Tim Meadows), bassist Theo (Chris Parnell), and guitarist Dave (Matt Besser). Their first hit is "Walk Hard", which is currently a Golden Globe nominee for Best Original Song. Much of the music is good enough to pass as original. Take the song "Let's Duet", which sounds like "Let's do it" and offers lyrics laced with ongoing double entendres. Kasdan and Apatow went to great lengths to make the movie's music funny, yet authentic. Indeed, I'll be buying the soundtrack.
Dewey goes through every progression you've ever seen a rock star go through, be it in film or in a VH1 Behind the Music special. Fame leads to flagrant sex with roadies. And while we're used to seeing oodles of naked women traipsing about in musician biopics, Walk Hard offers an alternative: a very blatant penis on display in the upper right-hand corner of the screen. Dewey is on the phone, talking with his wife; his naked band and naked roadies are everywhere in some hotel room. And there it is. Just a penis. Awkward. Hilarious. (Incidentally, this is the second movie starring John C. Reilly to feature an unashamed exhibition of a penis. See Boogie Nights for the other.)
Dewey's identity shifts over the years from soul man to folk singer, from progenitor of drug music to rock legend. He's married twice at the same time, the second instance to lifetime love, and pseudo-June Carter, Darlene (Jenna Fischer); he has uncountable children with uncountable mothers; he deals with guilty memories of bisecting his brother; he experiments with drugs as every rock star does; he rips out countless sinks in various drug frenzies; and his dad occasionally pops up to remind him "The wrong brother died."
Through it all, Reilly's committed performance backs the satirical edge, making it a rarity of fine acting and production for this type of comedy. He never winks at the camera or seems like he's overplaying his role. He's just a wonderful buffoon, looking the part too with his dopey caveman features and big hair. I respect Reilly's all-out dedication to Dewey Cox, and surprisingly found that Reilly has a damn fine singing voice—he sings all fifteen-some songs on the soundtrack.
Despite being an over-the-top parody, Walk Hard is just great at being stupid—and I mean that in the best way possible. It's written and acted with all the same expert talent we'd expect from the filmmakers, who brought us Superbad, Knocked Up, and The 40-Year-Old Virgin, some of the best comedies in years. Add this one to the list.