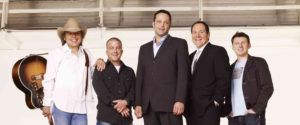 Vince Vaughn's Wild West Comedy Show
2.5 Stars
Director

Cast

Ahmed Ahmed

,

Sean Fitzgerald

,

Peter Billingsley

,

John Caparulo

,

Bret Ernst

,

Justin Long

,

Sebastian Maniscalco

,

Keir O'Donnell

,

Vince Vaughn

Rated

R

Runtime

110 min.

Release Date

02/08/2008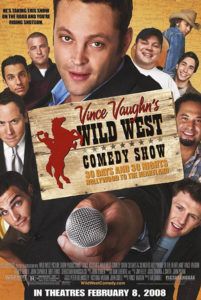 Conceptually, Vince Vaughn's Wild West Comedy Show draws from "Buffalo Bill's Wild West", the late nineteenth-century troupe of traveling entertainers that featured performances by everyone from Sitting Bull to the sharpshooting talents of Annie Oakley. Reenacting history's greatest cowboy battles and performing the expanse from America's heartland to London for Queen Victoria, Buffalo Bill made a name for himself as a showman and lived up to that title with every performance.
Actor Vince Vaughn and his group of comedians reenact the occasional scene from Swingers, even Grease, but comedic talents by way of stand-ups Ahmed Ahmed, John Caparulo, Bret Ernst, and Sebastian Maniscalco headline the show. Vaughn's pseudo-documentary involves 30 days on the road in a massive tour bus, stopping every night in a different city. But with stand-up comedians the way they are, and Vaughn's reputation as a party guy, little beyond a stripped interpretation of Bill Cody's tour remains, resulting in a travel-centric mosaic version of Jerry Seinfeld's Comedian.
Each performer just-so-happens to be one of Vaughn's good friends, ex-roommate, or even former waiter. As opposed to Buffalo Bill's tradition of featuring established names, Vaughn hopes to create that success for his friends, and paints their portraits onscreen with intimate interviews and sometimes sobering background stories to manipulative extremes.
Egyptian-born Ahmed Ahmed argues that post-9/11 society has forced his political, or ethnic-based humor about Arabs. He tells a tear-worthy story about Las Vegas police holding him for 12-hours after 9/11, as part of "airport policy". Unprovoked. Unwarranted. Unfair. Following that, he says, he had no choice. After telling the camera his jokes take from other such painful incidents, we see them as personalizing.
John Caparulo barely functions without f-words. Whenever on stage, he dons his typical jeans, white t-shirt, and baseball cap, speaking in blue humor influenced heavily by his mechanic father. Talking of ex-girlfriends with heavy sexual content, "Cap" could be the Grumpy of their troupe. Since the filming of this picture, he earned his own half-hour special on Comedy Central Presents.
Resident self-described "guido" Bret Ernst is probably the best of the four featured comics, writing hilarious bits of physical humor into his act. Watch Ernst's spot on roller rinks; it's one of those perfectly executed pieces that makes audience members whisper "that's so true" to their date. His personal story bears tragedy, which again is worked into his act, generating equal amounts sympathy and congeniality.
Unlike his three traveling companions, Sebastian Maniscalco wasn't a full-time comedian when Vaughn's tour bus took him on. He waited tables, sometimes sneaking in a short set during his break. Much of the film pokes fun at Maniscalo's anal-retentive tendencies for cleanliness, including his need to dry clean even his bed sheets and self-clean for at least an hour.
Special Guest appearances include John Favreau, Vaughn's co-star in Swingers and director of the upcoming Iron Man movie, and Justin Long, Vaughn's co-star from Dodgeball. Peter Billingsley (better known as Ralphie from A Christmas Story), longtime friend of Vaughn, helped produce the show and appears onstage to reenact the after school special on which they met. And, Vaughn describes his friend Keir O'Donnell as "the gay painter from Wedding Crashers", who appears onstage for nonsensical work with markers.
Filmed in 2005, their tour met with an unfortunate bitch named Katrina while in Texas. Some of the film's funniest, most bittersweet moments occupy their group interacting with victims of the hurricane, homeless and taken in by kindly locals. Their patriotic troupe leader makes a number of their performances charity drives, giving down-and-out families much-needed escape.
We see familiar material from Seinfeld's aforementioned behind-the-scenes documentary, following oft-depressed and substantiation-hungry stand-ups feeding on laughs like basic nourishment. Vaughn's intent seems to be a surreptitious jumpstart for his four comedians, who deal with your usual slew of manic-depressive bouts and applause-fueled elation. But as funny as Vince Vaughn's Wild West Comedy Show manages to be, it amounts to nothing we couldn't find on Comedy Central, and it's certainly no Comedian. Nor is Vaughn on the same plane as Buffalo Bill. His showmanship is more lackadaisical, screaming "TV Special" more than Silver Screen.