Director

Cast

Rated

R

Runtime

110 min.

Release Date

07/18/2008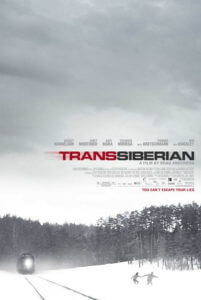 Movie tourists have the worst luck. You've seen it before: Inexperienced sightseers journey through a strange land and soon find themselves begging to local madmen for mercy. What's always scared me are those scenes where, in desperation, the hapless victim shouts, "But I'm an American!" and the attacking psychotic continues carrying out whatever his nefarious plan might be, uncaring of their prey's country of origin. Such films serve to keep us in our homes, or at least our own country, and render us afraid of the unknown. If that's true, Transsiberian has inspired me to become a recluse. Set primarily on the Trans-Siberian Railway, an icy week-long trip from China to Moscow, the film fills the viewer with a sense of displacement. Passengers are just as coarse and unwelcoming as the wintry conditions outdoors, their eyes staring, giving long, intent looks into the vulnerability of foreign travelers. Rumors of the harsh political conditions circulate, including some horrid stories about police brutality and drug raids. And no matter how uncomfortable the trip, it's hundreds of miles from anywhere, and so our tourist-heroes must endure.
American couple Jesse (Emily Mortimer) and Roy (Woody Harrelson) leave Beijing after their church's volunteer relief efforts have completed, taking the railroad because straight-arrow Roy is a train enthusiast, and he believes his former wild-at-heart wife is hungry for an adventure. Onboard they meet a younger couple, themselves claiming to have just taught English in China for a year. Abby (Kate Mara) hails from Seattle and has no family, but her Spaniard boyfriend Carlos (Eduardo Noriega) is more mysterious—he seems to know much about traveling, forging passports, and getting across borders. On one of the train's many stops, Roy and Carlos go off to appreciate nearby coal engines in the trainyard. Meanwhile, Jesse and Abby are off somewhere talking, Jesse perhaps revealing too much to a stranger about the flaws in her marriage. Until this point, Carlos has eyed Jesse, with everyone the wiser except the somewhat oblivious Roy. So when Carlos starts handling an iron bar while Roy, with his back turned, inspects the decommissioned trains, the film's slow build of tension starts to overwhelm.
What progresses takes unmistakable inspiration from Hitchcock's The Lady Vanishes, but not so much that I would call it derivative. Director and co-writer Brad Anderson imbues the material with character-driven suspense. Each development seems to inflect inward, particularly for Jesse, around whom the action primarily circulates. She re-boards the train, quickly realizing her husband was left at the last stop. Separated and alone, she's left to fend off (or not) advances from Carlos, who has schemes that include taking advantage of unsuspecting tourists. I will do you the benefit of not discussing his plans, or their consequences, in detail.
Mortimer is an exceptional actress, as we've come to learn in just the last couple years with Lars and the Real Girl and Redbelt. Here she's wonderful at playing naïve, or rather playing at playing naïve, lending her character an impressive depth. Harrelson is taking himself more and more seriously, and with every new role he shows he's a capable performer, here disappearing into his yuppie everyman. And then there's Ben Kingsley as Russian narcotics detective Grinko, a character I made a point not to mention above; excelling so much thanks to his human eyes, when Kingsley chooses to, they become quite sinister. Transsiberian is Anderson's best to date. In the past his works (The Machinist, Session 9) have just missed the mark, coming close but always distancing his audience with a lack of empathetic connection. But this film involves us in characters more than plot, even throughout the mounting suspense and big chase sequence in the finale. We must appreciate such an adept ride through lost and frightening and eventually shocking circumstances, as rarely are modern thrillers of this type so satisfying.