Director

Cast

Rated

PG-13

Runtime

108 min.

Release Date

04/18/2008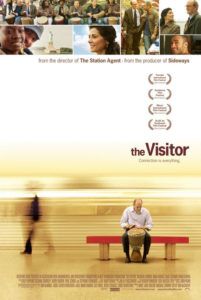 Dehumanization takes many forms, not the least of which is the inability to express oneself. In The Visitor, the quiet, uninvolved Connecticut College economics professor Walter Vale (Richard Jenkins) is desperate—yet too discreet to show his desperation—to convey himself. A widower, he dabbles at his dead wife's trade of classical piano, taking lessons from an aged instructor used to teaching elementary students. But he's seemingly locked inside himself and the routines he's constructed, and piano just comes with too much baggage.
Forced to present a paper in New York City, Walter returns to his long-neglected pied-a-terre from Connecticut only to find two illegal immigrants living there, conned into believing his apartment was empty. Tarek (Haaz Sleiman), a Syrian, and his Senegalese girlfriend Zainab (Danai Gurira), both in an awkward position, could have been thrown out onto the street or worse. But Walter allows them to stay, for reasons I suspect even he's unsure of.
Though Zainab keeps her distance from Walter and nearly refuses to make eye contact, the genial Tarek befriends their host and teaches him to play the African drum, inviting him to park performances. Walter moves his body to the percussionist's instrument, simpler to play and no doubt more instinctual than his piano. And while this movie could have taken a formulaic trip into mentor-apprentice territory, tides change quickly when by a misunderstanding Tarek is arrested and threatened with deportation.
With Zainab unable to follow up on Tarek's case in fear of her own deportation, Walter sets aside his life to defend what may be his only friend in the world. Hiring a versed attorney and experiencing the bureaucracies of The System first hand, Walter's eyes open. The situation becomes more complicated when Tarek's mother, Mouna (Hiam Abbass), arrives from Michigan to expedite her son's release from the detention center—a cold, windowless building in Queens that looks eerily uniform with its surroundings. From there the film takes welcomed turns we would not expect, exploring a growing friendship between the pairing of Walter and Mouna.
Director Thomas McCarthy is at times subtle with his allusions to post-9/11 society when he suggests that America loses its intended purpose by sending away those who would flee their own countries for the benefits of ours. Other times he fades out on an American flag, blurring the lines and its meaning in none-too-subtle imagery. Characters have a few blatant conversations about inhumane immigration. And there's always a sense that through this small story something much grander and impenetrable is being said.
I suppose that brings me to Jenkins' performance as this seemingly secluded, unemotional man, who by the end bursts with emotion. He's an actor usually on the sidelines (you'll probably look at him and say, "Oh, him!") now proving himself worthy of lead status. Understated in every expression and gesture, Jenkins gives the kind of performance studios usually hold back for Academy Award voters to see in November and December, keeping it fresh in their minds come ballot time. He embodies this nondescript, vulnerable soul at once hiding his true colors from his costars while bearing all to his audience with every nuanced deep breath and bashful half-smile.
By the last scene, The Visitor gets a hold of us the way few movies can, culminating the film's wealth of narrative and symbolism into a profound last shot. Combining a humanist story of friendship with mild political commentary, McCarthy has made yet another success focusing on the proverbial "little guy" (he also directed 2003's The Station Agent with Peter Dinklage), and his journey from detachment to extraordinary feeling and all that that signifies.