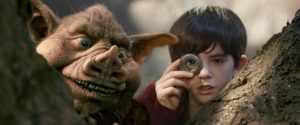 The Spiderwick Chronicles
1 Star
Director

Cast

Rated

PG

Runtime

97 min.

Release Date

02/14/2008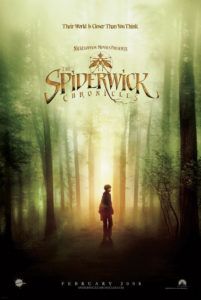 The Spiderwick Chronicles represents the latest attempt to bring (what Hollywood hopes will become) an ongoing fantasy saga to the big screen. Based on the popular series of children's books by Tony DiTerlizzi and Holly Black, the film falls flat by offering frequently redundant imagery recent hocus pocus films, namely the Harry Potter franchise, concoct with more emotional draw and better special effects.
Relocated from New York to somewhere in the wilds of New England, three kiddies find the autumnal woods surrounding their new abode, an aged Victorian house with creaking floors and hidden passageways, swarming with all manner of fantastical creatures. Freddie Highmore (August Rush) plays twin nine-year-olds Simon and Jared; Simon is the quiet intellectual type, and Jared the angry sort who gets blamed for everything that goes wrong. Jared finds "Arthur Spiderwick's Field Guide to the Fantastical World Around You" marked with a warning not to open; of course, he opens the book and discovers he's surrounded by a whole slew of slithery goblins and ogres.
Protected by Thimbletack, a sometimes mouse-ish, sometimes gnomish creature voiced by Martin Short, the book contains secrets uncovered by Jared's great-great uncle (David Strathairn). Those secrets, if obtained by evil goblin king Mulgarath (Nick Nolte), spell certain doom for every screeching sprite and fluttery pixie in their wooden realm. Along with their older teen sister Mallory (Sarah Bolger), the twins attempt to put an end to Mulgarath's hell-bent quest to get his CGI mitts on the book. Too bad their soon-to-be divorced mother (Mary-Louise Parker) is the stereotypical fantasy movie parent, who doesn't believe her kids' stories no matter how convincing their goblin-fearing urgency appears.
I began to check my watch when the children ride a griffin through the clouds, in a sequence recalling a near-identical one done with more elegance in Harry Potter and the Prisoner of Azkaban. And when Mulgarath turns himself into a serpent, I thought, Why not just pop in the DVD for Mr. Potter's adventures in the Chamber of Secrets? Indeed, the fantasy here steps carefully in the footprints of its blockbuster predecessors. While every new film in this genre can't hope to reach Harry Potter quality highs, at the very least it can avoid superfluous repetition.
Beyond the film's reiteration of magical creatures, the conflict fails to engage the audience outside of sheer chase thrills. While I admittedly squirmed as toad-like monsters pursued the children at high speeds, none of the action was backed by a meaningful struggle. What exactly does Mulgarath want with Spiderwick's book? We learn that in his possession, he can kill all the creatures of both magic and human worlds. But why? Is there nothing, beyond your basic evildoer's bad seed, that motivates this character? Curious was the subplot involving the children's absent father, briefly played by Andrew McCarthy. Besides generating teary moments where child star Highmore could turn on the waterworks, dad serves only as a device to keep the mom preoccupied. When the divorce story eventually does spill into the fantasy plot in the film's climax, young Jared takes action that might give children in the audience the wrong idea. (Note to children: Don't stab your dad with a knife!)
Director Mark Waters handled Lindsay Lohan comedies Freaky Friday and Mean Girls with enough flair to entertain, but he's out of his league here. There's no majesty or wonderment to the creatures, no moments of awe, and not a single second where I couldn't believe my eyes. The silly-faced creatures talk in throaty voices (like the pig-faced Hogsqueal voiced by Seth Rogen) and look no more impressive than videogame graphics. When some fantasy epics take years to complete, this looks rushed to theaters with its intangible computer animated creepy crawlies and dull, transparent conflict.  Perhaps I've reached fantasy exhaustion, where these movies with children opening the doors to hidden worlds all blend together. It seems every few months another one hits theaters and disappoints. Eragon, The Seeker: The Dark is Rising, and now The Spiderwick Chronicles have all failed by feeling like desperate attempts to reach the height of their betters.