Director

Cast

Rated

R

Runtime

114 min.

Release Date

05/17/2019
The first seconds of The Souvenir are more visually and aurally complex than anything else in Joanna Hogg's short filmography. Overlapping voices, industrial noise, and an array of static sounds clamor over a discordant montage of black-and-white images from Sunderland in the late-twentieth century. As if captured on an ancient recording, the distant voice of Julie, an aspiring film student, explains her proposed feature to a panel of instructors: it's about a boy who both obsesses over and resents his mother, set against the region's crumbling coal and shipbuilding industries. She stumbles to articulate herself, having not yet focused her ideas or discovered a particular voice. From this auspicious beginning emerges an autobiography drawn from Hogg's experiences as a youth in London in the eighties. The writer-director tells the story with a full appreciation for who she was and what she has learned in the interim about self-expression. Using actual photographs she took and letters she received during the period to inform her drama, Hogg's film is a tessellation of memories, encounters, feelings, and mementos combined into a work of intricate and personal filmmaking. 
Honor Swinton Byrne, the daughter of co-star Tilda Swinton, plays Julie. Hogg's evident stand-in, Julie comes from upper-class parents who can afford to maintain a pied-à-terre in Knightsbridge for their daughter as she goes to college. She isn't oblivious to her economic status, however; she explains to her school's acceptance committee that she has lived in a bubble, and she seeks to break free. But Julie also recognizes that she lacks the experience and self-assurance of a confident artist. She discusses filmmaking theory with her fellow students and learns about herself at bohemian parties, though the political situations unfolding around her barely register—the Harrods bombing by the IRA in 1983 and the Libyan hostage crisis of 1984 disappear into the background of her life. She struggles to keep focused on school or filmmaking, perhaps because her crippling insecurities and lack of experience betray her, despite exuding the confidence afforded by her class. Indeed, she has trouble breaking free of her bubble. Note how she dresses almost identically to her mother, played by Swinton. 
Her emergence arrives in the form of Anthony (Tom Burke), an older, well-educated functionary at the Foreign Office with opinions to spare. They talk about everything from fine art to what makes a film "interesting," a favorite word of Julie's. He critiques her ideas about filmmaking, broadening them, while at the same time introducing her to opera and fine dining. But his behavior gradually becomes suspect. He moves in with her, and they form a romance. Then he starts to borrow money and disappears for hours at a time. He makes allusions to his government work, as though he's a spy: "I do what I do so you can sleep safe at night," he claims. The naïve Julie refuses to allow herself to believe what she has learned—that Anthony is a heroin addict. She refuses to acknowledge his track marks or what's happening when she drives him to a shady house, where he disappears for hours as she waits in the car. In another sequence, her apartment is robbed, and just as quickly as she extracts a confession from him, he turns the conversation around and somehow makes her apologetic for bringing it up. Her education with Anthony frees her from one bubble and encloses her in codependency.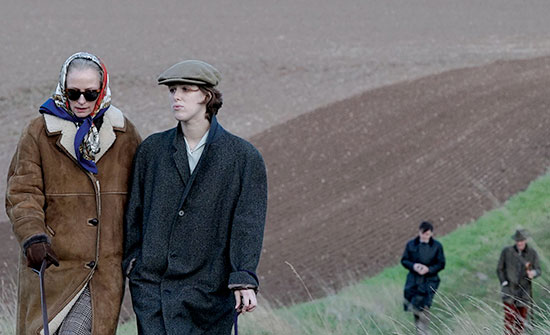 The title refers to Jean-Honoré Fragonard's painting of the same name. The eighteenth-century work of Parisian Rococo derives its subject from Julie, or the New Heloise, Jean-Jacques Rousseau's 1761 novel about being true to oneself regardless of what the world expects. Contrary to Fragonard's usual lusty subjects and loaded use of the gaze, the melancholy painting shows a woman standing at a tree. Her body is framed by the positive space of the branches and the negative space of the sky. At her feet is a love letter, and she etches the author's initial into the tree trunk. The pastels, so fashionable during this period of art, fill the ornamental furls of her satin dress and her pink cheeks alike. It's an image Hogg first saw when she was Julie's age. She too had a love affair with a man like Anthony, and like Julie, the many meanings of Fragonard's painting wouldn't become clear until much later. It took decades of Hogg ruminating on her own experiences and the painting, and how they could be woven into a work of autobiography, before she finally made this cinematic self-portrait. 
Through meticulous and empathetic examinations of the British upper class, mostly creatives, Hogg risks subjecting her work to sneering comments that question the necessity of representing the privileged. Satire is usually the method of representing such characters, but Hogg brings them to life with close observation and humanity. Her first film, Unrelated (2007), shot on the cheap in Tuscany, follows a vacationing middle-aged woman trying to penetrate the mysterious bubble of youth. In Archipelago (2010), a family on a getaway in the Isles of Sicily passive-aggressively implodes over strained dinner conversations and social situations. Her most recent film, Exhibition, came out in 2013 and centers on an artist couple whose domestic routines are thrown out of whack by the sale of their beloved house. With relatively few films—The Souvenir is her fourth—Hogg has established distinct thematic preoccupations and visual signatures. She often employs a static frame, fixed in a wide shot for long periods of time. A single image might last for several minutes, watching from a distance as her actors maneuver about in the frame in unchoreographed, natural movements. Filmed in available light, her work has an almost documentary quality, as though we're peering into a private scene of relationships that are frequently toxic. 
While Hogg's first three features each look and feel closely related in their observational approach to upper-class relationships, The Souvenir deviates from her established formal schema. Her usual distance feels warmed by the use of medium shots, even a few close-ups of Swinton Byrne and Burke's faces. Hogg has put us into Julie's space, thus her head and subjectivity. Her rather languid pacing has been hurried, albeit relatively compared to her previous work, with a sharper tempo to transitional devices and aural cues. For instance, she frequently explores the exteriors around Julie's Knightsbridge flat as a passage of time or establishing shot, setting the area to pop music, another rarity in Hogg's work. When Jona Lewie's upbeat "Stop The Cavalry" pops onto the soundtrack in The Souvenir, it feels as though Hogg has found an electric pulse that her work has never had before. Elsewhere, the quiet tenor and static framing of her film is occasionally interrupted by the rare appearance of a grainy handheld image inserted into the mix, like a brief moment of emotional and irrational clarity that emerges in the front of the mind. But for every innovation on her established style, Hogg returns to her familiar awkward dinner conversations and landscapes that envelop tiny figures in the frame. 
Hogg directs Burke and Swinton Byrne in accomplished performances, the former a wreck of internalized dysfunction that bursts in a detox scene, the latter who seems to grow up before our eyes. Their relationship is one that feels comfortable and corrupted at the same time, as Anthony both uses her and incites some measure of self-reflection. "You're lost," he tells Julie. "You'll always be lost." At the very least, Julie emerges from the film with a sense of freedom from the closed-off and uncertain space of youth. And through the film, Hogg demonstrates that she has the confidence to look back and size up her own past, which is promising for Julie's future. In a touch of indulgence toward the end, Julie flashes a confronting look into the camera—in a perhaps too-cute gesture—that feels like a wink from Hogg, followed by a post-credits note: "The Souvenir Part II coming soon." The filmmaker has embraced autobiography, and her approach feels achingly personal and raw in its emotional veracity, if naturally indulgent. Still, it's a fine work of impressionism in which its author looks back at her youth with clarity and appreciation for the insights siphoned from her mistakes.