Director

Cast

Rated

R

Runtime

113 min.

Release Date

12/25/2007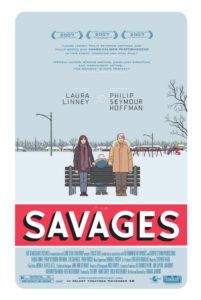 There's no doubt that The Savages is probably autobiographical for writer-director Tamara Jenkins, who broke such self-referential ground with her previous film, the charming Slums of Beverly Hills. I was surprised at what an emotional effect this story had over me, as I have two relatively young parents, certainly nowhere near requiring placement in a nursing home. Yet this quiet, darkly funny movie about two siblings dealing with their father's deterioration struck unexpected heartstrings. Wendy Savage (Laura Linney) has an apartment in New York City, where she works as a temp and tries desperately to get a Guggenheim grant to fund her writing of a play about her troubled childhood. Her neighbor Larry comes over occasionally when he can get away from his wife, and he and Wendy have uneventful sex—sometimes she loses herself during, and would rather pet Larry's dog, a lovable but old yellow Labrador named Marley.
Jon Savage (Philip Seymour Hoffman) is a college professor teaching and writing a heavy book on German dramatist Bertolt Brecht. He lives in a house in Buffalo, where his live-in Polish girlfriend Kasia (Cara Seymour) remains until her visa expires. Jon has been with her for three years, and despite being in his forties, he won't marry to keep her in America, even if the eggs she cooks him for breakfast make him weep. Both siblings seem to be in a funk; call it a mid-life crisis or fatigue or simply the need for a change. Whatever their situation, when an assisted living center in Sun City, Arizona calls Wendy, explaining that her estranged father, Lenny (Philip Bosco), has been writing on the walls with his own excrement, a red flag goes up. Or maybe it's yellow, says Jon, who would rather not get involved until it becomes more serious. When Lenny's equally elderly girlfriend, with whom he was living, dies, Wendy and Jon find they have no choice but to relocate their father into a nursing home. What other option is there?
What follows is much less depressing than it may sound; rather, the film is underlined with heartwrenching humor hidden inside profound performances by Linney, Hoffman, and Bosco. Resisting genre classification, the laughs are never punctuated or obvious. We're fooled by a subtle and gentle tone, which is contrasted by moments of bursting hilarity. I think of absurd arguments between brother and sister, the placement of a lava lamp in Lenny's room, or an awkward showing of a silent movie classic, all which resonate with a particular, understated charm. Laura Linney may have gathered together the ultimate actress filmography in the last few years, achieving the ideal balance from big-budget commercial pictures like Breach and The Nanny Diaries, to these wonderfully small treasures like The Savages and The Squid and the Whale. Her always reliable presence gives Wendy the range such a character needs. She toggles between cheerful to shambles to panicky in a blink, and is one of the most admirable leading ladies working today.
Likewise, Hoffman has amassed one of the best post-Oscar résumés I've ever seen; including this film alongside Before the Devil Knows You're Dead and Charlie Wilson's War, his work in 2007 given a trifecta description of the actor's incredible diversity. Had you not known his name beforehand, you may not have recognized him from role to role. And perhaps that's why he's the most significant character actor working today.
Bosco gives his role calm dignity, even if writing off-color words in feces might not declare as much. Nor does he remain hushed, as he plays a father who generated enough bad-will to cause his children to dread seeing him again. He swears loudly and maintains a generally unpleasant disposition. So why would I suggest his harboring of "calm dignity"? Watch the scenes where he stares off within his growing dementia, and compare those to when he chooses silence in the car while his children argue. He reaches to turn off his hearing aid, ready for silence and ultimately his own death, even if his children aren't.
Watching The Savages, I was reminded of my teenage years, when my grandmother was ill and in a nursing home. Like Jon and Wendy, my family would visit frequently, feeling guilty for putting her in such a place, but also realizing there was no other option. Conflicting emotions arise, as part of me wished her pain would ease and she would just pass away, while the other half didn't want to let go. Jenkins captures those moments of inner-conflict all-too-well, with great help from her stellar cast.