Director

Cast

Rainn Wilson

,

Christina Applegate

,

Jeff Garlin

,

Josh Gad

,

Jason Sudeikis

,

Jane Krakowski

,

Lonny Ross

,

Will Arnett

Rated

PG-13

Runtime

102 min.

Release Date

08/20/2008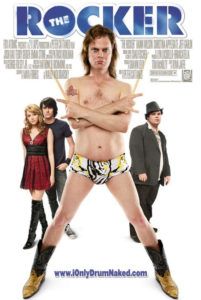 You could argue that I don't know much about "the spirit" of rock 'n' roll. The instruments I cannot play are many. Ongoing debates about which is better The Beatles or The Rolling Stones are silly to me—they're both great. But I know the words to most songs by The Who, that Led Zeppelin sings of Tolkien makes me cheer, and the greatness of Chuck Berry and Elvis Presley occasionally gives me goosebumps. Is that enough? I think so. For the makers of The Rocker, my music tastes probably seem outdated and stuffy compared to the movie's own faux Glam Metal band Vesuvius. Big hair, phony British accents, pouty lips, and lots of leather—they've got it all, and everyone in the movie worships them. Except their music sucks. The film, directed by The Fully Monty helmer Peter Cattaneo, is a pathetic copycat of Richard Linklater's School of Rock starring real-life musician Jack Black, without any of the evident siphoned-in rock passion.
Credited writers Maya Forbes and Wallace Wolodarsky seem to know nothing of true rock, or they wouldn't have allowed the showcased music to play such bland riffs. Here is a comedy that pretends to have "the spirit" circulating through its veins, yet offers only light modern tunes of a safe, over-produced sound. Couldn't the filmmakers find some washed-up ex-rocker to cameo and increase the film's already nil credibility? Apparently not, so instead they rely on Rainn Wilson, an intentionally ironic choice given he plays a dweeb every week on TV's The Office.
The movie begins in 1986, just before ersatz hair band Vesuvius makes it big. Prior to signing a record contract their manager asks that their drummer, Robert 'Fish' Fishman (Wilson), be replaced. Without much hesitation, they kick Fish to the curb and move on to make millions. Meanwhile, twenty years pass and Fish finds himself unemployed and living in his sister's attic, forever dwelling on how he just missed becoming a rock legend. Luckily his nephew's teenage garage band needs a drummer, and despite some initial protests, he agrees. Consisting of Emo songwriter and vocalist Curtis (Teddy Geiger), goofy piano man Matt (Josh Gad), and moody bassist Amelia (Emma Stone), along with Fish they call themselves A.D.D.—you know, like the over-diagnosed developmental disorder. After a video-recorded rehearsal wherein Fish plays nude shows up on YouTube, their mismatched group gains instant popularity and signs a record deal. But being odd (and old) man out, Fish quickly finds himself at risk of expulsion once again by a brash manager (Jason Sudeikis).
The cast assembles some of television's finest comedians, so the result feels like an elongated comedy sketch that won't end. Familiar faces include: Christina Applegate from Married with Children and most recently Samantha Who?; Jane Krakowski and Lonny Ross from 30 Rock; Sudeikis and Fred Armisen from Saturday Night Live; Jeff Garlin from Curb Your Enthusiasm; and Will Arnett from Arrested Development. Not to mention Wilson, who participates in an increasingly annoying program made even more so by his seedy character Dwight. Wilson simply isn't leading man material; he proves this within minutes by over-accentuating every facial expression, bodily gesture, and line of dialogue. Again I must bring up School of Rock, where Jack Black commands the screen with a clear love of music (also seen in High Fidelity and his band Tenacious D). Rainn, to my knowledge, has no band and is not a real rocker.
What's worse is the music A.D.D. plays, recalling something between Christian rock and Chris Daughtry—compositions put through so many filters all the life has been sucked out, hence they crumble. When the film's crowds of screaming fans cheer for such featureless songs, we laugh more than we do at the intended humor, itself mostly centered on Fish's age in comparison to his teen band-mates. Then again, the film features the kind of crap American Idol plays every week, and millions cheer for that like mad too. Perhaps my complaints are out of line, expecting a movie called The Rocker to actually rock.