Director

Cast

Rated

R

Runtime

115 min.

Release Date

04/06/2007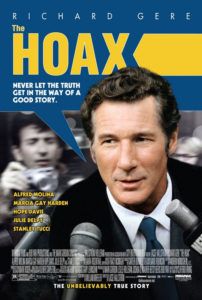 Come the late 1960s, Howard Hughes' legendary persona as a reclusive eccentric peaked; riddled with paranoia and verminophobia, he never left his ninth-floor home in Las Vegas' Desert Inn, the hotel he purchased in 1967. Refusing to appear in public, even when called to court, Hughes became a type of myth to the media. Rumors of his death and god-knows-what kind of mental illnesses surfaced about the aviator-filmmaker-tycoon, and with Hughes's aversion to publicity, such reports presented writer Clifford Irving with the perfect opportunity: If Hughes recoiled from public scrutiny, the once renowned figure would never come out of his ivory tower in Las Vegas to discredit anything written about him.
The Hoax features Richard Gere playing Irving, the man who in 1970 wrote an "authorized biography" on Hughes though he had never met the man. Conning publisher McGraw-Hill into believing Hughes had contacted him, Irving sold the world unbelievably incredible fabrications. Irving believed the more audacious the claim, the more likely people were to believe him. And the world, for a time, believed him. The film portrays lying as if it were drug addiction, sometimes so intoxicating the abuser doesn't even realize he's using.
Previous to this literary scandal, Irving wrote several fictional novels, all well received critically, but dismissed by consumers. In 1969 Irving wrote Fake!, a biography on notorious painting forger Elmyr de Hory that explored the definition of terms like "art" and "expert". De Hory was famed for painting flawless copies of works by artists like Picasso and Matisse and then selling them to alleged art experts in museums who believed them authentic. Fake! and de Hory are barely mentioned in The Hoax, though they offer possible origins to Irving's penchant for fakery.
Frustrated with poor book sales, Irving devises a plan with his writer friend Richard Suskind (the underused Alfred Molina) to tell his publishers that Hughes initiated contact to collaborate on a book. Irving claims that Hughes thought Fake! an authentic biographical portrayal of a labyrinthine figure, and so Irving would be the only capable writer able to tell "the Hughes story" objectively. Using the gilded magnate's withdrawn character to his advantage, Irving tells his publisher that Hughes refuses communication with anyone but him and only through handwritten letters (Irving forges handwriting from documents featuring Hughes's scrawl). The publisher tests Irving's phony contracts with handwriting specialists, comparing them to previously published letters written by Hughes. The "specialists" deem the letters authentic.
The most entertaining moments in the film come when Irving and Suskind (whose inability to tell a lie as well as Irving becomes hilariously obvious early on) come dangerously close to getting caught, and then just barely save themselves by amping-up the absurd nature of their story. When meeting with people from Life magazine about their Hughes claims, Suskind nervously blurts out, "He gave me a prune!" The Life executives look at Suskind, who's dripping sweat like Niagara Falls. Irving saves Suskind by creating an elaborate story around their supposed first face-to-face meeting with Hughes, where Irving claims the billionaire gave Suskind a prune. (If you pay close attention, the story changes: Irving sometimes claims Hughes handed the prune to Suskind in a paper bag; sometimes Hughes just offers the prune on its own. No one notices the inconsistency, luckily.) They buy the story because Irving tells his tales with supple, unmistakable detail.
Directed by Swedish filmmaker Lasse Hallström (Chocolat, The Cider House Rules), The Hoax places viewers in the corner of the world's boldest con artist. Irving convinces McGraw-Hill, desperate to uncover the mystery of Howard Hughes, to pay five-hundred thousand dollars in advance, which he eventually raises to one million. Drunk with money and the power that his lie affords him, we can't help but root for Irving's victory, even though we know he'll eventually get caught.
Though Irving appears to have absolute control over his lie, he cannot manage its reception, nor can he realistically estimate the consequences of his actions. Hughes eventually emerges from his hideaway to expose Irving; the writer counteracts by weaving more lies. One could argue that Irving bit off more than he could chew (particularly when he begins to expose Nixon's associations with Hughes), but that's too simple. Irving's most prosperous lies reside in his self-deception; he begins to believe his own fantasy—that the tale he spins is fact. The best liars believe their own yarn; this is what makes them great, but also tragic. For every successful lie he tells, Irving sleazes his way into someone's bed (both literally and figuratively), breaks someone's heart, or betrays someone's faith in him. Hallström focuses on the events of the scandal, but also illustrates the character of Irving as a man afflicted with an inability to tell the truth.
Irving and De Hory, as well as Irving's unpublished Hughes biography, were detailed in the documentary F for Fake (1974) by Orson Welles. The doc depicts Irving's delusion when he claims de Hory is a sick individual incapable of telling the truth; these statements become hypocrisy when later Welles identifies Irving himself as a liar. Paired with the Irving segment from F for Fake, The Hoax becomes an almost-brilliant deconstruction of a troubled writer. (I strongly advise you to rent or buy The Criterion Collection's DVD release F for Fake and watch it before or after Hallström's film, which I feel could have hypothesized reasons to Irving's attraction to the benefits of a strong lie by discussing De Hory more thoroughly.) Gere's disappearance into his description of Irving and the film's refreshingly blithe take on the material make The Hoax an easy recommendation, whether or not you're familiar with the Hughes biography scandal.