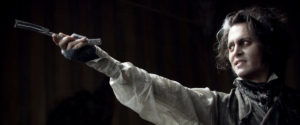 Sweeney Todd: The Demon Barber of Fleet Street
3.5 Stars
Director

Cast

Rated

R

Runtime

117 min.

Release Date

12/22/2007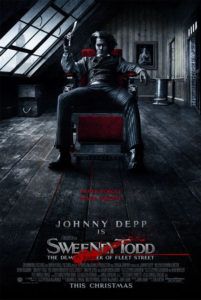 Originating in nineteenth century penny dreadfuls, the legend of Sweeney Todd could be viewed as an allegory about social rebellion (rather than just pinning him as a sadistic murderer who kills innocents, only to have Mrs. Lovett, his landlord, grind up their bodies into meat pies); he is, after all, getting revenge on a judge for wronging him. Perhaps he becomes preoccupied along the way, feeding the scum of the world to themselves. More than social relevancy, I would argue the story is a morality tale of obsession and how it—ahem—consumes its victims. Something just seems right about Tim Burton directing Sweeney Todd: The Demon Barber of Fleet Street, a filmic adaptation of the popular Broadway musical written and composed by Stephen Sondheim. Macabre humor. Dark visuals. Rich (and bloody) narrative. Subtext with notes on revenge and obsession. It's all appropriate and familiar material for the man behind Beetlejuice, Ed Wood, and Sleepy Hollow, who finally redeems himself after a string of artistic flops in recent years.
Burton's film stars Johnny Depp as the title character. Understandably, Todd is not a happy camper; his wife and child were taken from him by the covetous Judge Turpin (Alan Rickman), who sent Todd off to an Australian prison to rot. And rot he does. When the film begins, Todd returns to London, looking ghostlike and manic with a white streak through his black hair, having escaped his 15-year imprisonment. Along with him is sailor Anthony Hope (Jamie Campbell Bower), an innocent who later finds and falls in love with Todd's now grown daughter Johanna (Jayne Wisener). Todd, formerly a barber named Benjamin Barker, returns to his dwelling—a small barber shop above a meat pie eatery run by Mrs. Lovett (Helena Bonham Carter). Lovett sees right through Todd's pseudonym, but only because she loves him. Todd is informed his wife poisoned herself long ago and his is daughter remains under the ownership of Turpin, who longs to marry the girl and carry out some demented sex fantasy. Vowing bloody revenge with his silver straight razors, Todd finds Mrs. Lovett will go along willingly with his plan to kill the judge. She agrees and conceives of another plan: killing the occasional customer, grinding up the corpses as fresh ingredients, and selling them in hot meat pies. But Todd is only concerned about his penultimate goal: Turpin's gaping throat.
In a delightful subplot, Todd establishes his name as a proficient barber by challenging "Italian" Signor Adolfo Pirelli, a hair growth elixir peddler played by Sacha Baron Cohen, to a shave-duel. Pirelli loses to Todd's swift, experienced hands and later shows up in our anti-hero's shop, asking him to return the wager's five pound note. Surely we know Todd will not surrender his winnings; the result is murder, with Depp unleashing Hell's fury on his costar via an iron kettle. Baron Cohen's bit role, meanwhile, is a testament to his talent and penchant for ethnic ambiguity. We're treated with a number of applaud-worthy performances. Johnny Depp's superb singing voice, a light baritone that switches into gruff moments reminiscent of his character's savagery, surprised me; reportedly, Depp used punk rocker Iggy Pop and a more delicate Anthony Newley for vocal inspiration. Bonham Carter, Burton's wife, manages a sweet, derelict beauty—the same kind, I suppose, she contained in Fight Club; once again her character is an innocent wrapped up in her love for a madman-hero. Alan Rickman creates a menacing villain, following his iconic Hans Gruber in Die Hard; he's a brooding actor, whose onscreen presence is immediate and unyielding. And then there's Jayne Wisener, who looks suspiciously like a combination of Burton's Sleepy Hollow actresses Christina Ricci and Miranda Richardson.
Adapted to film by John Logan, several of the stage production's numbers have been cut to allow an appropriate running time. Logan also wrote Gladiator, The Aviator, and The Last Samurai, all movies completely and wonderfully encompassed in their respective worlds. 19th Century London becomes a vast cradle carrying poverty, wretched street urchins, and corruptible human garbage. Production designer Dante Ferretti used actual Fleet Street locales for inspiration, but twisted them into something more brooding and dark. The film's general gloom, typical for, but well applied by Burton, adds to the city's dearth of prosperity and hope.
Sweeney Todd is the whimsical type of musical where characters randomly break into song, with musical numbers that attest to their grim lives, so there's no need for elaborately choreographed dance sequences. Melodies have a murky tone and, of course, Burton revels in showing grim details with a hint of humor. Somehow, the funniest moments were when Todd's victims slide from his barber's chair, through the hatch in the floor, and plop into the furnace room below, their heads cracking against the concrete. Every time we're horrified, we're equally enthralled by the entire production. It's an expertly conceived film, and an impressive entry into Burton's filmography.