Director

Cast

Keanu Reeves

,

Forest Whitaker

,

Hugh Laurie

,

Chris Evans

,

Naomie Harris

,

Cedric the Entertainer

,

Common

Rated

R

Runtime

107 min.

Release Date

04/11/2008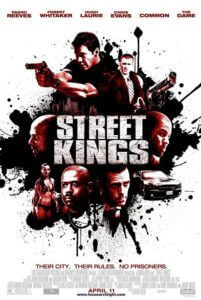 Street Kings is the type of action yarn where a rogue cop kicks open the bad guys' door, blasts away a houseful of criminals, rescues whoever needs rescuing, and walks away with no injury beyond mere bruises. Said rogue cop is Detective Ludlow, played by Keanu Reeves. Working nights in an elite unit of the LAPD, Ludlow is an unforgivable one-man wrecking crew—the cop the Commander calls whenever the tough missions need to get done. In a department divided by scheming cops and a busy internal affairs department, Ludlow distracts himself with action and avoids thinking about the morality of his decisions.
Trying to forget about his dead wife, Ludlow is a mop, soaking up the city's horrible offerings, doing all the dirty jobs he can if only because no one else has reached his level of low. His good intentioned-but-illegal vigilante methods are covered up by Commander Wander (Forest Whitaker), who treats Ludlow like a wild beast, unleashed only when serious havoc must be wreaked. But Ludlow's ex-partner, Washington (Terry Crews), has been talking with Captain Biggs (Hugh Laurie, playing House M.D. without the cane or scruff), a slimy internal affairs operate investigating Wander's team, no doubt informing about their roughneck methods.
Ludlow rushes off to confront Washington for blabbing just in time to witness him murdered by two masked robbers sporting heavy machine guns. With Washington dead, Ludlow's problems with Biggs are lessened. But who were the shooters? And isn't Washington's death a little too convenient to be a coincidence? Teaming with rookie forensics officer Paul Diskant (Chris Evans, from Fantastic Four), Ludlow covers up his own suspicious attendance at the murder scene, while also seeking out the killers—all to clear his conscious and discover the unfortunate truth the only way he knows how: an array of gun battles set to very loud music.
Reeves commands Ludlow with prototypical tough cop directness, fitting comfortably into the role. Critics usually pan his sometimes vacant onscreen persona. Granted, Reeves may not excel when portraying more complicated characters, but he handles one-dimensionality just fine, and even has the occasional impressive onscreen moment. Most can't overlook his surfer dude front from Bill & Ted's Excellent Adventure, nor forget his poor attempts at a British accent in Bram Stoker's Dracula or Much Ado About Nothing. I prefer to remember his sensitive role in My Own Private Idaho, his frightening redneck in The Gift, and his paranoid undercover narc in the brilliant A Scanner Darkly—underrated performances each.
Street Kings is sprinkled with familiar faces. Jay Mohr and John Corbett are hard-boiled detectives. Rapper Common and Cedric the Entertainer appear as thugs. But the placement of Forest Whitaker stands as an all-too-common error in Hollywood motion pictures: namely, that a prestigious actor's presence gives away crucial plot points because of their celebrity. Occurring in any number of films relying on a twist ending (which is sadly 80% of movies today—whatever happened to character studies?), the problem, what I call a celebrity spoiler, occurs when we realize mid-film that a small character played by a big actor has more significance to the plot because of the actor's stature. Why else would an Oscar-winner place himself into such a minor part, unless the entire film hinged on his role?
Written by L.A. Confidential author James Ellroy as well as Kurt Wimmer and Jamie Moss, the screenplay features endless indictments against police officers. Every piece of Ellroy's crime fiction spotlights dirty policemen, from the James Woods vehicle Cop to Brian De Palma's film The Black Dahlia. But therein usually exist sympathetic, sometimes moral men fighting against long-embraced temptation, often "saving their soul" in the process. The results are frequently melodramatic, resolving that there's little one detective can do against citywide corruption. Ellroy forces us to question if there's ever been a clean cop in Los Angeles…
Certainly director David Ayer doesn't think so; his own output thus far mirrors Ellroy's in theme. With his scripts for Dark Blue (based on Ellroy's story) and Training Day, and his own directorial debut with Harsh Times, Ayer's Los Angeles is an almost surrealistically crooked and violent world. Luckily both writers construct hero cops, either initially idealistic or corrupt-then-reformed, to counteract such deplorable conditions. Street Kings follows a line of invincible cop movies from the 1990s—titles like Bad Boys, The Last Boy Scout, Point Break, and Speed—a genre the Hot Fuzz guys made fun of while equally appreciating for their silly entertainment value. In those terms, Ayer and Reeves do a fine job keeping us glued to impossible gun battles and cheesy dialogue. There's something refreshing about a movie that relies on escapist action, sweetened enough with character development and mystery to make us swallow the product. As with the aforementioned cop yarns, exclude yourself from logic for two hours, and you'll be amply diverted, but never awed.