Director

Cast

Claire Danes

,

Charlie Cox

,

Sienna Miller

,

Jason Flemyng

,

Mark Strong

,

Rupert Everett

,

Ricky Gervais

,

Robert De Niro

,

Michelle Pfeiffer

,

Peter O'Toole

,

Ian McKellen

Rated

PG-13

Runtime

130 min.

Release Date

08/10/2007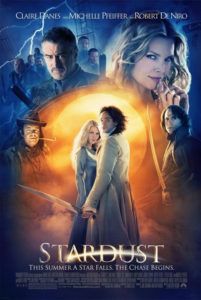 Nowadays, if a book has a dragon, magic, talking animals, wizards, trolls, or any other such selection from the innumerable elements of fantasy, Hollywood buys the rights and it's in production. Studio heads always look to create "the next…" Such as "The next Harry Potter," or "the next The Lord of the Rings," and so forth—anything to recreate defining serial franchises that mark archetypes of great fantasy. Movies like Eragon, A Series of Unfortunate Events, and The Last Mimzy, all based on books, have all banked on repeating their filmic predecessors' good business and failed, miserably. (My argument was proven before I even wrote this review, as before Stardust I saw trailers for Beowulf, The Golden Compass, and The Spiderwick Chronicles—all fantasy films to be released later this year.)
And so, it's with great pleasure that I report to you the joy of Stardust, a film wholly cradling fantasy tropes while also skewing them just enough to avoid being overtly repetitive. Based on the novel by modern fantasy icon Neil Gaiman, writer of Neverwhere and Good Omens, the film has received comparisons to The Princess Bride, but I would argue that Stardust has more emotional possibilities than that film… otherwise, the tonal comparison is sound. The film begins long ago in England, in a small, simple country village. Our hero Tristran (Charlie Cox) crosses a wall that, according to legend, marks the border between this world and another world. He does this to find a fallen star for the uninterested, cruel flirt-of-a-girl he believes to be his true love, Victoria (Sienna Miller). She's made a deal with Tristran: if he brings her the fallen star by her birthday, she will marry him. Traveling into the kingdom of wonderment, Stormhold, Tristran finds that the fallen star is a physical being, Yvaine (Claire Danes), a beautiful woman garbed in silver dress.
Being a star, Yvaine sleeps during the day, is awake at night, and now that she's grounded, has no way of getting back into the sky. Danes plays her as an innocent, someone who's watched human interaction all her life but has never had it herself. If melancholy, she looks like you or me; if happy, or more specifically in love (in which she eventually falls for Tristran), Yvaine glows. This phosphorescent shine, though an obvious signifier, had a surprising effect on me. It makes us happy when she's happy, and when it disappears, it's saddening. Danes' unexpectedly strong performance gives Yvaine a face we wish to see forever shine. Yvaine has been knocked out of the sky by a ruby necklace sent flying through the cosmos by the dying King (Peter O'Toole). The King determines the first person of royal blood to restore the ruby necklace will be king. His four remaining sons double-cross one another until only one remains, Septimus (Mark Strong). So, off Septimus goes to find Yvaine and the ruby. But a trio of old witches prowls for the fallen star too, as eating the heart of a star restores their youth, beauty, and venerability. Of the three, Lamia (Michelle Pfeiffer) is chosen to use what's left of her magic to hunt down Yvaine. Her youth is restored for the quest, but as she uses her powers, her age begins to show and impressive make-up effects describe her progressive aging.
After a minutely slow start establishes its several character introductions, Stardust becomes something wonderfully romantic, hilarious, and adventurous, and yet never feels cliché. The plot consists of stories we've all heard dozens of times in one form or another; and somehow I never felt like the material was recycled. Roger Ebert criticizes Stardust in his two-and-a-half star review, saying "A fantasy, even a comic fantasy, needs above all to be lean and uncluttered." I suggest he try to explain any labyrinthine Harry Potter plot in one sentence. Even with its many characters, the film's light temperament remains its greatest ally. Adapted by Jane Goldman and Matthew Vaughn, Gaiman's dark twist on fairy-tales is not idealized; the humor is sexual and for adults, the violence is grim. But this is a movie made for both children and adults alike. The fairy tale story will keep children entertained, while its detours will appeal to any adult whose childhood might have included a storybook or two. In a way, I was reminded of Edgar Wright and Simon Pegg's writing on Shaun of the Dead and Hot Fuzz; both are movies that embrace overused storytelling formulas while simultaneously sending them up.
That's actually a nice way to describe Robert De Niro's character Captain Shakespeare, a pirate whose ship sails stormy skies to collect sellable lightning. While on the exterior a roughhousing blackguard, Shakespeare's true nature comes as a hilarious surprise (one I won't ruin here). It's refreshing to see De Niro give a worthy performance again, after years of unfortunate career choices. The part of Captain Shakespeare is wildly comedic—strange, since in De Niro's other comedies like Meet the Parents he plays the straightman to another actor's extrovert. It's a scene-stealing performance and a movie-stealing character. If there's one quibble I have with Stardust, it's that De Niro's role is only a supporting one.
Director Matthew Vaughn (Layer Cake) handles the material with fitting seriousness and humor, meshed in a way so that the plot involves us and the comedy incites laughter, all while avoiding the all-too-common nudge at the audience. Vaughn recently reported to Aintitcool.com that he left production on X-Men: The Last Stand because he says Fox wouldn't give him enough time to tell a good story, suggesting that he cares enough about strong storytelling to risk his career. Admirable. (Case in point: Computer special effects are present throughout, but Vaughn doesn't allow them to showboat. CGI remains a descriptive tool. Goldman and Vaughn resist awkward moments (present in so many of today's fantasy pictures) where the camera zooms in on some "impressive" instant of CGI just because they can.) Stardust may seem common, since every other month a new fantasy film hits theaters. Yet, as the cinematic pages turned, I fully enjoyed it cover to cover. In all its escapist grandeur it entertains without committing you to a trilogy, completing its fairy tale yarn with enough laughs and wonderment to compete with the best of its kind.