Director

Cast

Rated

PG-13

Runtime

104 min.

Release Date

11/07/2008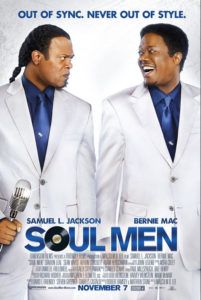 Soul Men offers a rare-if-unfortunate opportunity for viewers, by presenting comedian Bernie Mac in his penultimate onscreen performance. Penultimate for Mac, because, he had already completed another film when he died in August of this year. No word when the tentative release, entitled Old Dogs, will hit theaters. Having passed within a day of Mac, musician Isaac Hayes appears briefly in cameo, making the end product bittersweet by association. Sometimes we're forced to praise the posthumous release of an actor, because that's the polite thing to do. Then again, as with the case of Heath Ledger and his second-to-last performance in The Dark Knight, sometimes the departed performer shows the world just why they should be missed. Mac's comedic talents are showcased by director Malcolm D. Lee's film, allowing audiences to say goodbye, and to appreciate the man's evident gift. The result isn't some brilliant work of art like Christopher Nolan's film, mind you, but entertains in the same realm of Mac's body of work.
Early soul trio Marcus Hooks and the Real Deal earned high regard in their day, until their frontman Hooks (John Legend) split off to pursue superstardom, leaving Louis Hinds (Samuel L. Jackson) and Floyd Henderson (Bernie Mac) to disappear into the Where-Are-They-Now category of music history. When Hooks dies suddenly, VH1 plans a tribute special in his honor, hoping to resurrect Hinds and Henderson with a revival performance. Problem is, both men have seen better days: Hinds is now an ex-con living in squalor, Henderson labors a replaced hip, neither of them has been on a stage for decades, and they don't particularly like each other. For another shot at the good life, however, the two drive cross-country in a Cadillac convertible and encounter every buddy movie and road movie cliché in the book. (I know what you're thinking, but if VH1 had bought them plane tickets, there wouldn't be a movie.)
Nearly as raunchy as Zack and Miri Make a Porno, but with more heart, the film's laughs involve plenty of sex and Viagra gags. The humor earns the film's R-rating with abundance, as what motion picture could star Samuel L. Jackson and not involve him dropping "motherfucker" about fifty times? Sentimentality eases the persistent vulgarities when they meet Cleo (Sharon Leal), the daughter of a shared old flame that may be one or the other's daughter, and acts as background singer for the remainder of the movie.
Interspersed are pit-stops at small-time clubs where these begrudging friends refresh their faded musical skills. Jackson and Mac display some impressive and unexpected capacity for singing and dancing. One scene features the duo enlivening a country hoedown, another shows them at home in a Memphis dive. Onstage Jackson and Mac are a joy to behold, as clearly they're having a wonderful time. Consequently, so do we.
In a welcomed subplot, Henderson and Hinds face Cleo's abusive boyfriend, a young gangster rapper named Lester the Court Jester (Affion Crockett) that lifts a bass track from a Real Deal song for his own uses. The film makes sure to condemn such practices—an all-too-common occurrence in today's hip-hop scene—and suggests that rap has none of the beauty or class of yesteryear's soul. Considering this film was preceded by a trailer for Notorious, an upcoming film about the life and death of Christopher Wallace, a.k.a. Notorious B.I.G., it's reassuring to see gangster rap censured versus aggrandized. (Note: Even more comforting was the trailer for Cadillac Records, the new film about the studio that produced music legends like Muddy Waters, Etta James, and Chuck Berry.)
Soul Men unites aspects of The Blues Brothers with Planes, Trains, and Automobiles for a barely successful mix of part bawdy comedy, part road movie, part musical. No one can claim the outcome is original, or even particularly tasteful, but the undeniable appeal of Jackson and Mac together onscreen, combined with the well-performed assemblage of R&B numbers, relates a guilty pleasure that really shouldn't be this entertaining. However much the picture stretches our tolerance for its mundane formula, the enjoyable portions are more frequent than the lesser parts that don't work, and we're left remembering how much the result made us laugh, and inevitably, want to pick up the soundtrack.