Director

Cast

Rated

R

Runtime

106 min.

Release Date

03/21/2008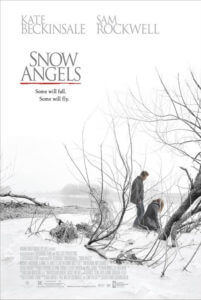 Inside David Gordon Green's film Snow Angels awaits an American portrait. The film was etched out in a process of opposites, where delicacy and violence work together to scratch away, until an image of harsh elegance emerges. Composed with a mélange of characters, the film remains intimate toward each, as Gordon Green, having written the adapted screenplay, doesn't act as judge over individuals, rather gives hope that a community heals itself, while involving us in the wear of its tragedies.
We're introduced to Arthur (Michael Angarano, from Sky High), a teenager who blooms through far more love and heartbreak than most would be able to manage: Arthur's mother Louise (Jeanetta Arnette) finds herself abandoned by her husband Don (Griffin Dunne), a botany professor laid to waste by a mid-life crisis. Attempting to move beyond his childhood feminine ideal, his childhood babysitter Anne (Kate Beckinsale), Arthur finds himself with growing affections for classmate Lila (Olivia Thirlby, the best friend from Juno). Incredibly understanding, Lila's own amateur photography captures the town at its most bare; she sees an exposed, vulnerable truth about everything, which is perhaps why she loves Arthur so much. Their adolescent love takes time to build, as Arthur resists, moving along with charming awkwardness, but moving forward nevertheless.
Meanwhile, Anne's troubled husband, Glenn (Sam Rockwell), on whom she has a restraining order for his alleged violent tendencies, claims he's changed. With a newfound job at the local carpet factory, confirmed devotion to some evangelical sect of Christianity, and hard-assured testaments to abstinence from drink, Glenn seeks to rebuild his family. But Anne has already moved on, bedding her best friend's husband, the sleazy Nate (Nicky Katt), barely in control or satisfied with her life so far. Barb (Amy Sedaris), Nate's wife, slowly catches on. Anne's daughter Tara (Gracie Hudson) goes missing, with Glenn a possible suspect. And suddenly, the whole town's drawn in.
The casting may be this film's strongest suit. Twenty-year-old Angarano impresses, since his filmography thus far achieves a balance of blockbusters (next month's The Forbidden Kingdom) and independent gems like this one. Beckinsale, when not fighting vampires and werewolves, can be extraordinary; she's able to burst into wild fits of anger, recalling her cameo performance as Ava Gardner in Scorsese's The Aviator. Curious is the placement of Amy Sedaris, best known as the wretched Jerri Blank from Comedy Central's hilarious show Strangers with Candy; here she's perfectly assigned to the angry firecracker Barb. But the film's most inspired casting comes with Sam Rockwell, who continues his remarkable career (The Green Mile, Heist, Matchstick Men, Confessions of a Dangerous Mind… wow) with a complicated character dedicated to his own destruction, as Rockwell's characters often are.
David Gordon Green has kept quiet since his pronounced debut with George Washington back in 2000, making only three films, including Snow Angels, since. Following his lauded entrance into the independent film scene, his second film, All the Real Girls, came in 2003, earning just as much praise. And then Undertow, arguably Gordon Green's best film, arrived in 2004. Unless you're familiar with independent cinema, chances are these titles have eluded you; and yet, they're deeply edible, even shyly commercial works, lacking the sometimes pretentious mannerisms associated with such independents.
Each Gordon Green picture contains a patient tempo that involves the viewer equally between the characters and their surroundings, often the rural south, the director's home. His tone, setting, and poetic outlook on the fate of small town folk recall Terrence Malick's work, notably Badlands and Days of Heaven. We feel immersed in his coming of age stories, as damaging and heartfelt as they are, because his stories never feel rushed or unnatural. Indeed, Arthur's burgeoning romance with Lila is perhaps the most truthful, sensitive, endearing depiction of teen romance put to film in recent memory, void of the effrontery so many pop-culture hits ooze with.
Based on Stewart O'Nan's novel of the same name, Snow Angels is Gordon Green's first foray into screenwriting not from his own material. But if told the director conceived this story, I would believe it, since structurally O'Nan's prose harmonizes with Gordon Green's entire oeuvre. This can be viewed as a positive or negative: positive because the director works with familiar material, bringing more life to the narrative than another filmmaker might, and negative because he's not doing anything new. Although, in 2005 Gordon Green attempted to adapt John Kennedy Toole's novel A Confederacy of Dunces, his production was scrapped after legal troubles stemming from rights disputes. Later this year, Gordon Green is finally venturing into the mainstream, directing a Seth Rogen comedy called The Pineapple Express.
We feel an affecting past, present, and (ominous) future inside every relationship within Gordon Green's film, uniformly hopeful while brooding over evident hardships. As referenced above, in Malick's Days of Heaven, the omnipresent setting demands life to go on after tragedy—the railroad tracks seem to carry on forever. And here, Lily photographs her eroded surroundings, capturing her town which perseveres as much as it fails, like a stoic living in equilibrium between joy and pain. Gordon Green does much the same in Snow Angels, only he captures such horrible beauty on a grander scale.