Director

Cast

Rated

PG-13

Runtime

122 min.

Release Date

04/04/2008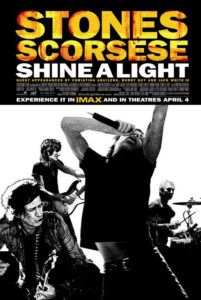 After forty-six years of defining rock 'n' roll, the Rolling Stones, now all in their sixties, earn their share of over-the-hill guff. Eyebrows raise whenever another tour is announced, and we keep wondering how long they'll go on, still sustaining that rock 'n' roll lifestyle. Indeed, that's largely the subtext in Martin Scorsese's new concert documentary Shine a Light: that these titans keep on plugging away, overstepping time because they love what they do. In a sense, this movie doesn't concern itself with the Stones' celebrity or even their specific roster of songs performed within. Rather, we're absorbed into their commanding onstage energy, which, by the looks of it, hasn't faltered since they first made their debut in London around 1962. Young blonde awestruck "hotties" still make up the first few rows. Mick Jagger still bounces about the stage, forever skeletal, moving like a dangling rubber-band. Keith Richards still plays the wild card and adds innovative riffs on their classic tunes, doing his own thing, at once within their group element and entirely his own beast. Ronnie Woods still bears a chaotic electricity, but he's also capable of the temperate delicacy he shows here playing pedal steel guitar on "Far Away Eyes". And resilient drummer Charlie Watts still seems put-off by media attention, telling Scorsese's crew, "I like movies… Looking at them."
We realize after the first two songs ("Jumpin' Jack Flash" and "Shattered") that the Stones still put on one helluva show. Compare their energy to any American Idol dud or any desperate new band on "rock" radio stations today; none play with the enduring enthusiasm shown here. Jagger's gyrations are perhaps only matched by the wild flailing of Radiohead's Thom Yorke, and none other. And is there any guitarist as universally recognized as Richards? Staples of modern music, the Stones are unlike other groups from the 1960s and 1970s, remaining whole and seemingly always peaking. Without achieving a heyday, thus never diminishing, their prime (still) exists whenever they're live.
Scorsese's littering of archival footage, briefly intercut between songs, paints the band as both an unbelievable phenomenon for having lasted so long, and also describes what little has changed. One interview from the early sixties features a young Mick telling a reporter he thinks the band has enough steam to last another year. These clips in sum make up all of ten minutes, if that, yet offer a profoundly important thesis to Scorsese's concert documentary. The New York Post's film critic called the band "The Bones" (but then again, the reviewer, Kyle Smith, also made a crack about Jagger's lips, because we've never heard that one before). But all those jokes about the Stones' respective ages fade away, because, in the purest way, the group is and always has been so damned entertaining.
Shot in October 2006 at Manhattan's Beacon Theater during the Stones' "A Bigger Bang" tour, Scorsese nails-in his flawless technical strokes to facilitate his subject, introduced by a series of comic preparation scenes between the band and the director. Scorsese places a multitude of cameras about the venue, in the audience, backstage, several cranes, all the while scrambling to consider potential songs, which of course the band doesn't provide until they hear the crowd roar. Jagger worries about the audience's annoyance with the cameras. Richards carries a permanent, wry smile. And then Bill Clinton shows up before the show with his posse of friends and family, inciting Scorsese to question "What is this, a benefit concert?" There's something priceless, yet wrong, about Keith Richards greeting Hilary's mother…
When the show does start, forget Scorsese, who only includes himself on the film's bookends like a pseudo host. "Martin Scorsese Presents" should precede the film's title, if only because he's forgotten (in the only case it's ever okay to forget Scorsese) when the Stones hit the stage. Such documentaries rarely impress, with Demme's Talkingheads tour de force Stop Making Sense and Scorsese's other concert doc The Last Waltz topping my short list of rock performances worthy of the cinema, and ultimately repeated viewings on home video. Scorsese structures his picture beautifully in both conceptual and technical terms: his lighting gives depth and clarity to every performer, the film's (deafening) audio supports the Stones' balanced sound, and each detail is surprisingly intelligible.
The result is near-flawless, to be sure, even better than attending any live concert because Scorsese's arrangement of cameras brings us into intimate range with the performers (accentuated by Shine a Light's almost exclusive IMAX distribution). Not only do Scorsese's cameras create profound closeness between viewer and performer—seemingly near enough that we might receive spatterings of Sir Mick's sweat—but they also show the affectionate interaction between band members. Richards has endearing, fluid moments on the guitar, playing alongside the special guest, blues legend Buddy Guy, for a wowing performance of "Champagne & Reefer" (Jack White and Christina Aguilera also make appearances). When it's all over, diehard fans of the Rolling Stones are utterly satisfied, while casual fans (such as myself) discover a newfound appreciation for the group.