Director

Cast

Rated

R

Runtime

115 min.

Release Date

01/26/2007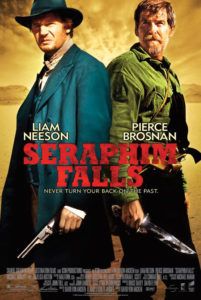 If analyzing the philosophy of chase scenes, you probably won't find a better example to assess than Seraphim Falls. A Western set in 1868 New Mexico, the entire film structures itself around a manhunt, beginning in the very first scene and not concluding until the last frames. Shot by John Toll, cinematographer of Braveheart, The Thin Red Line, and Legends of the Fall, the film embraces picturesque settings as any great Western should. Somewhat untraditionally, the film also contemplates the effects pursuant to revenge in its tragedy of soul-depleting consequences. The real tragedy is that this film was barely advertised, thus it scarcely saw a theatrical run and went right to hit DVD.
Pierce Brosnan plays Gideon, the quiet and expertly violent fox, while Liam Neeson's character, Carver, travels with four bounty hunters he's hired to take Gideon down. During the opening sequence in the mountains, Gideon is shot in the arm by unseen assailants. From then on, Gideon is on the run. He stumbles down a steep snowy hill, bleeding from his arm with nothing but a bowie knife to protect him, while Carver's men follow Gideon's tracks in the snow. Gideon loses his tail by jumping into a freezing river; reaching land, he makes a fire and removes the bullet from his arm. In this scene, Gideon uses his massive knife to dig out the bullet. As Brosnan cries out in pain, we realize this isn't the James Bond or Thomas Crown Pierce Brosnan that massive budgets afford us, but rather the actor who committed so heartily to his role in 2005's sleeper hit The Matador. Brosnan shakes and cries, a corporeal and emotional wreck. He falls asleep next to his fire, weak from pain, with a melancholy sense of sadness in his eyes. Brosnan once again proves his range onscreen, making his character reluctantly savage, a regretful killer, and carrying a mysterious load.
Resorting to grim survival tactics, Gideon is backed into corner after corner, but weasels himself out each time. Carver's endless chase exhausts Gideon and the viewer alike. Fascinatingly, and you may not even realize this upon viewing, but we don't find out, not until the third act, why Carver is so maddened with catching Gideon. The ponderous chase captivates without benefit of a backstory, as it's not characters the film hopes to illuminate, but what revenge does to them. Like the two leads, the viewer becomes lost and consumed by the magnificently-filmed chase. Ambiguous is the hero/villain relationship, which, depending on your position, may be turned on its head when we discover why Carver is so hell-bent on killing Gideon. In classic Western storytelling, there were usually defined hero and villain characters. But as the title alludes to, polarized angels and demons are not present within this Western—they've all been corrupted from their respective positions into inconclusiveness.
Carver's home is called Seraphim Falls, although the title more likely refers to the highest order of angels, the Seraphim, as mentioned in The Book of Isaiah. Religious themes are present throughout first-time feature film director David Von Ancken's picture, serving up a welcomed allegory for the results of revenge. Two brief passages affix the story's morality: Tom Noonan plays a minister of a nomadic religious group, and suggests that violence is not the way. But the more palpable filmic stanza comes near the very end, where actress Angelica Huston shows up as a snake-oil saleswoman named Louise C. Fair. Both men, Carver and Gideon, are near-death, and each figuratively sells his soul to Louise C. Flair (aka Lucifer) for the means to kill the other.
Some critics have complained that the film drags near the end, dawdling on the minimalist depiction of the chase. But prolonging the final conflict acts to intentionally wear on the viewer, putting us through the same draining experience as these men. Unfortunately, the Western genre is now criminally underused, when really it stands as the only truly American genre. Filled with strong performances, beautiful scenery, and a clever metaphor for absolution, Seraphim Falls had me clamoring for more contemporary Westerns in a time when there are few to be found.