Director

Cast

Rated

R

Runtime

86 min.

Release Date

02/29/2008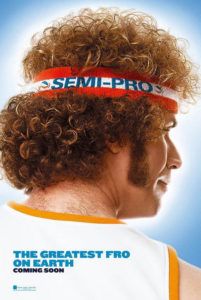 Are there actual scripts for Will Ferrell vehicles like Semi-Pro, where every scene feels like skits from Saturday Night Live patched together without form?  Perhaps they begin with a concept, which everyone discusses before the shoot. Actors flesh-out upcoming scenes with the filmmakers, planning an occasional special effect or seemingly random moment. "In this scene, I'll need a bear," Ferrell tells his producer. And by the time cameras begin to roll later in the day, a bear has arrived onset, and Ferrell preps himself for animal wrestling.
Set in the days when the American Basketball Association was an independent entity between 1967 and 1976, the movie features Ferrell as Jackie Moon, the owner, coach, and star player for the Flint, Michigan Tropics. A destined-to-fail team, Moon's squad of misfit players learns the NBA intends to absorb the ABA entity, allowing only four teams to survive the merger. Initially, the NBA chooses its four most profitable franchises (the Denver Nuggets, New York Nets, Indiana Pacers, and San Antonio Spurs). But Moon wants the contract changed, giving the top four teams at the end of the season life after merger.
Having written hit sex ballad "Love Me Sexy" and famous for promoting his games with free corndogs and big-check giveaways, Moon is Ferrell's frequently-played overconfident ass. To help his team's chances, Moon digs up roughhouse ex-Tropic player Monix (Woody Harrelson, exercising those basketball skills last seen sixteen years ago in White Men Can't Jump), who takes over as Offensive and Defensive Coach, while Moon increases game attendance with the aforementioned bear fight. Player egos clash when Monix butts heads with the team's NBA-worthy talent 'Coffee' Black (André Benjamin) over the new game plan: teamwork.
But should I bother explaining the plot when so much of the film gives off an air of improvised nonsense? We suspect Ferrell and his gang are just having fun with their vintage 1970s costumes, goofy hair, and ultra-short shorts. (Of course, we're subjected to the usual dose of Ferrell nudity and crotch-centric camerawork, which seems to be a clause written into the actor's contract.) Ferrell's loud performance is moderately enjoyable, if almost identically stupid to Ron Burgundy from his other retro-comedy Anchorman. But certainly, one of the film's pluses is the '70s soundtrack, complete with disco and funk classics by the Ohio Players, Sly & the Family Stone, and War. While Ferrell has covered a number of sports since his smash popularity dominated Hollywood after SNL, we'll probably have to endure more in the coming years, all following Semi-Pro's unwavering and nonsensical formula. Remaining are bocce ball, extreme skateboarding, kickball, karate, tennis, hockey, racquetball, extreme Frisbee, badminton, lacrosse, rugby, Fisbee golf, and croquet. And after that, we can expect sequels. Ferrell is set until 2050.
Scot Armstrong (The Heartbreak Kid, Old School) received screenplay credit, but his contribution was likely no more than an elongated treatment, perhaps some dialogue for the "important" scenes where the "characters" are built. But aside from the forced romance moments between Harrelson's Monix and his estranged girlfriend Lynn (Maura Tierney), there's nothing really to involve us. After the film makes it clear the Tropics are a dead franchise, we're just going along for the ride. Along with Blades of Glory, Kicking and Screaming, and Talledega Nights, Ferrell places himself in another bland sports-centric comedy where his character is a caricature, exaggerated beyond reproach for an altogether exhausting experience (despite the film's otherwise short 86-minute running time). Indeed, Semi-Pro drags, particularly in the third act where we're meant to care if the Tropics win their we-lose-no-matter-what final game. We laugh plenty at obscene humor and ongoing randomness, but that doesn't mean that when it's all over we feel good about the experience.