Director

Cast

Rated

PG-13

Runtime

100 min.

Release Date

03/28/2008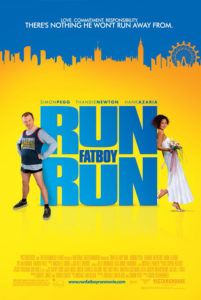 Run, Fatboy, Run is one of those comedies that embraces cliché with expert commercial finesse, reminding us why formula becomes formula. Director David Schwimmer (yes that David Schwimmer) sits behind the camera for the first time, not necessarily impressing, but doing the job amply enough that we don't notice the apparatus. Just as your typical Adam Sandler or Will Ferrell flick, the production revolves around the actor(s), not the film's technical merit, as they're the only redeeming quality in an otherwise lackluster movie.
We follow nervous groom Dennis (Simon Pegg, from Shaun of the Dead and Hot Fuzz) as he abandons his pregnant fiancée Libby (Thandie Newton) on their wedding day, and then spends the next five years, wherein he becomes a world-class loser, questioning the decision. Realizing he still loves Libby when she finds herself a rich, good-looking boyfriend named Whit (Hank Azaria, playing another seedy boyfriend role), Dennis jealously enters into a movie-comedy rivalry with his competition. When Whit boasts that he's running in London's Nike River-run marathon, Dennis haphazardly enlists too (running for sponsors of "erectile dysfunction awareness"), in hopes of proving his worth to not only his 5-year-old son, Jake (Matthew Fenton), but the woman he loves for real this time.
One problem: Dennis must change his whole lifestyle to exercise-away what he calls his "not fit" condition. Others are invested in Dennis' physical health too… Making bets with lowbrow bookies on his potential success, Dennis' best friend Gordon (Dylan Moran) takes up physical training duties, biking alongside our plodding hero with a cigarette dangling from his lip. Our runner's landlord, the pudgy, genial Mr. Goshdashtidar (Harish Patel), inexplicably takes great interest in Dennis' contest as well, buying him new shoes and slapping his bottom with a spatula. And lest we forget little Jake, whose devotion transcends his dad's pathetic physical state.
But nevermind the hackneyed plot, as much of it remains embarrassingly corny; watch the actors instead, who do good things even if locked in an otherwise syrupy setup. Pegg makes an affable, refreshingly atypical leading man, as we've discovered in his previous, aforenoted comedies with director Edgar Wright. With an appearance here and there in cult Hollywood movies (see Pegg the zombie in George A. Romero's Land of the Dead), here's hoping Pegg is someday allowed the freedom (and financial backing) in America that his British pictures have earned him.
The film's biggest surprise, actually, is Dylan Moran, who, so I've read, was declared "the greatest comedian, living or dead" by France's daily newspaper Le Monde. A noted standup comic, his frumpy disposition is best seen on the hilarious British sitcom Black Books, a BAFTA winner, wherein he plays the same sort of oddball slacker. While Moran's film career is barely taking off (his filmography includes about five titles, including The Actors and the great Tristram Shandy: A Cock and Bull Story), no doubt someone in America will see his potential. His scenes shared with Pegg are the film's most enjoyable, relying on a blend of offbeat humor and sarcasm and slapstick. Always with a vacant expression, tired eyes, and a disheveled look about him, Moran's appearance alone inspires a hearty chuckle.
Gauging the success of the screenplay, written by Michael Ian Black and Pegg from the former's original story, remains tricky. Physical humor makes up most of the laughs, with Dennis' physical training and eventual marathon run the film's center. Best known from The Ten, MTV's The State, and Comedy Central's Stella, Ian Black is capable of more from a writerly perspective. There are a number of well-timed one-liners, but without the physical stuff there's not much here. And David Schwimmer's placid direction doesn't help, feeling bland at every turn. But still, Schwimmer's movie was a hit in the U.K. upon its original release in September of 2007, when it retained a place atop the box office charts for a whole month. At the very least, this former Friend hasn't hit bottom like some of his ex-costars.
By all accounts, Run, Fatboy, Run shouldn't work, certainly not as well as it does. Indeed, the film achieves guilty pleasure status within minutes, particularly for audiences attuned to Pegg's, or on a grander scale, Britain's sense of humor. With its dramatically cheesy soundtrack (sprinked with the occasional, welcomed dash of David Bowie or The Fratellis), sappy moments, and everything's going to be alright ending, the movie's stars barely make up for the film's faults. The chemistry between Pegg and Moran, who worked together in Shaun of the Dead and incite laugh after laugh, is undeniably worth your admission price.