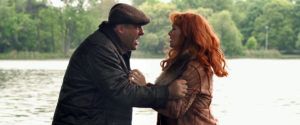 Romance & Cigarettes
3 Stars
Director

Cast

James Gandolfini

,

Susan Sarandon

,

Kate Winslet

,

Steve Buscemi

,

Bobby Cannavale

,

Mandy Moore

,

Mary-Louise Parker

,

Aida Turturro

,

Christopher Walken

,

Barbara Sukowa

,

Elaine Stritch

,

Eddie Izzard

,

Amy Sedaris

Rated

R

Runtime

105 min.

Release Date

12/07/2007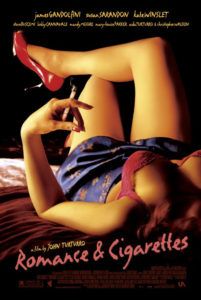 Romance & Cigarettes centers on domestic troubles between Queens couple Nick Murder (James Gandolfini) and his no-nonsense wife Kitty (Susan Sarandon). It's a musical, sort of, or perhaps pseudo-sing-along is a more appropriate designation. Blended with synchronized dancing and farcical characters, director John Turturro's wild experiment invites us with foul mouths and open legs, promising atypically raunchy musical stylization. To enjoy this film is to exercise your tolerance for offbeat humor, intermittent grotesqueries, and a sometimes abstract narrative. When Kitty finds an ode to someone else's vagina, written by her husband, there're the usual domestic troubles. An argument. Nick's feminist garage band daughters (played by Mandy Moore, Mary-Louise Parker, and Aida Turturro) take their mother's side. And then Nick takes a walk outside and begins to sing. He's accompanied by garbage men and some neighbors doing lawnwork. He sings "A Man Without Love" while his backup singers circle him in a wavy, inelegant dance.
Rather than forcing us to endure the singing of non-singing actors, Tuturro plays Engelbert Humperdinck's original vocals, with the actors' voices just underneath. That they don't sing isn't important; the words they've chosen are. None of these songs take place in the reality of the movie. They seem to be expressions of the characters' feelings, matching the mood or energy of a given situation. The flowering way in which Turturro has chosen to portray these scenes walks the line between all-out musical and a director's preoccupation with the soundtrack. Nick's red-headed mistress Tula is played by Kate Winslet. In a fireman's getup, Nick sings Bruce Springsteen's "Red Headed Woman" to Tula while hosing down a burning building with her inside, herself garbed in a red vinyl dress. Blatant metaphoric visuals aside, these feral moments scream with energy and imagination. They peak when featuring an actor like Christopher Walken, perhaps the only song and dance man in the cast, playing Kitty's cousin Bo and giving his animated all. Or look at Bobby Cannavale, the neighbor boy in love with Nick's daughter; his continuous gyrations embody hilarious disco slickness. Amy Sedaris, Steve Buscemi, Eddie Izzard, and Elaine Stritch make up the remaining, eclectic cast, each giving amplified comedic performances, the humor in which is so distinctive, my descriptions wouldn't do it justice.
Having first screened back in 2005 on the festival circuit, Romance & Cigarettes earned high praises. And yet it failed to find distribution. After two years of sitting on his shelf, Turturro self-distributed his film. It's a movie you'll have to seek out—worth doing since your money goes primarily to Turturro, who you'll admire as an original writer-director after seeing this movie. And yes, there will be an eventual DVD release next year; United Artists picked up the home video rights.
Turturro has made the most profane musical I've ever seen, with unbridled sexuality pressing his audience's limit. There's a constant discussion of men's obsession with the female, ahem, rear. And Winslet's Tula speaks some of the raunchiest dialogue ever heard in a non-porno film, with many of her lines improvised and so foul-mouthed that reportedly she frightened off even Gandolfini (no slouch to colorful language himself thanks to The Sopranos). Truly, I can understand if people scoff at the more pervasive content. Enduring almost constant vulgarities wears down a viewer. And yet, that's part of his film's appeal. Turturro exaggerates every emotion, argument, sexual act, dance, fight, insult, and mannerism. He twists the musical genre's reality (always a bizarre place) into something perverted, reminiscent of John Waters, only in part based in the real world.
When the movie moves past the "Romance" portion and advances to the "Cigarettes", at first I felt let down by the change in tone. All at once, the music slows, the humor subsides, and we're faced with (gulp) death. And while I'm more willing to praise Turturro's first three-fourths, which are embedded in madcap songs and random humor, I appreciate the structure of his picture. That is to say, from a distance, I appreciate it, but I didn't necessarily enjoy the drastic shift in the finale as a viewer. His argument, I suppose, is a criticism of men—that we live like animals and then we die. A simple enough message to be sure, but a bummer in an otherwise lively film. What I am praising are Turturro's innovations on the musical genre, in a year fashioned with imaginative musicals (see Across the Universe and Once). Even while in the realm of base bodily functions and sexual behavior, there are moments of commendable tenderness. His picture lowers us to depths we would not expect to sink, simultaneously magical and detestable, like an abject cartoon. If he had maintained that obscure levity throughout, or ended his film in as much oddity as it began, I might have enjoyed it more.