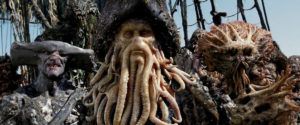 Memory Lane
Pirates of the Caribbean: Dead Man's Chest
3 Stars
Director

Cast

Johnny Depp

,

Orlando Bloom

,

Keira Knightley

,

Jack Davenport

,

Bill Nighy

,

Stellan Skarsgård

,

Kevin R. McNally

,

Tom Hollander

,

Naomie Harris

,

Jonathan Pryce

,

Alex Norton

Rated

PG-13

Runtime

145 min.

Release Date

07/06/2006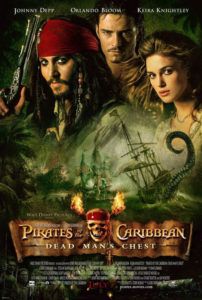 Part two in the Pirates of the Caribbean trilogy, Dead Man's Chest surpasses the first in production values and storyline, begging a comparison to how The Empire Strikes Back outclassed the original Star Wars. Both franchises have an entertaining first entry, which later decided to add a second and third. By the end of Empire, romances, characters, and the fate of the universe were left floating in dead space without hyperdrive; the film's conclusion was decidedly a downer, which is perhaps what makes it the best of that trilogy. Dead Man's Chest plays out similarly, telling its own story while in the end, leaving us hungry for more—an appetite to be quenched with the third Pirates film At World's End, due May 2007.
Unless you've been in a bomb shelter since the 1950s, you know Dead Man's Chest and At World's End were filmed back-to-back, with every intention of posing audiences with a cliffhanger ending at the end of the second, committing thousands of cinemagoers to the third and final installment (though I shouldn't say "final"; Hollywood is never done with successful franchises). Even with that knowledge, I was shocked to hear audience members at my screening mumbling their curses at the end of this film. Characters and plots in Dead Man's Chest float in ambiguity, and the end is anti-climactic, giving room for all conflicts to be settled in part three. Nonetheless, to quote my review of The Curse of the Black Pearl, "What a ride this film is…"
With Barbossa dead (though I won't say he's entirely absent), several characters fill his shoes in the villain role. The first is a baddie more set in reality, Lord Cutler Beckett (Tom Hollander). He works for the East India Trading Company, and when the story opens, he arrests Elizabeth Swan and Will Turner for allowing Jack Sparrow to escape at the end of the first film. Beckett wants Jack's special compass, a trinket that points its owner in the direction of the one thing he or she wants most. Beckett wants the heart of Davy Jones, the film's second villain. Coincidentally, Sparrow is looking for the same heart, protected inside Davy Jones' Locker, to save his skin. Thirteen years ago, Jack made a deal with Davy Jones—a onetime sailor now cursed by his love for a woman and the sea—that Jack might captain the Black Pearl for thirteen years, after which, Jack's soul belonged to Davy. Well, time's up for Jack, and Davy sends out a monstrous sea creature called the Kraken to capture him.
Meanwhile, Will is after the key to Davy Jones' locker, which if he gets, Jack has agreed to return into Beckett's custody so Will and Elizabeth can be set free and married. But Elizabeth escapes Beckett's capture and tries to find Will, only to find Jack, and furthermore, finds she has romantic feelings for him. Will becomes a member of Davy Jones' crew, discovering that his father Bootstrap Bill (Stellan Skarsgård) is one of the shiphands damned into service. Making things worse, the former Commodore Norrington (Jack Conway), the film's third villain, appears washed up, unemployed, and agreeing to work for Beckett to get his life back. Norrington gets involved in Jack's double-cross of Will to get the key. Jack needs the key, though; with it, he can get Davy Jones' heart out of the locker, which he can then use as a bargaining chip to stop the Kraken from hunting him down.
Confused? You should be. There are enough subplots and meandering character arcs to fill five movies, just as there were in the first, but once again director Gore Verbinski and the several screenwriters have concocted an entertaining, now melodramatic sea adventure—one that improves upon the original. There isn't time for constant bad jokes like in the first film. We're too concerned about where the characters are going, why they are going there, and the insanely elaborate set of circumstances they will have to fight their way through next. This leaves room for comic relief distinctly funnier than the first film, with two of Barbossa's crew, Pintel and the wooden-eyed Ragetti (played by Lee Arenberg and Mackenzie Crook, respectively), providing most of the laughs, while Jack and Will fight for their lives or the lives of loved ones.
Depp provides another hilarious performance as Jack Sparrow, but the character changes slightly from the first picture: he began as a captain without a ship, whereas here, he has his ship, but he's not acting like a captain—instead he's saving his own skin. Will, Jack, and Elizabeth all turn on each other, making way for a third act where their friendships are in limbo. Depp deepens his character, advancing him beyond buffoonery into a man with a purpose. We get but droplets late in the film of what that purpose will eventually be (surely tidal wave-sized revelations to come in At World's End).
But once again, the most interesting character was the villain. Not Beckett or Norrington, mind you, but the computer-generated Davy Jones. Industrial Light and Magic used motion-capture technology to create the octopus-faced Jones, played by versatile Brit star Bill Nighy. Not since Gollum has there been such a fully-realized CGI character. Nighy's pale blue eyes (the only part of the actor not covered by sea creature-laden effects) switch from tragic to maddened in a split-second, somehow making a man with tentacles for a face emotionally complex and, at the same time, believable.
Like its predecessor, Dead Man's Chest distracts from its absurdities by showing us stunt after elaborate stunt, appealing to the kid in us that loves swashbuckling adventures and ghost stories. This second entry poses challenges for its characters outside of sea creatures and island cannibals (though, there are plenty of each to go around). None of the cheeky dynamics between Will, Jack, and Elizabeth remain—each is tossed on its head, awaiting resolution in another movie. A bold move, I thought, for such a highly-anticipated blockbuster sequel.