Director

Cast

Rated

PG-13

Runtime

126 min.

Release Date

12/21/2007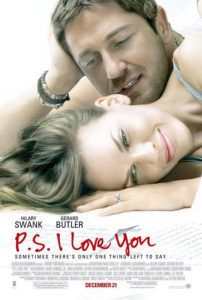 P.S. I Love You is what happens when you assume sappiness and an Oscar-winning actress can lead your movie. The sappiness comes by way of Cecelia Ahern's novel, and director Richard LaGravenese and co-writer Steven Rogers' screenplay. The Oscar-winner is Hilary Swank, who won for both Boys Don't Cry and Million Dollar Baby; she's incredibly miscast here, playing a role that should have been Meg Ryan in the mid-1990s. With every terrible movie Swank chooses (and there are a lot of them—see The Core, The Reaping, or The Next Karate Kid) I realize her career doesn't sparkle like an actress with two Oscars should.
We start with the most cliché couples argument in movie history. Gerry Kennedy (Gerard Butler) follows his wife of ten years, Holly (Swank), up some stairs to their apartment. What follows is an "Are you mad at me? You're mad at me, aren't you? Yup, you're mad at me."-type movie spat where it's beaten into our heads that Gerry knows what he wants, and Holly doesn't. Women are finicky. Men are certain. Women like shoes. Men like rock and roll… So says this movie. Little does Gerry know that in a short while he'll be dead of a brain tumor, leaving Holly alone with her vast amount of uncertainties. After his funeral, she goes through a three-week grieving process where she virtually falls apart. But just in time to help her not get over Gerry, she receives a message at her 30th birthday party, from Gerry. No, this isn't a ghost story—while dying of his tumor, Gerry wrote a series of letters to be delivered on specific dates over the coming year, giving instructions to Holly. He knew her well enough to know that she'd be a mess, and he tells her to go out and have fun, so she does.
As letters keep coming, Holly dwells on the past. Indeed, most of the movie is spent in flashback, remembering key moments in she and Gerry's relationship. Meanwhile, her mother (Kathy Bates) thinks the process in unhealthy; I'd have to agree, at least in terms of sitting through this movie. Because his presence remains episodic and inactive, Gerry never feels real to us—just a face and voice to go with the letters. He seems to be moving her on with life; his messages command Holly and her girlfriends out for a night of karaoke, to Ireland, and out to buy a lamp. In each locale, obligatory antics ensue, including forced, unspeakably bad pratfalls that look about as natural as Goldie Hawn's plastic surgery. And each time she reclaims herself after a life-affirming trip, she goes back into sorrow. She finds herself, only to fall back into her grief trap more times than I could stand to count.
Said galpals are the soon-to-be married Denise (Lisa Kudrow) and the pregnant Sharon (Gina Gershon). I kept thinking to myself how much more I'd enjoy this movie if Kudrow was the star; she manages silly rom-com cuteness like an expert. Swank's cuteness seems forced and irritating; her performance relies on being meek and almost pathetic in her mourning—something she only gets over in the last five minutes of a two-hour-and-six-minute movie, which, is much longer than this movie has any right to be. By the time Holly receives her inevitable Last Letter from Gerry, we've gotten over him about three-to-four letters ago, and have been asking when, if ever, will Holly move onto her next love interest (who we think is played by Harry Connick Jr.).
LaGravenese's last movie was Freedom Writers, also starring Hilary Swank. I've read that the two hit it off creatively and he wanted to give her a more classic leading lady role, something like the dreamy stylings of Audrey Hepburn or Bette Davis. She is, after all, a two-time Oscar-winner. But Swank remains agonizingly unsuitable for this role, entering P.S. I Love You, what should have been a cute-enough indulgence, into the realm pathetic schmaltziness.