Director

Cast

Rated

PG

Runtime

95 min.

Release Date

04/04/2008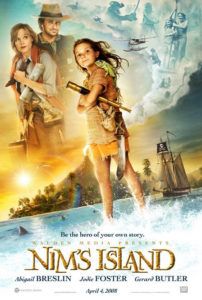 Nim's Island is secluded from the rest of the world somewhere in the South Pacific. There, 11-year-old girl Nim (Abigail Breslin) lives alone, Robinson Crusoe-style with her scientist-widower father Jack (Gerard Butler). While he's lost at sea on a two-day research excursion, Nim is left alone (nice parenting) on the island to defend it from an oncoming cruise liner of tourists—a group Nim interprets as bloodthirsty buccaneers. Luckily, Nim has her animal friends: a sea lion (who does tricks worthy of The Tonight Show circa 1972), a lizard, and a pelican, all who virtually speak in their respective cock-headed arf and mlah and kaw responses. With such anthropomorphization comes a slew of reaction shots, more than even die-hard Animal Planet fans could tolerate. Anyway, Nim realizes she must prevent anyone from learning about her and her father's secret island paradise. Sling-shotting lizards (!) at tourists and sea lion farts fail to drive the "buccaneers" away, so she calls on her favorite adventure novelist for help…
Alexandra Rover (Jodie Foster) is an introverted, Purell-obsessed, agoraphobic author spinning hero-yarns from her safe apartment building in San Francisco. When she gets a call (or email rather) for help from Nim, Alexandra's fictional leather-clad Indiana Jones-esque character, the rustic Alex Rover (also Butler), appears to her like an imaginary friend, convincing the author to break free of her shell and partake in a real adventure worthy. With no more to go on than an email and some coordinates, Alexandra sets out to discover what she's been writing about all these years. Throughout her expedition, she copes through modern airport security while cracking stale jokes about airplane peanuts, testing the limits of our tolerance for her particular neuroses, and in tow, this film's indulgence of the mundane.
More annoying than Foster's shtick on airlines, however, is how much this film relies on animals as main characters. Whenever a movie character talks to an animal like the creature is human, there's an air of stupidity; the more sincere the actor's performance, the stupider the movie gets. Abigail Breslin dedicates herself with thespian bravado when acting with these animals, or the lack thereof, since her pets appear to be constructed via cheap CGI by effects studio Walden Media (The Water Horse).
A roster of miscast actors floods the screen, starting with Foster and her thin slapstick act; playing an obsessive-compulsive pseudo-Joan Wilder may be the only unbelievable performance in Foster's entire career. Neither of Butler's dual roles impress, confirming my suspicion that after his choice to star in P.S. I Love You, the man remains a B-movie star temporarily elevated by 300's lingering buzz. Everyone keeps talking about how great an actor Butler is, but I'm still waiting to see what they're talking about. And just when you thought Abigail Breslin would take that Oscar-nomination for Little Miss Sunshine and become the next Dakota Fanning, she releases this adventure yarn too childish for your five-year-old.
Based on the book written by Wendy Orr and Kerry Millard, husband-and-wife writing and directing team Jennifer Flackett and Mark Levin have constructed a broad, big-budget mix of cheesy family fun and silly animal antics. But the fate of Nim's Island will be a place on DVD-shelf-hell in the same category as Air Bud: Seventh Inning Fetch and MVP: Most Valuable Primate. Too many hokey Home Alone meets Romancing the Stone moments; too many humdrum formulas jerry-built from bits and pieces of better films. I'd like to say Nim's Island is harmless children's fare. But I just know that after seeing this movie some kid's poor lizard will be blasted from a slingshot hundreds of feet into the sky. And when the lizard doesn't recover from its squish landing, none of Walden Media's fancy computer graphics will bring it back.