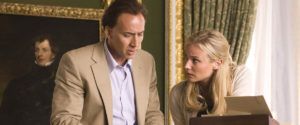 National Treasure: Book of Secrets
2 Stars
Director

Cast

Nicolas Cage

,

Jon Voight

,

Harvey Keitel

,

Ed Harris

,

Diane Kruger

,

Justin Bartha

,

Bruce Greenwood

,

Helen Mirren

Rated

PG

Runtime

124 min.

Release Date

12/21/2007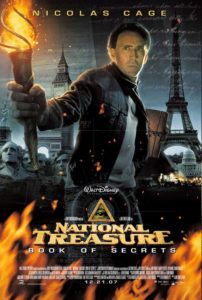 Why is it that Benjamin Gates (Nicolas Cage), the same adventurer who found the greatest treasure of all time in the first National Treasure, wasn't initially going after the booty in National Treasure: Book of Secrets—the real greatest treasure of all time? I'm certain other countries harbor treasure, thus begging the question: How many real greatest treasures of all time are there? The answer resides in how many sequels follow, regardless of their logical progression. But what am I thinking? This is a Jerry Bruckheimer-produced feature, a place where logic fluctuates in and out of reality like someone caught in a rotating door.
It's also a place where some of the finest actors in Hollywood utter inane dialogue about high historical stakes. Take Ed Harris, who plays Mitch Wilkinson, another treasure-seeker who reveals that one of the missing pages of John Wilkes Booth's diary (Dear Diary, Boy that Lincoln really peeves me…) claims Thomas Gates, Benjamin's great-great-grandfather, helped assassinate Abraham Lincoln. While some might say "you can't choose your family" and go on with their day, the history-obsessed Benjamin must safeguard his family name.
Once again, Benjamin enlists his father Patrick (Jon Voight), his estranged national archivist girlfriend Abigail (Diane Kruger, whose accent is conspicuously absent in this film, whereas in the first film it was conspicuously present), and his wise-cracking sidekick Riley (Justin Bartha, who competes with Jar-Jar Binks as the most annoying sidekick ever). On their merry way they go, decoding hidden clues on the back of Booth's diary page, which sends them to the French Statue of Liberty in Paris, from there to Buckingham Palace, and to the Oval Office. This is certainly a more global treasure hunt, which doesn't start like a treasure hunt at all, but rather a family reunion of adventurers. Along the way, they pick up another family member, Benjamin's mother (Helen Mirren, who decided to follow up her Oscar-winning role in The Queen with this?).
An elaborate string of clues keeps Benjamin's clan jumping from location to location, and once again they must commit a crime to save the day. Whereas in the first film Benjamin steals the Declaration of Independence, here he kidnaps the President (Bruce Greenwood) to get a look as the "Book of Secrets". Inside is every top-secret bit of information imaginable, revealing truths about JFK's assassination, Area-51, and possibly a hint to the Lincoln conspirators. From there, Momma Gates, who just-so-happens to be an expert in Native American languages, comes in handy when the book leads them to Cibola, a mystical Native American City of Gold.
(Note: Curious thing about this book: we only spend about two minutes with it, and only about ten discussing it. It's not the crucial plot device in the movie. More appropriate titles would have been National Treasure: City of Gold, National Treasure: Booth's Page, or the more traditional like just National Treasure 2. Anything but Book of Secrets, since the book itself has such a small bearing on the plot.) Interesting that the spoils of this film are a vast golden city built by Native Americans, and yet the treasure is described "national". I wonder why no one mentioned that Americans appropriated it through genocide? There's lots of talk about who owns the City of Gold, ancestors of the Confederates (Wilkinson) or the Union (Gates). You'd think Benjamin, who remains dedicated to historical honor in this film, might balk at a treasure the founders of our country ultimately killed for. But that's the type of wishy-washy history lesson we're receiving here—sparkling with the glint of treasure and not at all reflecting the bloody truth.
Despite being hammier than Christmas dinner, Nicolas Cage is perfect for these bizarrely enthusiastic roles. It's my guess he's just as excited in real life. Not about American History per se, but possibly about finding characters through which he'll be able to use a lot of hand gestures and flagrantly eccentric dialogue. His growing suave surfer-dude speech pattern is at once elegant and silly, confining him, lately, to movies best described as absurd (The Wicker Man, Next, Ghost Rider).
This script, written by Cormac Wibberley and Marianne Wibberley and Ted Elliott and Terry Rossio, caters to Cage's strengths, and also repeats nearly every moment from its predecessor. Chances are, if you like the original, you'll find this one just as entertaining. Me? I'll just watch the Indiana Jones trilogy for the thirtieth time instead. National Treasure: Book of Secrets is a PG-rated family adventure, a dumbing one that teaches children dizzy, preposterous notions of historical lore as fact. We're drawn in well enough by comical banter and thrilling set-ups, not to mention the impressive star power, but this yarn has so clearly unwoven out of control, past the point of suspension of disbelief, that it's impossible to not roll your eyes while your munching popcorn.