Director

Cast

Kirsten Dunst

,

Jason Schwartzman

,

Judy Davis

,

Rip Torn

,

Rose Byrne

,

Asia Argento

,

Molly Shannon

,

Tom Hardy

,

Jamie Dornan

,

Danny Huston

,

Mathieu Amalric

Rated

PG-13

Runtime

123 min.

Release Date

10/20/2006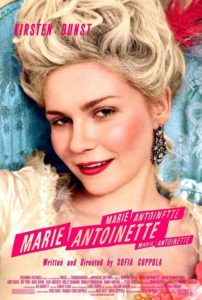 Kirsten Dunst carries along all of her high-school girlishness from Bring it On and fits perfectly into Sophia Coppola's vision for Marie Antoinette. Coppola describes the famous Austrian-turned-French Queen as no more different than a modern teenager. She cleverly infuses contemporary phrasing into her dialogue, yet uses the most elaborate costuming imaginable; Coppola's mix of old and new is often a welcome postmodern approach on the material. But she takes it a few steps too far, or perhaps not far enough, and loses the audience somewhere between French salons and alternative rock.
Sofia Coppola made creative choices in casting by mixing classical actors like the underappreciated Judy Davis amongst the likes of comedians such as the hilarious Steve Coogan and the all-but-forgotten former SNL star Molly Shannon. Asia Argento, daughter of Italian horror director Dario Argento, plays Louis XV's mistress the Comtesse du Barry. Jason Schwartzman, from the brilliant Rushmore and I Heart Huckabees, plays King Louis XVI. Schwartzman turns the king into a quietly indifferent figure with a childlike unresponsiveness to sex and an unhealthy obsession with making keys. (Eventually, to bring Louis and his new bride Marie Antoinette together in bed, a friend points out the obvious sexual metaphor of lock and key to entice him.)
Coppola avoids all possible historical analyses of Marie Antoinette's actual life. She instead cultivates the figure so that young women in their late-teens or early-twenties might be able to see she was not so regal that it prevented her from being human. Coppola recognizes that Marie Antoinette's tastes drove her away from mundane affairs of state. Much of the movie the queen drools over elaborate food, dress, and men; meanwhile she's oblivious to France's deteriorating political conditions. Audiences will sense a very familiar character in Coppola's version of the queen, as we've seen her before in a thousand romantic comedies and dramas featuring women Dunst's age. She is the spoiled-but-somehow sympathetic rich girl.
Coppola reportedly used Stefan Zweig's book Marie Antoinette: The Portrait of an Average Woman (which argues the French aristocrat bore characteristics of a commoner) as her influence. Thus, Coppola's approach, which fails to address some of the most notable events in Marie Antoinette's life, plays out like an exercise in sheer frivolity. There's no need to penetrate into the Affair of the Necklace, the symptoms leading to the French Revolution, or Marie Antoinette's eventual execution during the bloody days of The Terror. But Coppola does concentrate on the superficial details: Marie Antoinette's contributions to fashion such as the popularization of the "pouf" hairstyle, and her farm-like life at Le Petit Trianon. Shot on location at Versailles with rare permission from the French government, Coppola's film often resembles neoclassical painting, complete with splendid, golden, tromp l'oeil detail. Even her lighting is less natural than in other authenticity-driven movies set in the period, such as the French film Ridicule. Brimming with bright pinks, reds, blues, and always-present gold, Coppola's painterly film refreshingly exaggerates the brightness of colors the way a court painter from the period might.
My major quibble is the songs gauchely added onto the soundtrack from The Cure, Adam & the Ants, and The Strokes, among others. The awkward partnership between the authentic eighteenth century setting and the modern alternative music caused huge problems for me. Coppola unevenly interchanges the score from scene to scene, from classical music of the period to modern alternative riffs. Coppola's approach to the content was postmodern, understandably, but the music made the postmodern style inconsistent, even random. Coppola wavers in her presentation so that the modern elements in her otherwise classical period piece are nothing more than subtle distractions. Never fully a period piece, never fully a modernization, Marie Antoinette feels somehow incomplete, as though Coppola's postmodern hopes for the story were in conflict with the authenticity of shooting at Versailles. The result lingers in filmic limbo.