Director

Cast

Meryl Streep

,

Pierce Brosnan

,

Colin Firth

,

Stellan Skarsgård

,

Julie Walters

,

Dominic Cooper

,

Amanda Seyfried

,

Christine Baranski

Rated

PG-13

Runtime

108 min.

Release Date

07/18/2008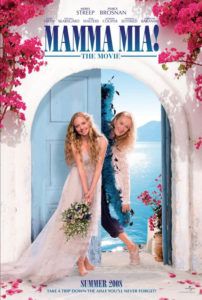 Maybe I'm not the demographic Mamma Mia! was made for, I thought, as the theater slowly filled with middle-aged women, the rare-but-occasional husband dragged along by his collar. The musical, based on the hugely successful stage production, was built around the songs of 1970s band ABBA, if you didn't already get that from the title. So unless you have a strong affection for their music, which I don't, you might want to approach cautiously. Regardless of my inborn skepticism, the movie has its moments, most of them coming from the extraordinary Meryl Streep.
The plot, if you can call it that, exists as a series of thin connections between musical numbers. But what can you expect from a musical where the songs were written first? It takes place on a Greek island, where Donna (Streep) operates a run-down resort with her soon-to-be-married daughter Sophie of 20 (Amanda Seyfried), who has never known her father's identity. Sophie gets a hold of Donna's twenty-year-old diary and finds that mamma slept with three men all around the same time. She writes letters to all three and invites them to her wedding, certain that when they arrive she'll know instantly which one her father is. Needless to say, it doesn't work out as smoothly as planned.
Sophie's three potential fathers are each played by actors with distinctive personalities, none of which are showcased enough in the movie: Sam (Pierce Brosnan) is a wealthy architect, Bill (Stellan Skarsgård) is an adventurer-sailor, and Harry (Colin Firth) is an ex-rocker-turned-banker. They're matched by Donna's friends, also there for Sophie's wedding: Tanya (Christine Baranski) has had too many ex-husbands and too much plastic surgery, while Rosie (Julie Walters) is an independent cook-book writer. One wonders why they all don't, you know, just get together…
Of course, Donna knows nothing about her daughter's invite to the three former lovers, two of whom were one-night stands. When they appear suddenly and allege that their joint attendance is fortuitous (to protect Sophie's scheme), that Donna doesn't figure it out seems ludicrous, not to mention the improbability that three men would drop everything and fly to Greece for the wedding of an ex-lover's daughter, especially after twenty years of silence on Donna's part. And when she eventually does figure it out, what's stopping them from getting a DNA test and determining where the mystery-seed came from?
But I digress. It's a musical. It's not supposed to be logical. People burst into song, background gardeners provide the chorus, and dancing ensues on rooftops. There's lots of jumping about and arms thrown up into the air, the bulk of it, strangely, on docks. At one point, all the women on Donna's island sing "Dancing Queen" in unison and trail stars Steep and Seyfried like lemmings straight off a pier and into the Mediterranean. Another such scene features a bunch of "hunky" men in flippers making body-builder poses. On the reverse, there's a few numbers where the singers just stand around and don't even bother dancing or making silly gestures. In the end, I'd rather watch the twinkle of absurdity than mediocre staging.
Some of the songs work, some don't. I guess that's expected in a musical. Whereas numbers like "Money, Money, Money" and the title song shine in their choreography and performance, shrug-inducing numbers pop up in between. The songs crucial to the plot involve us; other wholly frivolous numbers are wasteful. The same can be said for plot points. We could care less about Sophie's marriage to her fiancé Sky (Dominic Cooper), but Donna's imminent love life holds our interest (not that it isn't obvious which out of her three beaus she'll end up with).
Directed by first-timer Phyllida Lloyd, the whole picture looks like a stage in the worst way possible. It's clear some beautiful location shooting was done, but it's painfully obvious when Donna's resort appears to be constructed on a Hollywood soundstage, the ocean-blue backgrounds accomplished with computer graphics (Don't they use matte paintings anymore?). A lot of Lloyd's choices are rookie decisions based on run-of-the-mill standards of the musical genre, foremost the overall look of the film, which has a generic polish that seems adopted from a Caribbean cruise liner ad.
Regardless of these complaints, I don't know, I kinda liked it. The film's greatest pleasures derive from the star factor: Meryl Streep—is there anything that woman can't do? She has a lovely singing voice, never misses a note, and remains as lively as ever. Brosnan wavers in his singing occasionally, but it's sweet to see him try, as much to our delight he's really broadening his post-Bond career horizons. Most, if not all of the stars do their own singing, which gives Mamma Mia! some genuine personality and some surprising joy, more than expected from a movie not intended for this kind of viewer. But, I suppose, if you can't get enough of ABBA and their songs and musicals based on their songs, you'll probably be able to forgive the movie's faults. In this case, add another star for a recommendation.