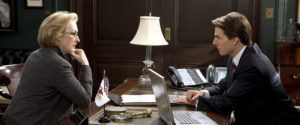 Lions for Lambs
2.5 Stars
Director

Cast

Rated

R

Runtime

88 min.

Release Date

11/09/2007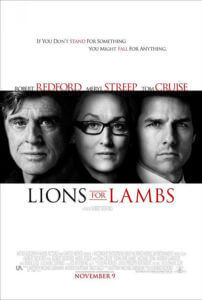 Bring your college-ruled notepad to director Robert Redford's filmic lecture on political science, Lions for Lambs, as I'm sure there will be a test on the material covered. We're brought into a discussion ultimately leading to an anti-war proclamation, which is all well and good, except that getting to the message didn't involve any effort from the viewer. It's all spelled out for us, written on the chalkboard succinctly so that we might later refer back to it in a late-night cram session.
From a screenplay by Matthew Michael Carnahan (The Kingdom), a series of debates occur throughout Redford's picture: Journalist Janine Roth (Meryl Streep) sits down in Washington D.C. for a one-hour exclusive with Senator Jasper Irving (Tom Cruise) to discuss new war strategies. In California, Professor Stephen Malley (Redford) attempts to encourage a bright student (Andrew Garfield) to give a damn in spite of, he says, America not wanting him to. These two debates are underscored with two men shot down from a helicopter during a new Afghanistan military operation; they were once idealistic students who had forgone their education to fight for their country. All are idealists in their own way, trying to sell a viewpoint their debate opponent is incapable of buying.
Meryl Streep shows the only emotion outside of her rap session with Tom Cruise's senator, as she so heartily believes one must learn from past mistakes to come upon the right decisions going forward—after all, it's Meryl Streep, she could covey profound emotions doing the dishes or eating a bologna sandwich. Her discussion with Sen. Irving involves what she later calls "propaganda" to, with this media exclusive he's concocted, sell his new military strategy to Americans. The plan involves breaking down U.S. soldiers into smaller platoons or "points" and placing them on an elevated playing field from the Afghani-enemy. Roth sees right through it—another Vietnam where small groups of American soldiers can be ambushed and slaughtered.
Two former students of Professor Malley (played by Michael Peña and Derek Luke) are the soldiers pinned down in Irving's FUBAR new undertaking. They're more examples for Malley to refer to when attempting to coax his disillusioned student into deciding on something more in life than apathy. Malley and his student's debate runs about, uncontained and unfocused, so that in the end, we've probably missed (because it isn't clear) what Malley is arguing, if anything specific besides punctuating the fact that every American must make his or her decision.
Even though there's nothing for moviegoers to cling to with Lions for Lambs, Carnahan's script offers flowing, succinct, but unfortunately preachy writing. And despite having a cast with three of our finest performers working today, there's nothing they can do about Carnahan's failure to engage us with more than political discourse. Cruise admittedly gives one helluva convincing performance as an unsympathetic politician, spinning the same pro-war argument we've seen on television too often to recall. Yet Redford's direction would have benefited from even the slightest dramatization, a story with an embedded message audiences would have to interpret—something more like In the Valley of Elah, or even Rendition.
In 2006, just after the disappointing box-office on Mission: Impossible 3 slapped everyone involved in the face, Paramount Pictures decided to drop Tom Cruise after 14-years of fruitful partnership. Sumner Redstone claimed Cruise was an economic liability, citing the unnecessary and astronomical overbudget M:I 3, as well as Cruise's dwindling public and business persona. After the actor's famous Oprah fiasco, just a month or so before War of the Worlds was to be released into theaters, underwhelming box-office for that film (a Steven Spielberg picture anticipated to be one of the biggest movies ever) upset those involved—even Spielberg, who later said he would never team with the actor again. Ousted by Paramount and one of the most successful directors in film history, Cruise went off on his own. With his longtime producer/partner Paula Wagner, Cruise took over United Artists film studios, where he would produce and star in, thus have control over his own productions. Lions for Lambs is the first release under Cruise's United Artists. Coming summer of next year, Bryan Singer's WWII Hitler assassination historical spy yarn Valkyrie opens as the company's second release.
Cruise's United Artists makes its first major mistake by producing a movie with little to offer the audience but a political message or question. What are these characters apart from empty vessels used to convey a point of view? Any one of them argues for or against the war, action or indifference, media or government or human responsibility. But are movies supposed to be a political debate on Americanism or humanism? Are we supposed to spend our entire time in the theater thinking about everything going on outside of the theater? When a movie fails to provide even a microscopic level of escapism, doesn't it cease being a movie and become something else entirely, a sermon or (meagerly) dramatized editorial? Redford makes a compelling thesis, asks thought-provoking questions, but does it in a way where he's forgotten about cinema and gone straight to the lecture hall.