Director

Cast

Rated

PG-13

Runtime

140 min.

Release Date

06/08/2007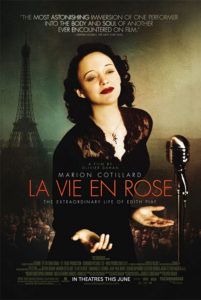 Singer Edith Piaf's face contained sad upturned eyebrows, birdlike features, and the look of a life long lived. She carried herself poorly, sometimes slumped over, walking with short, determined steps. She had the loud, penetrating, genuine voice of a hardened urchin, which she was, for a time, on the streets of Bellville, Paris. But her common-tongued sound also seemed refined, as if she was always walking on two planes, singing with untold power to those listening in whatever darkened venue she performed, and those catching her songs from its alleyway. Olivier Dahan directed and co-wrote her story, entitled La Vie en Rose, along with Isabelle Sobelman. But nothing by Dahan previous to this could have prophesied what a bold biopic he would make. Piaf's story translates with considerable poignancy, eliminating most of the clichés involved in musician-biography filmmaking. It's one of the best films about a singer/performer I've ever seen.
We see little of Piaf's descent into drugs and sex, which The Doors and Walk the Line offered on their respective subjects; forgone is the need to inventory her every song. Despite a long list of lovers (including legendary French actor Yves Montand, whom she discovered, and subsequently bedded) and a couple of marriages, the film avoids cataloging her sexual affairs. Nor do we see her limited film career, such as her ironic appearance in Renoir's French Cancan—ironic because early in her career she was nitpicked by American critics for not being cancan enough. In the late 1940s and 1950s, she reached international acclaim, but this film doesn't make mention of her appearances on Ed Sullivan. Little time is spent in her heyday. Even some of the most important events in her life, such as the death of her child, are touched upon so briefly that if counting seconds of screentime, they might seem insignificant. And yet, by the end, we feel we know her.
But I'm not here to write about what I didn't see. What I did see was marvelous storytelling, as Dahan gives a human face to an icon whose reputation was already one of distinct humanity. He takes a beautiful mosaic of Piaf's life and throws its pieces into the air; when they land he makes an alternate, if not equally beautiful portrait. Jumping between her early, mid, and late career, he focuses on how the street urchin hardly stopped behaving as such after her success; it was her flawed character that made her so appealing. Louis Leplée (Gérard Depardieu) discovered his songbird in 1935, singing on the street for change with the look of a beggar. Leplée gave her the name "Piaf," meaning sparrow, though her voice was anything but a frail chirp. Her beginning rocky, she persevered through Leplée's murder and the accusations that she orchestrated it, rumors that she was once a prostitute, and remained a drunk (she enjoyed a drink through most of her life). But after refinement and rebirth arrived with her new manager, she went on to give touching personality to her songs, as though with each note she chips away at a piece of her heart and gives it to her listeners.
Piaf is played by Marion Cotillard, who American viewers would know best from Ridley Scott's enjoyable-enough romance A Good Year or Tim Burton's Big Fish. The French know her best from A Very Long Engagement or the Taxi series. I would have never suspected her capable of embodying another person so absolutely. But here she is, without a doubt giving 2007's best performance by an actress—as if Piaf's spirit transmigrated into Cotillard's, driving her audience to forget it's an actor under the (sometimes loads of) makeup.
Rightly, Dahan believed Piaf's voice too distinct, too well defined in French and even American culture, to attempt to imitate. Cotillard doesn't sing one Piaf song in the film, but she does the best lip-synching I've ever seen. She emotes every syllable, her eyes or nostril twitching just a little on difficult notes, as if she herself was struggling to push out Piaf's booming notes. Piaf died in 1963 at the age of 48, though she looked about 70. Cotillard's eyes harbor the same weighty sadness, offering a lifetime of pain and experience and love in those massive, glossy orbs. Cotillard's mannerisms are perfect, particularly in the scenes of Piaf's late life, where she's all but standing in fetal position but still retains her lively personality.
Dahan's final point on Piaf is her song "Non je ne regrette rien," the translation, for those of you non-French speakers: "No, I regret nothing." As hard as her life was, as depicted in La Vie en Rose, the film convinces us that her ending was not about dwindling away but about reflecting on how she began. It was also about her legend taking hold, rising up, and sustaining itself to this day. This is a great film, a rare one where the story is not eclipsed by its remarkable centerpiece performance (like, for example, The Queen or Capote), rather remains strong enough coexist with Cotillard's faultless evocation.