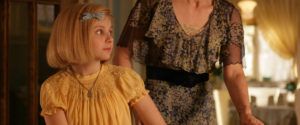 Kit Kittredge: An American Girl
3.5 Stars
Director

Cast

Abigail Breslin

,

Chris O'Donnell

,

Julia Ormond

,

Max Thieriot

,

Jane Krakowski

,

Wallace Shawn

,

Glenne Headly

,

Joan Cusack

,

Stanley Tucci

Rated

G

Runtime

91 min.

Release Date

07/02/2008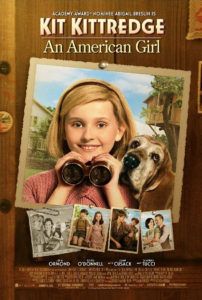 At first glance, Kit Kittredge: An American Girl might seem like kids' stuff. Based on the 'American Girl' doll line, the film's source might be off-putting for most. Kit debuted in 2000 as the seventh doll in her series; other doll characters have earned their place in the spotlight via print stories and made-for-TV movies. Since her inception, Kit spawned the popular child-friendly book Meet Kit by Valerie Tripp, written around her character, a spunky 10-year-old growing up in Depression-era Cincinnati, Ohio. And whether you're aware of the character's background or not, there's plenty to enjoy in this blithe little mystery filled with colorful characters and attractive production design by director Patricia Rozema.
Kit is played by Abigail Breslin, who was eleven during filming and has since released pictures where she appears older (see No Reservations or Definitely, Maybe). Watching the movie is sort of like going two years back in time. She's dressed up like a doll, with her plastic-blonde hair cut short and adorned with a bow. Every detail in this idyllic production has that perfect 1930s look; the people are virtual living wax sculptures molded from classic wardrobe designs not used since the Golden Age of cinema—styles that only existed in the movies. Indeed, everyone is doll-like, not just the title character.
Strange then that such a picturesque mise-en-scène constructed for children would delve into the downer themes it does. In a Great Depression climate, the aspiring young journalist Kit looks out her window to see representatives from the bank hammering foreclosure notices in the grounds of nearby properties. And while most would turn a blind eye to the hardships of others, Kit's mother (Julia Ormond) does what she can to help; she even hires two hobo boys, Will (Max Thieriot) and Countee (Willow Smith), for handiwork around the home in exchange for food, regardless of the general feeling that all hobos are criminals. Kit writes up an article on the two, delivering it into the hands of Big Time Editor Mr. Gibson (Wallace Shawn). But her angle is too optimistic towards hobos; he'd rather have articles about the string of hobo-related thefts plaguing the Midwest.
Hardships all seem miles away until her otherwise dependable father (Chris O'Donnell) loses his job, forcing him to look for work in Chicago. To take up some slack, Kit's mother takes in a lively group of boarders: Mr. Berk the Magician (Stanley Tucci) entertains his housemates with run-of-the-mill trickery; the stuffy Mrs. Howard (Glenne Headly) keeps an overprotective eye on her curious son Stirling (Zach Mills); Miss Dooley (Jane Krakowski) the dance instructor sets her bedroom eyes on any single male she sees; and oddball Miss Bond (Joan Cusack) drives her mobile library around in a brakeless jalopy.
The entire cast is wonderful. Breslin gives Kit that same energy that earned her and Oscar nod for Little Miss Sunshine, as our hero and her friends attempt to solve The Mystery of the Hobo Robberies. Police find shoeprints that match Will's, a good-hearted hobo who's had his face planted in a Robin Hood book courtesy of Miss Bond. While all signs point to Will robbing from the rich and giving to the poor, Kit thinks otherwise. Most Hollywood mysteries give out about half way through after you pinpoint the culprit too soon, but this one keeps us guessing, even making room for some slight social commentary in the process.
Given the country's present economic climate, the potential relevance of this film's sly message of tolerance toward the poor is eye-opening. Certainly the discussions of foreclosures abound bear modern parallels, as that seems to be all the media reports about nowadays. Should our economy become worse, classic films set in the Great Depression will suddenly develop new meaning, and Hollywood will no doubt further utilize the era as a dramatic allegory as this film's producers have done.
But this is just another example of why Kit Kittredge: An American Girl surprises, delightfully so, by being more than it should be at every turn. In the realm of movies based on toy lines, few have potential of being great. This one approaches greatness in a simple, authentic way—by telling a good story (imagine that). And considering the audience to whom this movie should be pitched, the end result has wider range than I could have anticipated. Don't hesitate to catch this one if you don't have a little girl in your family to hide behind; enjoying good filmmaking is nothing to be embarrassed about.