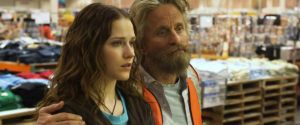 King of California
3 Stars
Director

Cast

Rated

PG-13

Runtime

96 min.

Release Date

10/05/2007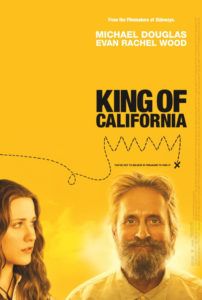 What purity searching for gold doubloon treasure extols. Perhaps it's the classicism of modern fictional treasure hunts complete with a treasure map and gold payload; it cries out for categorization in archetypal adventure stories. King of California might not have been as good a movie without the inclusion of such a plot device. It's sort of a poor-man's Indiana Jones and the Temple of Doom, only Dr. Jones is replaced by recently released mental patient Charlie (Michael Douglas) and Indy's sidekick Short Round with Charlie's independent daughter Miranda (Evan Rachel Wood). The title's temple would then be Costco, wherein, underneath an isle, resides Charlie's treasure: untold amounts of gold doubloons.
Miranda is sixteen, played by Wood, who at the time was eighteen—she's since gone on to star in one of 2007's best pictures, Across the Universe. Here she has a quiet quality that is simple but believable. Miranda lives alone in her childhood home, having convinced social workers she's living with her mother, who abandoned her, convinced her mother she's with her dad, and her dad that she's with her mother. Working at McDonald's mopping floors and making burgers, she has barely kept her ramshackle house from falling apart. She drives a small jalopy she purchased cheaply on eBay, has no friends, and resents her father's introspectively irresponsible parenting.
Charlie takes his long walk out of the behavioral institution looking as though he shouldn't be released unto the public. A former jazz bassist, Charlie's committal followed a suicide attempt two years ago. Douglas sports a thick, long gray beard, recalling his father in The Man from Snowy River, only with a crazy glint in his eyes. Douglas' performance isn't over-the-top nutso, just on the border between bonkers and barely sane, so that Charlie remains sympathetic if not a distant second on the sanity scale next to Miranda. His behavior is eccentric to be sure and maybe only seems more insane because we know he was institutionalized. Had we never known that fact, we might just think he was a modern hippie.
Charlie is constantly taking readings on a handheld GPS device; he says he's going for a job interview but then disappears for several hours; he digs in the ground with a gardening shovel like a dog after a bone. Miranda is concerned about these actions, but more so with not letting Charlie back into her life. She denies her interest in him as a father, as well as the part of her that believes him when he tells her about the treasure. Recalled are memories of her desertion, of her childhood wherein he wasn't the most responsible father, and of his attempted suicide which she prevented.
According to Charlie's online research while institutionalized, early Spanish explorers long ago visited Santa Clarita, California, burying a treasure of doubloons somewhere in a cavern near a river that no longer exists. Never mind what shined Charlie onto such an adventure story; he rarely explains himself, spouting out the most illogical facts you could imagine. "Look it up" he says. Of course Miranda never does, because why would someone attempt to verify the ravings of a madman? More than that, why should she trust someone who has consistently proved that he is not dependable? Her suspicions are undeniably questioned when Charlie finds a single doubloon along the trail where seventeenth century conquistadors supposedly traveled. Unfortunately, all signs point to six feet under Costco, which Charlie and Miranda will have to infiltrate in order to unearth their findings.
You might be distracted by first-time writer-director Mike Cahill's apparent approval of brand names. We hear about Target in the dialogue and are confronted with Applebee's, Campbell's soup, 3 Musketeers, McDonald's, and of course Costco too. Somehow we don't feel bombarded with product placement. I doubt such corporations would pay for a movie that criticizes their establishments. Charlie's disdain for normality, The System, counteracts the commercial name of McDonald's and Applebee's, dubbing them a conformist's paradise. Then again, of Costco he says "This store has everything!" Hmm, I wonder where the film's money came from.
There are only the two characters, Miranda and Charlie, both of whom give performances that might have been transparent if handled by other actors. Douglas is particularly good when not playing his usual everyman-type roles (see Wonder Boys or Falling Down). Their escapade breaking into Costco for buried Spanish treasure has just enough insane logic to make it convincing and outlandish. With wit and heart, King of California just manages to be charming enough to make it work.