Director

Cast

Rated

PG-13

Runtime

91 min.

Release Date

12/14/2007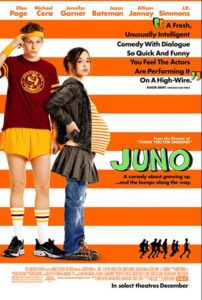 First-time screenwriter Diablo Cody's script for Juno contains a structure that flows naturally, working through its story to where it should obviously go, but doesn't allow the audience to anticipate it. A Minnesota native, Cody imbibes her writing with an offbeat selection of pop-culture references, delicately drawn themes, and a plethora of innovative takes on otherwise familiar characters. Her characters are intelligent, but not so intelligent that it might be out of reach. Had the television show Gilmore Girls ever made a movie, it might've been something like this (and I say that with the deepest respect for both the show and this movie).
20-year-old actress Ellen Page plays 16-year-old Juno MacGuff, a spur-of-the-moment sort that, though she doesn't know it, loves a naïve boy named Paulie Bleeker (Michael Cera). The two experiment, mostly at Juno's will, and she ends up pregnant. What to do, what to do? The abortion clinic gave her the willies, and she's smart enough to know she's too immature to raise a baby at her age, so she decides to give it up for adoption. Her friend Leah (Olivia Thirlby) notes that she's seen ads for "Desperately Seeking Spawn" in the Penny Saver. Together they find Vanessa and Mark Loring (Jennifer Garner and Jason Bateman), a nice yuppie couple who seem eager to finally raise a child of their own.
And this is before Juno talks to her parents, her dad Mac (the underrated J.K. Simmons) and stepmom Brenda (Allison Janney). Juno paces back and forth, and then tells them. We see from their response that they, like Juno, are not your average teen comedy parent clichés, rather important additions to Cody's offbeat comedy. Instead of wanting to give Paulie a going-over for impregnating his daughter (the traditional angry father response), Mac simply says, "The next time I see that Bleeker kid, I'm going to punch him in the wiener." His understanding and humor with the situation are seen in Simmons' frank eyes. Beyond that comment, Juno's parents are not that upset; they expected something like this, Juno being the way she is.
When Juno tells the father, Paulie, he responds with a blank, childlike stare. He's like a 12-year-old living in a teenager's body (his primary vices are orange-flavored Tic Tacs and track and field); he likes girls, but doesn't exactly fit with any of them. Except Juno, of course. Cera (Superbad) perfectly embodies Paulie Bleeker, in that he's awkwardly skinny and looks at home in sweatbands and petite yellow track shorts. He's so clearly smitten with Juno, who takes advantage of that, if not unintentionally. Juno carries a façade of control, perhaps because of her confident tongue; we almost forget that she's 16, and pregnant, until we see the results of her behavior ballooning.
Meeting and approving of the eventual adoptive parents is one thing, but Juno takes it as a personal act of kindness. They're taking an inopportune piece of baggage off her back—what a favor! She pops in at the Loring's during the afternoon to show ultrasound results and finds Mark home alone. After seeing his room in the basement where he keeps all of his stuff, mostly memorabilia from his rock band years, we get the impression that Mark might not be ready for fatherhood. Furthermore, their conversations on slasher movies and punk music soar past where the donor mother/adoptive parent relationship should go, but not beyond where we need it to go to get the point across. Bateman and Page's scenes together are about what they conceal, doing it as understatedly as they do. There is much we must read, and much to find.
What a performance Ellen Page gives as Juno. She's doing more than sticking to the script's irony or referential nature—she's embedding nuance into every line, making her dialogue scathing, and yet somehow sweet. There's a pain in her eyes; we see it several times until an overwhelming moment calls it out, and she makes it completely believable. You might have seen her in Hard Candy, a 2005 film that I think back to and realize was brilliant. Page was 18 when filming that movie, playing a teenage girl who is trapped by a possible pedophile. Admittedly, I felt uncomfortable after seeing such a young girl in that type of role, and felt thrown off by the sudden maturity of her character in the last half-hour. After seeing her bold performance in Juno, I have no doubt that she can only go on to great things.
Juno attains a predictable balance of indie comedy quirkiness and commercial satisfaction, making it a pleasant take on the teenage rom-com subgenre. The dialogue sparkles with quotable material, the acting is beyond exemplary, lovely songs by Kimya Dawson fill the soundtrack, and the writing crackles with pop-culture wit. I can't help but think about the last two-to-three months, where almost every movie I saw was preceded by the same trailer for Juno. Though initially funny (indeed, this is one of the most consistent laugh-inducing trailers I've ever seen), it became sickening after the twentieth time; I started to dread eventually seeing this movie, fearing the all-too-common comedy ad overexposure syndrome. And yet the impact of scenes previewed in advertisements did not waver in their context. Every bit of buzz you're hearing about this movie is true, every promise made in the trailer lived-up to. It's a hilarious, endearing film.